Galaxy S10 - Unbox your Galaxy S10 (SM-G970W, SM-G973W & SM-G975W)
Last Update date :
Oct 01. 2020
Don't wait in suspense any longer. It's finally time: open the box for your new Galaxy S10e, S10, or S10+ and see what's inside. It has everything you need to use and enjoy your new phone.
The actual accessories, including the cover and protective film, may not be available depending on the model you purchase or the country or region you live in. Excluding the cover, black accessories are only available with black phones and all other phone colors will receive white accessories in the box. 
Unbox your phone
What's in the box? Make sure you check out everything and don't forget anything inside the box! Here's what comes with your new S10, no matter what version you got: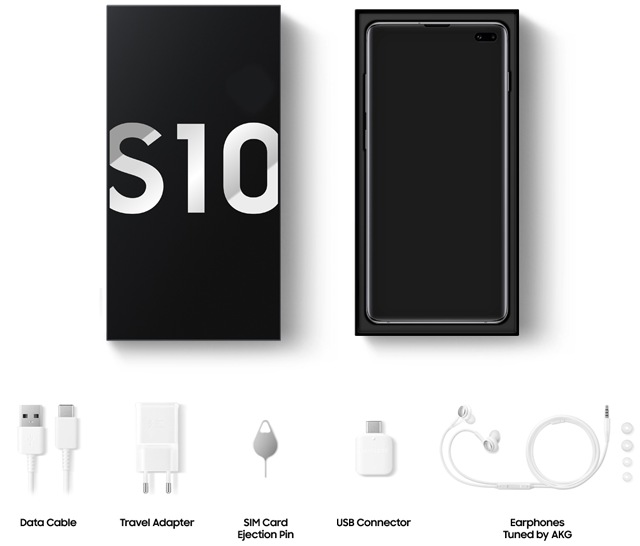 USB Cable: Use the Type-C USB cable that connects the adapter to your phone.

Travel Adapter: The charger adapter that you plug into the wall.
Ejector Pin: Used for ejecting the SIM and microSD tray.
USB Connector: Used for changing the Type-C USB port to a Type-B USB.
Earbuds: A pair of AKG earphones and an extra set of earbuds tips in different sizes are provided.
Documentation included
Terms and Conditions: Contains information on Terms & Conditions / Health & Safety for using your phone.

Quick Reference Guide and User Manual: A short version of the guide and a full user manual to help you get started.