Galaxy S5 Neo - Insert a Micro SIM Card or Remove it (SM-G903W)
Last Update date :
Sep 30. 2020
Your device uses a Micro SIM card to provide you with access to your wireless service provider's mobile data network.
Some LTE services may not be available depending on the service provider. For more information about service availability, contact your service provider. The SIM card information and its contacts can be easily damaged by scratching or bending, so be careful when handling, inserting, or removing the card. Keep all SIM cards out of reach of small children.
1
Remove the back cover and battery.
2
Insert the SIM or USIM card with the gold-coloured contacts facing downwards.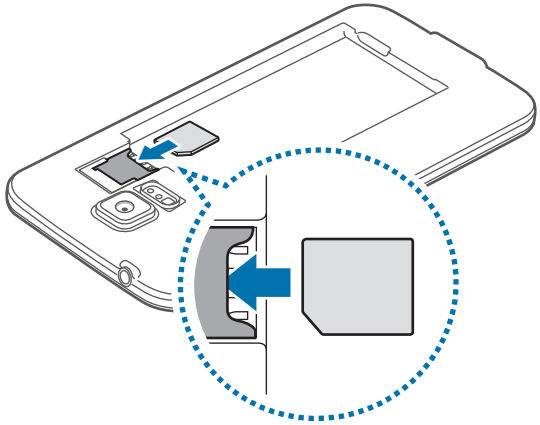 Do not insert a memory card into the SIM card slot. If a memory card happens to be lodged in the SIM card slot, take the device to a Samsung Service Centre to remove the memory card. Use caution not to lose or let others use the SIM or USIM card. Samsung is not responsible for any damages or inconveniences caused by lost or stolen cards.
3
Replace the battery and back cover.
1
Remove the back cover and battery
2
Pull out the SIM or USIM card.