Galaxy S8 - Presentation of Samsung Pass (SM-G950W)
Last Update date :
Oct 01. 2020
Samsung Pass
Use Samsung Pass to access your favorite services with biometric data. You must sign into your Samsung account to use Samsung Pass.
Note: Screens and settings available may vary depending on your Canadian wireless service provider and your software version.
Setting up Samsung Pass
1.
From the Home screen, swipe up or down to access the Apps screen.
2.
Touch
Settings
.
3.
Touch
Lock screen and security
.
4.
Navigate to and touch
Samsung Pass
.
5.
To review the following information on Samsung pass, touch
NEXT
. For this example, touch
SKIP
.
6.
Enter your Samsung account
password
, and then touch
CONFIRM
.
7.
To agree to the following, select
I have read and agree to all of the above
, and then touch
NEXT
.
8.
Samsung Pass requires biometric authentication. Select the desired biometric authentication and then follow the instructions.
9.
After creating a biometric authentication, sign into Samsung Pass using the biometric.
10.
Touch
NEXT
to complete setting up Samsung Pass and start using its features.
Using Samsung Pass
1.
Using Samsung Internet, navigate to your favorite website where you need to sign into your account.
2.
After signing into your account, Samsung Pass will ask if you want to save the account information.
3.
To save your account information and sign in by using your biometrics, select
Sign in using biometrics via Samsung Pass
and then touch
REMEMBER
.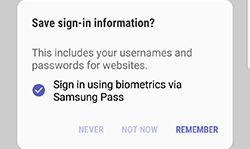 4.
Next time you sign into the website, all you have to do is scan your biometrics instead of filling in the account information.