Galaxy Tab S2: How do I format the microSD card on my Samsung Galaxy Tab S2?
Last Update Date :
Apr 09. 2018
Format Memory Card
You can use a
microSD
or
microSDHC
card (not included) to add additional memory space to your device.
Format a microSD Card
Note
: When formatting an SD card, you will want to backup your music and photo files that are stored on the card because formatting the SD card deletes all the stored data.
1. From the Home screen, touch
Apps

>
Settings

>
Storage

.
2. Scroll down and touch
Format SD card
and follow the prompts.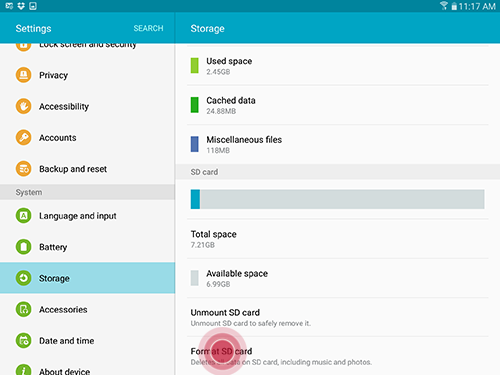 3. Review the message and tap
FORMAT SD CARD
again.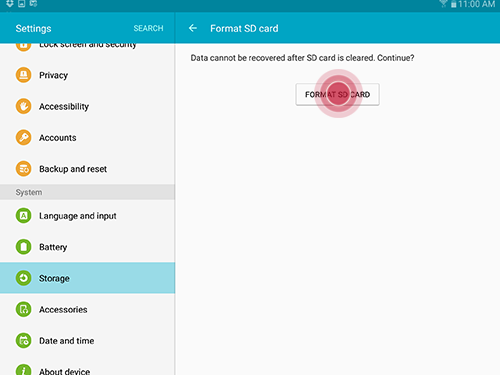 4. Tap
DELETE ALL
to start formatting SD card.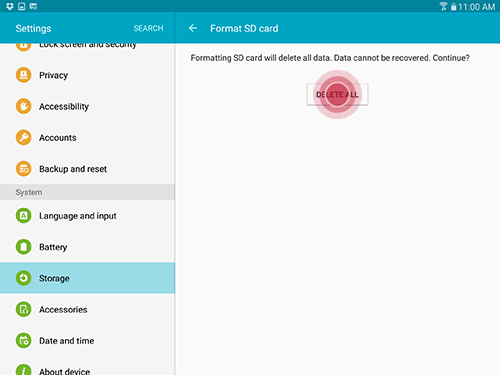 Unmount and Remove a microSD Card
Important
: To prevent damage to information stored on the memory card, always unmount the card before removing it from the device.
Unmounting an SD card may stop some applications from functioning until you mount the SD card again.
1. From the Home screen, touch
Apps

>
Settings

>
Storage

.
2. Scroll to and tap
Unmount SD card
.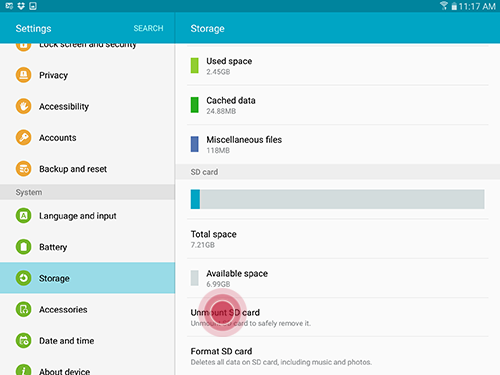 3. Tap
OK
to unmount SD card.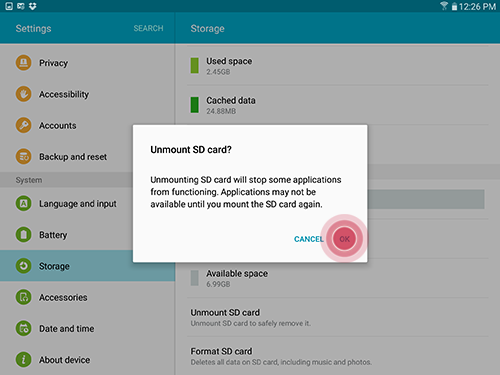 4. Insert the ejector tool into the hole in the microSD card tray on the side of your device, and gently press the tool until the tray pops out.
5. Remove the microSD card from the tray and insert the microSD card tray back into the device.
Mount a microSD Card
When you insert a memory card, it is automatically mounted (connected to the device) and prepared for use. However, should you unmount the card without removing it from the device, you will need to mount it before it can be accessed.
1. From the Home screen, touch
Apps

>
Settings

>
Storage

.
2. Scroll to and tap
Mount SD card
.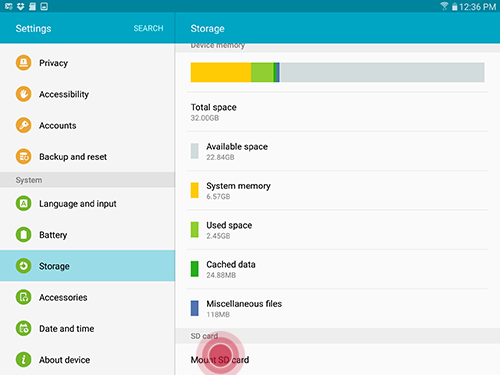 3. Tap
OK
to finish mounting the SD card.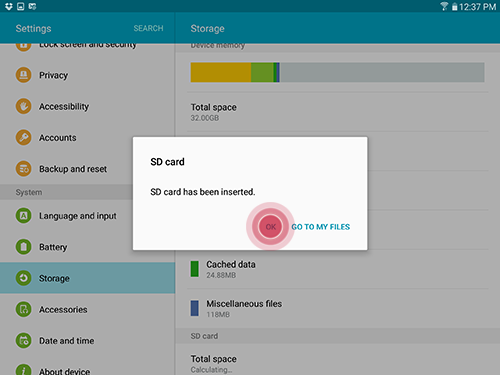 Advanced Users: Changing file systems
Important
: The following information is for advanced users regarding
NTFS
and
FAT
file systems. It is explained with the assumption that prior experience is available and will NOT review basic information. As a result, certain terms and instructions may be found confusing. It is not recommended to continue if you do not consider yourself to be an advanced user. Click here to expand the topic.
Many external memory storage devices (E.G: SD cards, USB's, external hard drives) are formatted as
FAT
file systems. This has nothing to do with Samsung's onboard software, but can be changed. With the dramatic increase in file sizes and hard drive space, many users wish to move files larger than 4 GB. However, the following should be taken into account before altering file systems:
•By default, Mac computers can read
NTFS
drives, but cannot write to them without help from external software or changes made by command prompt or terminal.
•If an external device is formatted as
NTFS
, it is absolutely necessary to use the "
Safely Remove Hardware
" feature to remove the device. Failure to do so may corrupt the files it contains.
•
FAT
is ideal for external drives because so many devices support it.
NTFS
has more advantages than simply moving larger files. These include, but are not limited to, local and network security, better reliability, and better disc space utilization.
Note
: The following instructions are for a computer running Windows 7. The steps for other operating systems will vary, but can easily be found online.
In order to change file systems, use the following steps:
1. Connect the micro SD card to your computer (micro SD card to USB converter may be required).
2. Under "
Devices with Removable Storage
" right click on the drive you wish to alter and click
Format...
.
3. Under
File system
click the drop-down menu and click
NTFS
.
4. Click
Start
.
5. Click
OK
to commence (all data on the removable disk will be lost).

Not finding what you're looking for? We're here to help.
Call

* For any printer related enquiries please visit the HP website .
Contact Us