Galaxy Watch Active2 - Water resistance tips (SM-R820 & SM-R830)
Last Update date :
Oct 07. 2020
No matter what nature throws at you - whether it's rain or puddles - your watch will be perfectly fine. That's because your Samsung smart watch is water resistant. In other words, you can keep track of your workout even when it's raining!
Available screens and settings may vary by provider, phone, or watch.
General information
The Galaxy Watch Active2 is water-resistant. The leather band is not water-resistant. Do not swim or take a shower while using the leather band.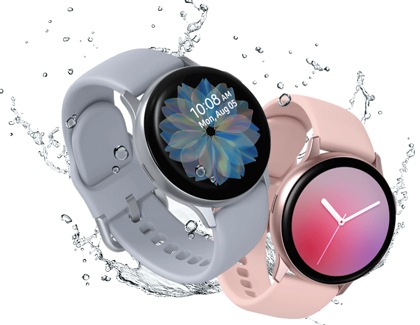 The watch has been tested in a controlled environment and certified to be water and dust-resistant in specific situations and conditions. The device meets the requirements for water-resistance in 50 m deep water as described by the international standard ISO 22810:2010 and your device can be used in shallow water. it also meets the requirements for dust-resistance as described by classification IEC 60529 IP6X

Water resistance tips for your Samsung smart watch
Even though your watch is water resistant, please remember that it's not indestructible. Make sure you follow these tips carefully to prevent any potential damage.

Whenever your watch gets wet, dry it thoroughly with a clean, soft cloth.

Do not expose the watch to water at high pressure levels.

After using the watch in seawater, rinse it in fresh water and dry it. Failure to do this as instructed may cause the watch to suffer from operability or cosmetic issues.
If the watch is dropped or receives hard impact, the water-resistant features may be damaged.
Avoid excessive, sudden temperature changes and high velocity activities. Falls and shocks may weaken the structural integrity of the watch.
The watch is not intended for scuba diving.