Galaxy Watch - Control PowerPoint presentations with your watch (SM-R800 & SM-R810)
Last Update date :
Oct 07. 2020
When you're delivering a PowerPoint presentation worth half your grade, control it using your Galaxy Watch instead of the arrow keys on your laptop. Learn how to open a presentation, control slides, and set alerts with your watch.
Available screens and settings may vary by provider, phone, or watch.
Control the slides
You can use your watch to transition between slides instead of your computer's keyboard and mouse. From the watch, navigate to PPT Controller. Touch CONNECT, and then navigate to the Bluetooth settings on your computer and add the watch as a Bluetooth device.
Now that you are connected, you can control your slides. Open a PowerPoint presentation on your computer, and then from the watch, touch SLIDESHOW. Control the slides by touching the left and right arrow icons.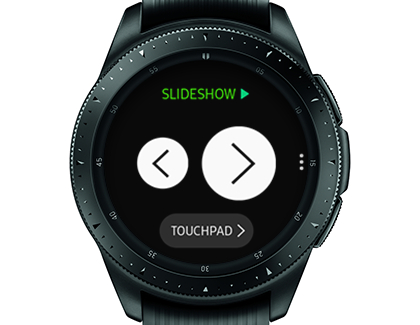 You can also control your mouse from the watch by touching TOUCHPAD. This feature is not just limited to PowerPoint, so you can literally use your watch as a mouse.
This wireless feature uses Bluetooth and operates at a distance of up to 30 feet (10 m) if no obstacle is in the way.
Set presentation alerts
If you're not great with timing while you're presenting, you can set up Wrap-up alerts or Interval alerts so you know when to move things along. From the watch, navigate to PPT Controller. Touch More Options, and then select Wrap-up alert or Interval alerts.

Wrap-up alert: Create an alert for the end time of the presentation.

Interval alerts: Set alerts in 5-minute increments.