Galaxy Watch - Use Find My Phone from your watch (SM-R800 & SM-R810)
Last Update Date :
Dec 24. 2019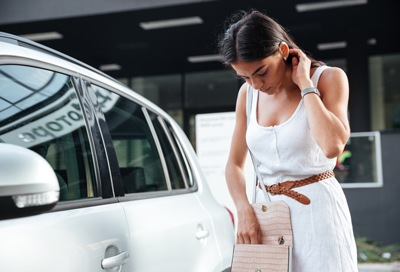 You've misplaced your phone yet again, but you know it's in your house somewhere. Is it under the bed? In the bathroom? Instead of looking in vain, just use the Find My Phone feature on your Galaxy Watch, so you can find it in no time.
Available screens and settings may vary by provider, phone, or watch.
Use Find My Phone
In order for this feature to work, your Gear and phone need to be paired through Bluetooth.

You've retraced your steps, but still can't find your phone anywhere. Looks like it's time to take out your watch. Follow these steps to use the Find My Phone feature:

On your Gear, press the Home key, and then swipe to and touch Find My Phone. Touch Start to begin locating your phone. The phone's ringtone will sound making it easy to locate. Find your phone and then swipe left or right on the red X icon.

Find your phone using Find My Mobile
You can only use Find My Mobile, a Samsung service, only if you linked your phone to a Samsung account.

If you've lost your phone, you can pinpoint its whereabouts using Find My Mobile. First navigate to the Find My Mobile website on a PC. Enter your Samsung account credentials, click on I'm not a robot, and then click on SIGN IN. On the left, you will find all the devices linked to the Samsung account you are using. If devices are powered on and connected to a network, they will be displayed under My devices.

When you click on a device, the right panel will display all the remote options available:

Ring: If you don't know where you put your phone, make it ring even if it was set to mute.

Lock and Unlock: If you are worried about your personal data, you can remotely lock your phone . This will activate a Lock screen and suspend your cards in Samsung Pay. If you forget your unlock method, you can also unlock your phone remotely. If locking or unlocking your phone was unsuccessful, a red exclamation point will appear.
Track location: Check where your missing phone is every 15 minutes. If you are using Find My Mobile to locate a stolen phone, do not go directly to the location on the map. Inform the authorities and let them retrieve it for you.
Erase data remotely: Don't let that thief access your private data. Remember, your phone will be completely reset and you will lose all your data, including your financial data in Samsung Pay. If a Google account is registered, you will need to sign into the account before you can use the phone again.
Back up: Before erasing your data for good, you can easily back up all your data to Samsung Cloud.
Extend battery life: The last thing you want is for your lost phone to turn off. Use this feature to get the most out of your phone's battery life and increase the chances of finding it.
Retrieve calls or messages: You can view up to 50 recent calls and messages from your phone.
Set Guardians: You can designate guardians that can remotely locate the phone, activate Emergency Mode, or ring the phone.
If you are still unable to locate your phone, your carrier may have a service to help locate or suspend your phone. Please contact your carrier for additional information.
Use Find My Watch
If your Galaxy Watch gets lost or stolen, don't panic. Instead, grab the phone that is connected to the watch and use the Find My Watch feature. It will give you the exact location of your watch, so you can find and retrieve it before it's too late. Once you have the phone that's connected to the lost Galaxy Watch, you can find the watch's location in just a couple steps.

On your phone, navigate to Galaxy Wearables. Touch the SETTINGS tab, and then touch Find My Watch. If your watch is connected to your phone using Bluetooth, touch Start to find your watch.

If you've lost your watch somewhere out of Bluetooth range, touch Turn on Remote connection. You'll have two options available:

GET LOCATION: Gives you the address of where the watch is currently located. You can touch SHOW ON MAP to locate the watch on a map.
SET SECURITY: Access options to remotely set a lock, reset, or put a reactivation lock on the watch
Not finding what you're looking for? We're here to help.
Call

* For any printer related enquiries please visit the HP website .
Contact Us