Galaxy Watch - Use Your Galaxy Watch as a Step Counter (SM-R800 & SM-R810)
Last Update date :
Oct 03. 2020
Your Galaxy Watch isn't just an ordinary watch - it also doubles as a step counter. Whenever you go for a walk or run, the watch will monitor and track your step count. It can even track other types of exercises. But first, you should set up the Steps widget and learn how to access the Multi-exercise widget.
Available screens and settings may vary by provider, phone, or watch.
Set Up and View Steps
Once you set up the Steps widget on your watch, you can see your current step count whenever you want.

From the watch's Home screen, rotate the bezel to select Add widget, and then swipe to and touch Steps. Now you can view your step count by rotating the watch's bezel to the Step widget. Touch the widget for more options.

You can also view and access Steps from the Health summary widget, which is available on the watch's Widgets screen by default.

Set Up and View Multiple Exercises
It doesn't stop at just steps - you do all kinds of workouts. No worries, you can view other types of exercise on your Galaxy Watch's Widget screen.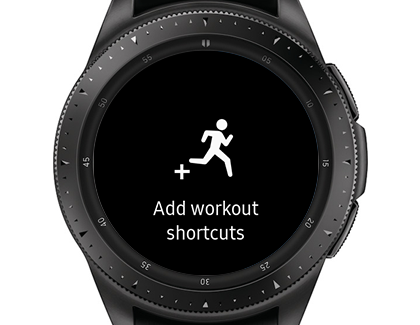 From the watch's Home screen, rotate the bezel to select Add widget. Then, swipe to and touch Multi-workouts. Touch Add workout shortcuts, and then select the exercises you want displayed on the widget. When you're done, touch DONE. You can now touch the exercise you want to view and track.

The Multi-workouts widget will be available on the watch's Widget screen by default.

Step Count Frequently Asked Questions
Why is my step count increase delayed?

It's normal for there to be a slight delay before your latest step count is displayed. However, if there is a very long delay, your Galaxy Watch may have low GPS signals or may not have a good network connection.

Why is my step count inaccurate?

The steps recorded by your Galaxy Watch are an estimate and may vary from the actual step count. This is because certain factors can affect how steps are recorded. For example, steps are only counted when there is hand movement. So, if you push a lawnmower or do an exercise with no hand movement, steps may not be recorded. Other factors, such as environmental conditions or skin conditions, may also affect how well steps are recorded.
Why are the steps on my Galaxy Watch different from the steps on my phone?
Your Galaxy Watch and phone record steps separately. However, you can sync the watch and phone through Samsung Health, so all of your steps will be added together in one step count.
Using the connected phone, open the Galaxy Wearable app, and then swipe to and touch Samsung Health. Touch the Step Tracker, touch More Options, and then touch View your step count data. Choose All steps as your step count source. Now both your watch and phone will be synced, and their total will appear in Samsung Health.
Please answer all questions.