Gear VR - How do I use the Oculus Video on my Gear VR with controller (SM-R325)?
Last Update date :
Oct 01. 2020
Immerse yourself in a virtual video experience. Look in any direction, at any time, as the video plays. Whether you're watching a normal movie or short 360 videos, prepare to be amazed!
Note: The provided information refers to Gear VR sold in Canada. The available settings and options may differ for devices sold in other countries.
1
From the Oculus Home screen, navigate to the Library.
2
Select Oculus Video.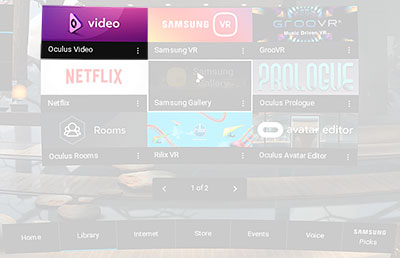 Note: If Oculus Video is not in your Library, head over to the Oculus Store to download and install it.
3
Use the menu on your left to view the available videos:
• New Videos: Stay up to date with the latest 360 videos.
• Top Picks: The hottest 360 videos just for you.
• Movies: Watch top blockbusters in 3D from the comfort of your home.
• My Videos: Immerse yourself in videos stored on your mobile device. You can also view videos that you record here.
4
Swipe to the left or right on the touchpad to move to the previous/next page and select the video you want to watch.
Note: To display the Video Controls, touch the touchpad or press the controller trigger while watching a video. It will also display a description of the video.
The following settings will be available:
• Play/Pause: Resumes/Pauses the video.
• Rewind: Move to a previous point in the video.
Note: You can also select a specific point on the playback bar.
• Fast Forward: Move to a later point in the video.
• Back: Close the video and go back to Oculus Video.