How do I set up my Galaxy Note8 to use facial recognition security?
Last Update date :
Oct 07. 2020
Facial Recognition
Once the stuff of Sci-Fi movies, now a reality: show your face and your phone unlocks. Seriously. You can register your face to unlock your phone or to verify your identity in apps such as Samsung Pay. Never again worry about dropping your phone and getting it in the wrong hands with Facial Recognition Security.
Note:
Screens and settings available may vary depending on your
Canadian
wireless service provider and your software version.
Warning
• Your phone can be unlocked by someone that looks similar to you (such as a twin).
• Face Recognition is less secure than Pattern, PIN, Iris, or Fingerprint.
Tips for Facial Recognition
Keep these tips in mind for best results:
• Glasses, hats, masks, makeup, and beards can affect the recognition process.
• Make sure that you are in a well-lit area and that the camera lens is clean.
• For best results, make sure that your image is not blurry.
Enable Facial Recognition
Note: Ready to take your phone's security to the next level? Read on to learn how to set up facial recognition.
1.
From the Home screen, swipe up or down to access the Apps screen.
2.
Touch
Settings
.
3.
Touch
Lock screen and security
.
4.
Touch
Face Recognition
.
5.
Touch
CONTINUE
.
6.
You will need to set up a lock screen before continuing. We choose a PIN for this tutorial.
7.
Enter a PIN and then touch
CONTINUE
.
8.
Re-enter the PIN and then touch
OK
.
9.
Review the information on face recognition and then touch
OK
.
10.
Touch
CONTINUE
.
11.
Hold the phone 8-20 inches away from your face and position your face inside the circle. Hold the position until the progress bar reaches
100%
.
12.
To enable facial recognition, touch
TURN ON
.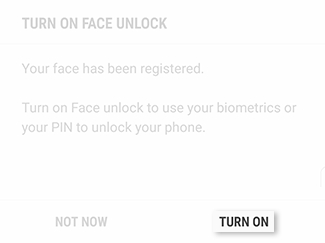 Note:
If unlocking the screen with your face is not working properly, tap Remove face data to remove your registered face and register your face again.
Important:
When your face is recognized, you can unlock the screen without using any additional screen lock method. If your face is not recognized, use the preset screen lock method.