Bixby: Frequently Asked Questions about Bixby
Last Update Date :
Apr 09. 2018
Frequently Asked Questions
Have questions about Bixby? Check out Bixby FAQs to find some more detailed answers!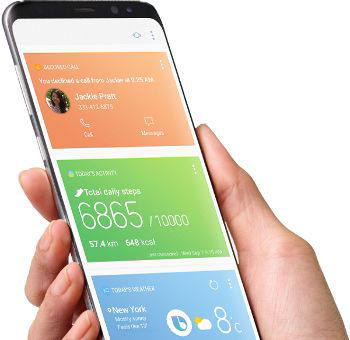 Note:
Screens and settings available may vary depending on your
Canadian
wireless service provider and your software version.
About Bixby
What devices does Bixby support?
Currently, Bixby is only compatible with the Galaxy S8 and S8+ but we plan to support more models in the future,
Can I customize Bixby's name?
Bixby's name is not able to be changed.
Does Bixby support Incognito mode?
Users must log in with a Samsung account in order to use Bixby Voice, thus it does not support incognito mode.
Do I need Wi-Fi or mobile data to use Bixby?
Yes, to use Bixby, you must be connected to a mobile data or Wi-Fi network.
Bixby Voice may be limited or unavailable under these conditions:
• During media (video/game/voice) recording
• During a call (including outgoing call)
• While docked on the DeX Station
• Maximum power saving mode
• Emergency mode
• Kids mode
• Mirror link
Bixby Voice
What is Open Trivia?
The Bixby Voice Open Trivia feature allow users to ask general questions about an entity (i.e. a person, place or thing). Bixby Voice will provide news articles (text), videos, webpages, etc. to answer users' questions.
Can I change the language of Bixby?
Yes, you can select another language from
Bixby Home
>
Settings
>
Language and speaking style
.
Note:
You can learn how to
customize Bixby Voice
in detail.
Can I change the speaking style of Bixby Voice?
No, currently we are supporting one Bixby voice option.
Which functionalities are supported by Bixby Voice?
In addition, you can also ask Bixby Voice questions, like "what is the weather like outside" or "what movies are playing nearby."
Note:
You can find the supported Apps list and sample commands on
Apps with voice and Bixby Labs
.
How do I see my last conversations with Bixby?
You can find your last conversation on My Bixby. My Bixby keeps track of all your conversations and helps you improve on them with phrases you can suggest to improve your Bixby experience.
How do I know when Bixby is listening?
Bixby will appear and will be animated on the screen when listening, and white and still when not listening.
Bixby Vision
Which languages are supported by the Translator feature?
?
Vision recognizes the following 40 languages for translations:
Afrikaans, Azerbaijani, Belarusian, Bulgarian, Catalan, Chinese (Simplified), Chinese (Traditional), Croatian, Czech, Danish, Dutch, English, Estonian, Filipino, Finnish, French, German, Greek, Hungarian, Icelandic, Indonesian, Italian, Japanese, Korean, Latvian, Lithuanian, Macedonian, Norwegian, Polish, Portuguese, Romanian, Russian, Serbian, Slovak, Slovenian, Spanish, Swedish, Turkish, Ukrainian, and Vietnamese.
?
Vision provides the following 104 languages for translation results:
Afrikaans, Albanian, Amharic, Arabic, Armenian, Azerbaijani, Basque, Belarusian, Bengali, Bosnian, Bulgarian, Catalan, Cebuano, Chichewa, Chinese (Simplified), Chinese (Traditional), Corsican, Croatian, Czech, Danish, Dutch, English, Esperanto, Estonian, Filipino, Finnish, French, Frisian, Galician, Georgian, German, Greek, Gujarati, Haitian Creole, Hausa, Hawaiian, Hebrew, Hindi, Hmong, Hungarian, Icelandic, Igbo, Indonesian, Irish, Italian, Japanese, Javanese, Kannada, Kazakh, Khmer, Korean, Kurdish (Kurmanji), Kyrgyz, Lao, Latin, Latvian, Lithuanian, Luxembourgish, Macedonian, Malagasy, Malay, Malayalam, Maltese, Maori, Marathi, Mongolian, Myanmar (Burmese), Nepali, Norwegian, Pashto, Persian, Polish, Portuguese, Punjabi, Romanian, Russian, Samoan, Scots Gaelic, Serbian, Sesotho, Shona, Sindhi, Sinhala, Slovak, Slovenian, Somali, Spanish, Sundanese, Swahili, Swedish, Tajik, Tamil, Telugu, Thai, Turkish, Ukrainian, Urdu, Uzbek, Vietnamese, Welsh, Xhosa, Yiddish, Yoruba, and Zulu.
Bixby Vision recognizes the image, but mode buttons are not available:
• In the preview in Camera, make sure that your device is stable and isn't shaking. Pictures are recognized better in bright environments, so try to make the surrounding environment as bright as possible.
• When taking a picture, make sure that the entire subject is placed at the center of the screen and takes up more than 25 percent of the screen. Avoid filling the whole screen with the subject, and leave at least a 20 percent margin at the edges of your image.
• When taking a picture, make sure that it's not upside down or rotated. Avoid taking a picture of a wide object while holding the device in portrait orientation.
• To distinguish products easily, make sure that the picture is of the most identifiable side of a product (i.e., its front is directly facing the camera) when you take the picture.
Bixby Reminder
What kind of data can I store in my reminder?
You can create a reminder with specific tasks in text or checklist format, calls and text messages that you want to make later, and media contents that you want to revisit later such as photos (up to 8 photos in one reminder), videos, and web contents.
Can I set a reminder every time my Bixby Home Card is updated?
Bixby Home suggests contextually relevant cards based on your usage pattern, but it does not send you separate alerts or notifications.
Have More Questions?
1.
From Bixby Home, touch
More Options
.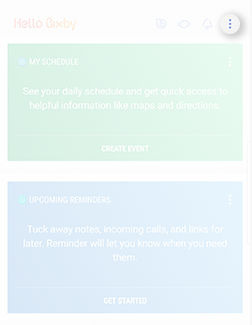 2.
Touch
Help
.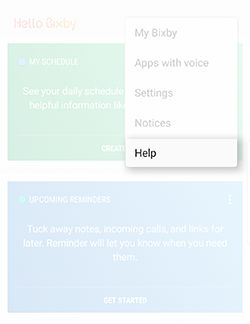 3.
The following help options are available: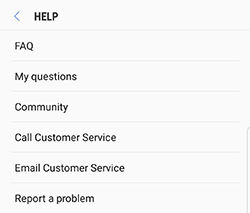 •
FAQ:
Look up frequently asked questions by keywords.
•
My questions:
See all the questions you have asked and answers received previously.
•
Community:
See if anybody has asked the same question or if someone can answer a question for you on Bixby's community page.
•
Call Customer Service:
Call our customer support service for more personal assistance.
•
Email Customer Service:
Email our customer support service for questions at your convenience.
•
Report a problem:
Is Bixby not working correctly or see something that needs repair? Report it!

Not finding what you're looking for? We're here to help.
Call

* For any printer related enquiries please visit the HP website .
Contact Us