Galaxy Note9 - Show Off Your Phone Even When It's Off (SM-N960W)
Last Update date :
Oct 07. 2020
Even when your screen is off, your phone and Always on Display (AOD) are hard at work. You can customize your AOD screen to show different themes, the time, the calendar, and more.
Screens and settings available may vary depending on your Canadian wireless service provider and your software version.
Activate Always On Display
Always On Display lets you check useful information without having to wake up your phone. And even though it's always on the ready, it uses very little power.

1. From the Home screen, swipe up or down to access the Apps screen.

4. Touch the slider next to Always on Display to turn it on. Then, touch Always on Display to customize the settings.
This feature is turned on by default.
Clock Style
Whether it's digital or analog, everyone has a preferred way to tell the time. With AOD, you can choose the clock style that appears on your phone.

1. From the Home screen, swipe up or down to access the Apps screen.

5. Make sure the ALWAYS ON DEMAND tab is selected. From here, select the desired clock style.
6. You can also change the clock's colour. Touch Colour and then select the desired colour for your AOD clock.

7. Finally touch DONE to apply the settings you selected.

Download New Clock Styles
Pick a theme to match your interests—Angry Birds, anyone? We'll show you how to get a fresh new style.

1. From a Home screen, touch and hold an empty area, and then touch Themes.


2. Touch AODs in the bottom of the screen.

3. Touch the AOD you want to download.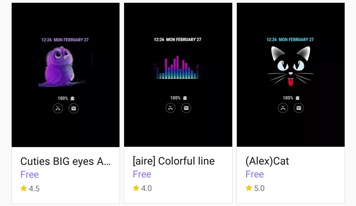 6. If required, select the content to be displayed and touch OK to make it appear on your AOD screen.