Galaxy Note9 - Control App Notifications (SM-N960W)
Last Update date :
Oct 07. 2020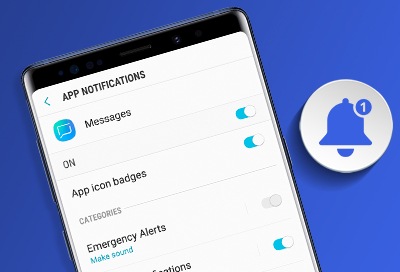 You can't go a minute without checking your Gmail, but you're sick of getting alerts from that old game. Instead of constantly sifting through your notifications, select which apps send alerts and which ones don't. Or, you can customize the way your favorite apps send alerts. Oh, and if you are wondering alerts include notifications, sounds, and vibrations.
Screens and settings available may vary depending on your Canadian wireless service provider and your software version.
Block App Notifications
You can block annoying notifications you don't want, so they'll be out of your hair.
1. Navigate to Apps, and then touch Settings.
3. Touch the slider next to an app to turn its notifications on or off.

4. You can also touch All apps (at the top of the screen) to enable to disable all notifications.

Customize App Notifications
You can also pick different sounds for each notification. That way, you'll know whether it's someone messaging you or your base is being attacked. There are also tons of other ways to customize your notifications.

1. Navigate to Apps, and then touch Settings.
3. Touch your desired app.

4. Turn its notification settings on or off by touching the sliders next to your different features. You can also adjust some other settings by touching the name of the features and choosing your desired options.

Options may vary depending on the app.