Galaxy Note9 - Multi-Task With Multi Window (SM-N960W)
Last Update date :
Oct 07. 2020
When you've got a lot going on, your phone makes life a little easier. Bounce back and forth between apps seamlessly when you use Multi Window. You can switch between apps, adjust the size of the display on the screen, and copy information from one app to the other.
Screens and settings available may vary depending on your Canadian wireless service provider and your software version.
Use Multi Window
You're reading a news article on your phone when an important message comes in from your boss. No sweat, just use Multi Window to send a reply without losing your place. Read on to learn more.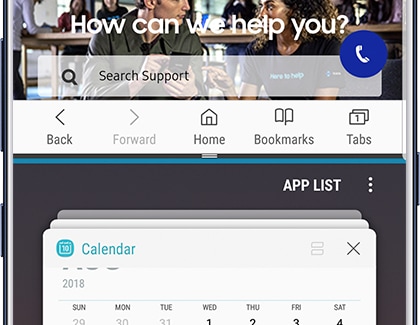 First, access your currently opened apps by touching Recent. Then, touch the Multi Window icon to launch an app in split screen view. If you can't find the Multi Window icon on an app, for example Instagram, the app does not support Multi Window mode. To open another app in the split screen view, select a second app in "RECENT". Or, you can touch "APP LIST" and then select your desired app. The second app should appear underneath the first app.

If you want to use Multi Window in landscape mode, make sure Auto rotate is turned on and just turn your phone horizontally while in split screen view.

Window Controls
If you need to switch the windows or close one of the apps, you can do so with the Multi Window Control menu. To access the menu, just touch the blue dividing line in between the two apps. The following features are available from left to right: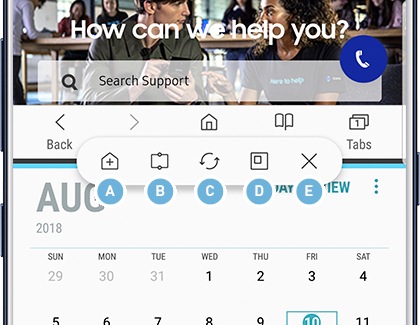 A - Add app pair on Home screen: Add the open pair of apps as a shortcut to the Home screen.

B - Snap window: Choose an area of the selected app to snap to the top of the screen.

C - Switch windows: Swap the two windows.
D - Open in pop-up view: Open the selected app in a pop-up window.
E - Close app: Close the selected app.
Exit Multi Window
When you've had enough multi-tasking for a while, exit Multi Window. See ya later!

To exit Multi Window, you just need to touch the Window control on the dividing line between the apps, and then touch X to close.

Turn Multi Window Off
When you want to give Multi Window a break and just use one app, you can exit Multi Window by touching the Home button. If Multi Window is still active, the first Multi Window app and the Multi Window icon will be displayed in the top of the screen. To turn off Multi Window completely, all you have to do is touch the X.