Galaxy Note9 - Use the Home Tab on Samsung Health (SM-N960W)
Last Update date :
Oct 07. 2020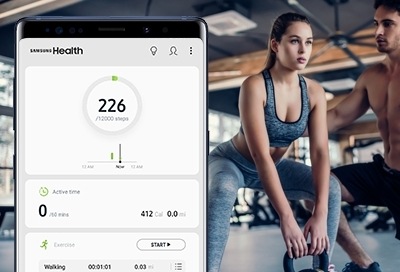 Understanding and recording fitness information can be confusing. What is a calorie anyway? No worries, the Home tab in Samsung Health keeps track of everything for you. It displays different exercise trackers, programs, and other health measurements. Your enabled trackers will appear on your Home tab, where they can viewed and adjusted.
Screens and settings available may vary depending on your Canadian wireless service provider and your software version.
Add or Manage Trackers
Samsung Health is intended for fitness and informational purposes only and is not intended for use in the diagnosis of disease or other conditions, or in the cure, mitigation, treatment, or prevention of disease.

Did you drink enough water today? Just add a water tracker or another tracker to fit your needs. Learn how to add or manage your trackers:

Open the Samsung Health app. Touch More Options and then Manage items or swipe to and touch MANAGE ITEMS, and then touch the slider next to the trackers to turn them on or off.

On the Home tab, swipe up or down to see your current trackers. To view more information and settings, touch the tracker. You can also rearrange trackers by touching and holding the desired tracker, and then dragging it to the desired location.
When enabled, each tracker has different functions available on the Home tab.