Pair your Samsung Smart Remote to your Samsung Smart TV
Last Update date :
Oct 17. 2023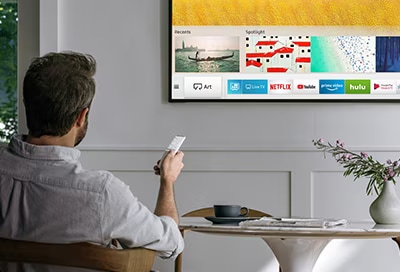 Your Samsung Smart Remote is designed to connect to your Samsung Smart TV automatically to make the setup easier. You can sync the remote with a different Samsung Smart TV at any time if you would like, but it will only work with one TV at a time. If you are going to use it with multiple TVs, you will have to manually pair it to your desired Smart TV each time.
Note: The provided information refers to Samsung Smart TVs sold in Canada. The available settings and options may differ for devices sold in other countries. Images, buttons, and functions of the Samsung Smart Remote may differ by model.
Connect the Samsung Smart Remote to your Smart TV
1
Point the Smart Remote at the remote control sensor on the Smart TV. On most Samsung TVs, the remote control sensor is located on the lower right hand side of the TV. If not, it is directly in the bottom center.
2
Next, press and hold the Return and Play/Pause buttons simultaneously for at least 3 seconds. Your Smart TV will begin syncing with the Smart Remote. Then, a message will appear, indicating that the remote is now connected to your Smart TV.
Note: If you have lost it, you can replace your Smart Remote. If your remote does not have the same buttons, you can check the user manual for steps specific to your model. If you are still having problems connecting your Smart Remote, or if the TV remote is not working the way it should, we can help with that too.
Please answer all questions.
The coding for Contact US > Call > View more function. And this text is only displayed on the editor page, please do not delet this component from Support Home. Thank you