A guide to finding the best Samsung TV for you
Last Update date :
Jul 14. 2022
With so many TVs available, you might be wondering how to choose the right one for you and your family. Samsung's lifestyle TVs offer the quality entertainment you'd expect from a television but are also statement pieces that will help enhance your living spaces. The Terrace can help bring your backyard patio to life during cookouts, The Frame can add style to your home, and The Sero can be rotated to suit any room in your home. Or, choose The Serif for its bold and distinctive design. If you're looking for something with a simple design but amazing picture quality, a QLED or UHD TV is the way to go.
Note: The provided information refers to Samsung smart TVs sold in Canada.
The Terrace
The Terrace is built for outdoor entertaining and can be installed right in your backyard. Set it up on your patio, in a shaded location, to enjoy movies and shows whether it's rain or shine.
This TV is weather-resistant with an IP rating of IP55, making it the obvious choice for your backyard entertainment center. It's protected against outdoor elements including humidty, dust, and heat, installed in a shaded area. And, The Terrace features impressive anti-reflection technology, greatly reducing TV reflection and glare, while also enhancing picture contrast levels.
You can also stream music to The Terrace from your phone using Tap View, or add The Terrace Soundbar (sold separately) for a more immersive audio experience.
Use Ambient mode on The Terrace to create your own unique setting with backgrounds or personal images from your phone. The Terrace is compatible with voice assistants like Bixby and Google Assistant, so you can ask to see the weather or current time displayed on the screen.
The Sero
Note: The Sero is compatible with Android and iOS.
If you'd like to watch your mobile content on a large screen all the time, then The Sero is for you. This TV's rotating screen can mimic your phone's orientation in portrait or landscapes modes. It can be set up like an easel on your floor or wheeled around your home using its optional wheels, so you can watch content from different locations.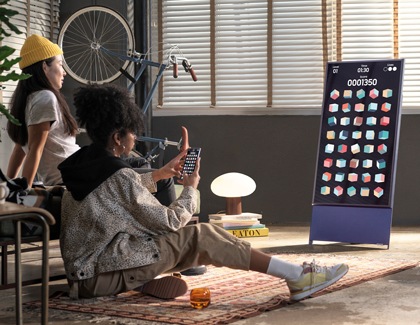 Project your phone's screen right to The Sero and use apps, watch videos, and swipe through photos with the convenience of a large screen. If you'd like to rotate the screen, simply use The Sero's remote or ask Bixby to do it for you. You can also connect to The Sero using the SmartThings app and move the screen using your phone.

The Sero can double as an intriguing interior display as well. You can use the Always on Display option in Portrait mode to showcase artwork, images from your Gallery app, or the time. This way, the screen won't stay blank when you aren't using it. Take things a step further with Ambient Mode+, which allows photos of your living space to be uploaded and displayed like wallpaper. The Sero allows you to complement any room in your home.
The Frame
The Frame TV is your home's ultimate décor. A great choice for the art enthusiast, The Frame is a piece of artwork and a TV all in one.

Mix art with your movies and shows on The Frame. With its wall mount, you can hang The Frame like a painting, or set it up on a desk or dresser. If you'd like to match the TV's border to your walls, you can use magnetic bezels (sold separately) designed to look like picture frames. To customize the look and feel of The Frame, these can be changed as often as you like.
Art Mode allows you to display captivating artwork of your choice when you aren't using the TV. The screen's brightness sensor will help ensure the images are colorful and clear in any room. Access the Art Store, when you sign up for a paid membership, to purchase famous images, or choose from a free rotation of pictures. If you subscribe to the Art Store, you'll receive alerts about new artwork based on your personal preferences and past purchases. If you'd rather showcase your pets or family, you can upload images directly to The Frame as well via your phone or a USB flash drive.
Note: You can try the Art Store for a free 3-month trial period.
The Serif
A TV and an elegant piece of furniture at the same time, The Serif will help enhance your living space with its iconic "I" design.

The Serif can be displayed in any corner of your home due to its unique easel stand. Or, you can take off the stand's legs and place the TV on a coffee table or bookshelf. It's all very straightforward. Carefully place your TV upside down to pop the leg sockets out, and put the stand in place. Prop it back upright, plug it in, and you're good to go. If you have guests over, you can move it around as often as you like so everyone can see the screen easily.
When you aren't using The Serif, you can transform it into a sophisticated decoration with Ambient Mode+. Choose from exclusive patterns for the screen, or set it to show the date, time, or current weather.

It can also be turned into a personal speaker with its NFC capabilities. With the TV screen off, just place your mobile device on top of The Serif. Your mobile device will connect to the TV via NFC, so you can start streaming music.
QLED TVs
If picture quality is what you're looking for, QLED TVs will be your a great match. Available in 4K and 8K, QLED TVs' Quantum Dot technology boast rich, accurate colours with deeper contrast and crisp details.

Thanks to the TV's 100% Color Volume capabilities, experience our finest picture ever with one billion shades of pure colour that stays true at any level of brightness. Plus, 8K AI Upscaling means our powerfully intelligent Quantum Processor upscales content into near-8K for ultimate realism. Or, use the Universal Guide to browse channels and apps. If you love gaming, the Real Game Enhancer+ will let you experience enhanced gaming through extra motion clarity, reduced blur and tearing, and 3D sound.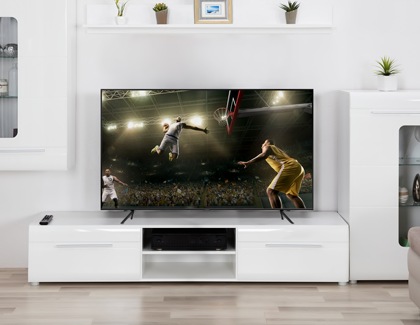 When you're watching a movie with a lot of dialogue, you'll be able to hear every word with Object Tracking Sound, which creates a realistic cinematic sound experience that tracks the motion in every scene. The Infinity Screen means you can enjoy edge-to-edge viewing, with the bezels shrunk to almost nothing so you can enjoy more of the picture. And the Ultra Viewing Angle helps ensure you experience the best picture at any angle, giving you consistently detailed picture even when you are sitting to the side of your TV.
UHD TVs
Ultra high-definition TVs allows you to enjoy sharp, crisp images in your movies and shows with amazing 4k resolution that has four times more pixels than FHD TV.
Whether you're searching through apps on the Universal Guide or watching a movie High Dynamic Range shows you every detail clearly, even in the brightest or darkest scenes. And gamers can jump right in with Auto Game Mode, which automatically optimizes your TV for gameplay.
Please answer all questions.
The coding for Contact US > Call > View more function. And this text is only displayed on the editor page, please do not delet this component from Support Home. Thank you