Will the alarm turn on in my Samsung phone or tablet if the device is turned off?
Last Update date :
2021-05-18
You can find your alarm by going to the Clock app on your device. The Clock app allows you to set alarms, change the alarm sound and use Bixby to give you information about the day as you wake up.
your Samsung Android device cannot activate any alarm you have set on it if the device is turned off.
The device must be turned on to activate the alarm in your Samsung Smart Phone.
1
Select the clock icon
2
Tap on the time to choose the alarm time
3
Tap on the days to choose which days that alarm will be active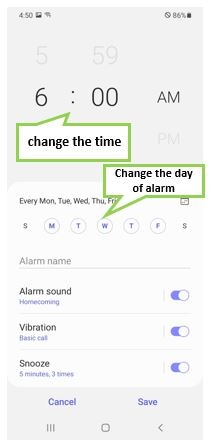 Note: If you have any questions after verifying the above-mentioned solutions, please call our contact center to get help with your inquiry. Our helpful agents will be there to help you. 
Please click the submit button below to share your feedback with us. Thank you for your participation.
Please answer all questions.