Good. Better. Best.
Find The Premiere set up right for your home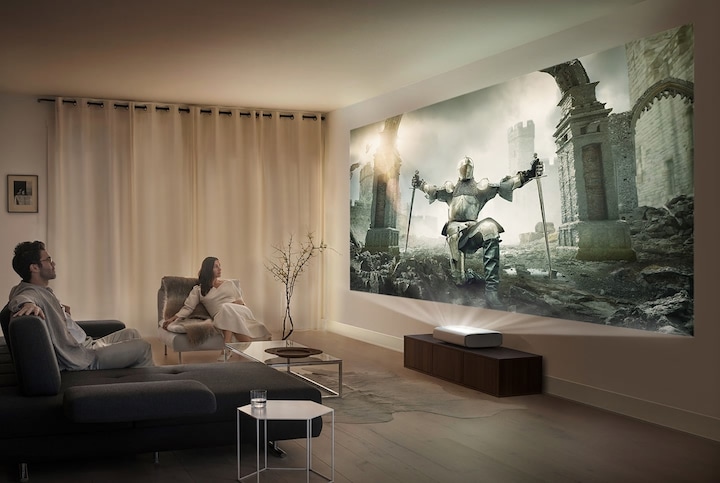 * Images are simulated and for illustration purposes only. The Premiere must be at least 11.3cm (for LSP9T) or 24.7cm (for LSP7T) from the wall.. The laser projector can be projected on a flat white or bright monotone wall in a dark room without setting up an additional screen. For a more optimised experience, using a CLR screen dedicated to ultra short throw projectors is recommended (sold separately).
As a TV, movies and sports enthusiast, you naturally want to experience the big screen in glorious 4K, right in your own home. This is where The Premiere comes in. It's a versatile ultra-short-throw (UST) projector that can work in many different environments, unlike many of your traditional projectors. We recommend three setup options to help you to get the right experience out of The Premiere in your living space. We call them Good, Better and Best. Discover which one works best for you.

*Image simulated for illustrative purposes. Image quality will vary depending on quality of the source content and room lighting conditions
1
Good
When watching your favourite content on The Premiere, you deserve a good visual experience to match. We recommend setting up your projector in a semi-lit, light-controlled room on a white or monotone wall. The projector's bright ANSI lumens are designed to provide rich colours and a clear picture, despite the ambient light in the room. This setup also means The Premiere can be more versatile to the size of picture you want for your space.
Better
Let's take it to the next level. For a better visual experience with The Premiere, we recommend, while in a semi-lit, light-controlled room, you project the image onto a CLR screen. This setup will help absorb ambient light while improving the contrast, colours and brightness even further. This will also help limit the interference from the surrounding room lighting and let you experience your favourite content in a better light. Take a look at the last section below to learn more about CLR screens.
Best
This is what you're here for – how to create the best visual experience in your home with The Premiere. This time, we recommend you use a CLR screen, but in a dark environment. This setup removes the challenges of other light on the picture, allowing The Premiere to show you its full potential. Also, because you are using the CLR screen, your ceiling reflections will be significantly reduced for a more pleasing setup.

* CLR screen is sold separately
*Image simulated for illustrative purposes. Premiere must be at least 11.3cm (for LSP9T) or 24.7cm (for LSP7T) from the wall
The benefits of CLR screens
Ceiling Light Rejection (CLR) screens are specially made for ultra-short-throw (UST) projectors. These screens are designed to significantly reduce ceiling reflection and absorb ambient light. As a result, they provide rich colours and as a result, they provide rich colours and amazing contrast. Alternatively, ALR (Ambient Light Reflection) screens are made for normal ceiling-mounted projectors. However, because they don't reduce ceiling reflection, they are not very effective when used with UST projectors.

When it comes to The Premiere, Samsung recommends CLR screens from the specialists at Elite Screens. You'll find your perfect CLR screen in the link below.
Exclusive Offer Elite Screens - Aeon CLR screens
Fixed Frame Screen: For Ultra-Short-Throw Projectors

High Contrast, 95% Ceiling Light Rejecting and Ambient Light Rejecting material, Ultra-thin Bezel Border, Sliding wall mounts, Designed for table-top ultra or short-throw projectors.


15% discount coupon - use code "SAMSUNG_ES_CLR" at checkout.
The Premiere Triple Laser 4K Smart Projector

The Premiere Laser 4K Smart Projector