How to use the Drying Rack in your Samsung Dryer
Last Update date :
Nov 18. 2021
Please Note: The information on this page is for Australian products only. Models, sequences, error codes or settings will vary depending on location and/or where the product had been purchased. To be redirected to your local support page please click here.
The drying rack found in selected Samsung Dryers lets you easily dry special care items like sneakers, sweaters and even stuffed animals. When the drum spins in your dryer, the rack stays still. You will need to ensure that the rack has been properly installed.
Set the drying time up to 150 minutes according to the moisture and weight of the items to dry. When drying laundry using the drying rack, the Time Dry cycle is recommended.
Use the guide below for instructions on how to install the drying rack.
Note: The dry rack is available on select dryer models only. If available on your dryer, the dry rack will come as a provided accessory.
1
Position the drying rack in the drum, inserting the front lips of the rack into the holes of the door diaphragm.
2
Place items on the rack, leaving enough space between each item so that air can circulate. For clothing items, fold and place flat on the rack. For shoes, place shoes with their soles facing down.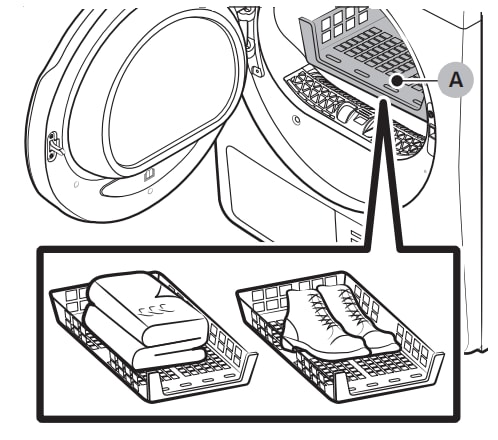 3
Close the door and tap the Power button. Turn the Navigation dial to select Time Dry, and then tap the Timer button to select the drying time.
4
Tap and hold the Start / Pause button to start the cycle.
We would love to know your feedback to help us improve. Please click submit to tell us what you think.
Please answer all questions.