Auto Cycle Link for Samsung Dryer
Last Update date :
Jan 11. 2022
Please Note: The information on this page is for Australian products only. Models, sequences, error codes or settings will vary depending on location and/or where the product had been purchased. To be redirected to your local support page please click here.
With the Smart AI Front Loader Washer and compatible Smart AI Heat Pump Dryer, you never have to worry about choosing the wrong drying cycle again with Auto Cycle Link*. You can enable this feature once you have both your compatible washing machine and compatible dryer connected to the SmartThings app.
Once Auto Cycle Link* is set up on your SmartThings app, the Smart AI Washer passes on the information to the Smart AI Dryer and selects the best dry cycle to use automatically (i.e. if you selected a delicate wash cycle on your SmartThings app for your compatible washer, that information will be passed down to your compatible dryer automatically when you set up Auto Cycle Link*). 
Follow the steps below to find out how to set up Auto Cycle Link*.
Note: 
For a guide on connecting SmartThings to your washing machine, please click here.
For a guide on connecting SmartThings to your dryer, please click here.
If your WiFi router is further away from the appliance, the connection can be weak. It is also recommended to connect on the same band (e.g. connect all to 2.4GHz).
1
Open the

SmartThings app on your mobile device or tablet.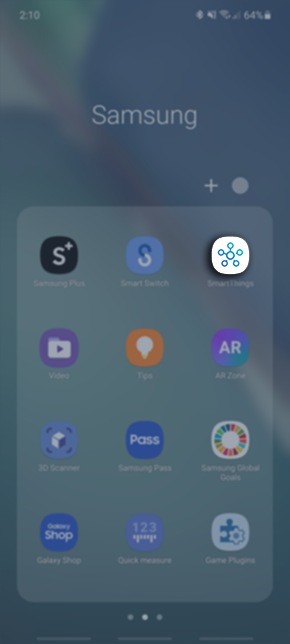 2
Select your Smart AI Dryer that has been linked to your SmartThings account, or add your compatible dryer by tapping on the plus (+) icon found in the upper right corner of the screen.
3
Tap on Auto Cycle Link** to advance.
**Auto Cycle Link is only available when both the washer and dryer have AI Control and Wi-Fi connected.
4
Tap the slider to turn On or Off.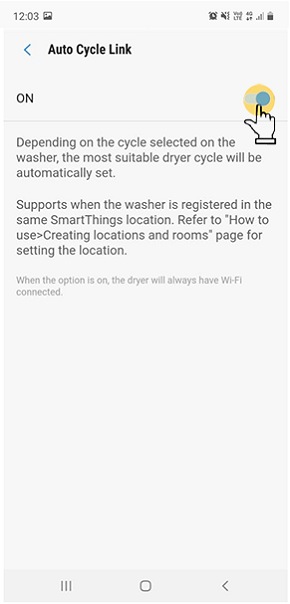 We would love to know your feedback to help us improve. Please click submit to tell us what you think.
Please answer all questions.