What are the advantages of having a digital inverter compressor in my refrigerator?
Last Update date :
Nov 23. 2021
 Please Note: The information on this page is for Australian products only. Models, sequences or settings will vary depending on location and/or where the product had been purchased. To be redirected to your local support page please click here.
Samsung Digital Inverter Compressor intelligently varies its power and running speed according to the immediate cooling requirement of the compressor. The Digital Inverter Compressor works as a pump to circulate the refrigerant through the refrigeration cycle.
Digital Inverter Compressor vs. Reciprocating Compressor:
The Digital Inverter Compressor makes 5 different moving cycles based on humidity levels and usage patterns. It helps maintain a more consistent temperature compared to Reciprocating Compressor used in conventional refrigerators.
There is reduction in wear and tear on the Digital Inverter Compressor with greater durability compared to a Reciprocating Compressor.
The Digital Inverter Compressor reduces minimises noise, which lessens power consumption.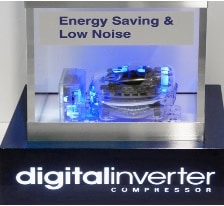 Conventional Compressors vs. Digital Inverter Compressors:
Unlike conventional compressors, digital inverter compressors do not abruptly start and stop. This ensures consistent, uniform cooling, and less energy consumption. Less Start & Stop also means reduced noise and less wear/tear of internal components, elongating compressor life. See the comparison below:

Conventional vs Digital Inverter compressors

| Conventional Compressors  | Digital Inverter Compressors  |
| --- | --- |
| The noise level in conventional compressor is usually high.  | It monitors temperature levels, making adjustments to its RPM speed, therefore, it significantly reduces noise.  |
| The efficiency of conventional compressor is low.  | It delivers up to 40 percent more energy efficient than conventional compressors.  |
| The use of this compressor leads to an increase in green house emmisions.  | The green house gases (CO2, CFC) emissions is vastly reduced thereby protecting the environment.  |
We would love to know your feedback to help us improve. Please click submit to tell us what you think.
Please answer all questions.