Remove Lock Screen credentials on Samsung devices
Last modified :
Jun 12. 2020
If you're looking to remove the PIN, Pattern or Password security of your phone and tablet, see the steps below to get started. Please make sure you don't have sensitive or private information saved on your device, and proceed with caution. Removing the PIN, Pattern or Password will also remove any biometric data you may have saved to your device. You can only use Fingerprints, Face or Iris Unlock methods with a back up PIN, Pattern or Password.
Please Note: This guide is designed for Australian variant Galaxy devices, if you have an international device and require further support click here to get in touch with your Samsung subsidiary. Screenshots were captured from a Galaxy Z Flip operating on Android OS Version 10.0 (Q), settings and steps available may vary depending on your Galaxy device and software version.
The following instructions are only applicable if you know your existing PIN/Pattern/Password. If you have forgotten your credentials, please see the page on Unlocking my Samsung Phone  for more information.
1
Head into your Settings > Lock Screen
On older Operating Systems (Android OS Version 4.4 - 5.0)
Select the My Device or Device tab from the top of the Settings, and look for Lock Screen under Personalisation
On newer Operating Systems (Android OS Version 6.0 - 8.0)

Scroll down on the page until you find Lock Screen or Lock Screen & Security - the icon has a little padlock on it
2
Open the Lock Screen option
3
Type in your current screen lock passcode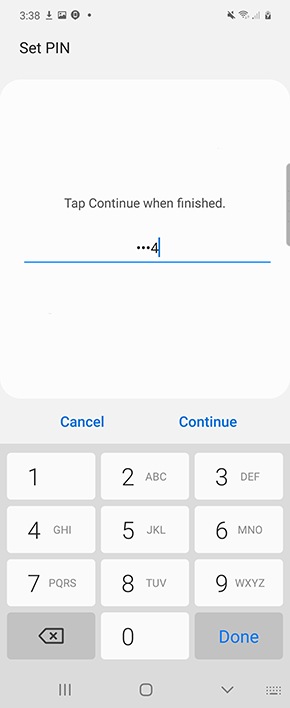 If you've forgotten your lock screen security but you have an active Samsung Account on your device, see the page on How to use Find My Mobile. You may be able to log in and remove the lock screen security (and any biometric data saved on your device) through the website.
If you're not able to use the Find My Mobile service, you'll need to perform a Factory Data Reset on your device to get into it. Please make sure you have your Google Account details ready - you'll need to sign back in before the device will load up after a reset. See the bottom of the page Factory Data Reset a Mobile Device for information on resetting a mobile device with a Google Account.
4
Select your new Lock Screen type
Swipe: No security. Just swipe the screen to access the Home Screen and apps
Pattern: Medium Security. Draw a pattern on the Lock Screen to open the Home Screen
PIN: Medium to High Security. Enter a PIN at least 4 digits long to access your device
Password: High Security. Enter a mixture of letters and numbers to secure your phone or tablet
None: Only available on OS 4.4 - 6. No Security. Similar to swipe but pressing the Home or Power button opens directly to the Home Screen
5
Type in new Lock screen passcode, then tap on Continue
Please Note: There are lots of different third-party applications that can install a new "lock screen" onto your device - in which case the instructions above will not work. It can be tricky to tell the difference, but uninstalling the application will remove the "lock screen" that is part of the application. If you're not sure which application might be causing the problem, speak to a Samsung Care expert on Chat Support or phone 1300 GALAXY (1300 425 299 in Australia) for further assistance.

Did not find what you're looking for? We're here to help.
Call
1300 362 603
8am-8pm / Monday to Friday
For general enquires and technical support relating to all Samsung products : CLICK HERE
For all Printer related inquiries, please
click here
or visit
https://www.support.hp.com
Please
click here
to view the latest news regarding the Samsung sale of Printer business to HP.
Contact Us