Safe Mode on Samsung Phones
Last modified :
Jun 17. 2020
Using Safe Mode on a Samsung phone or tablet allows you to force the device to run the essential operating system, and disable most 3rd party applications. It's designed as a diagnostic tool to help solve issues with connectivity, battery life, and more. You might use Safe Mode to test whether or not a 3rd party application is causing ads to appear on your device, or maybe something is interfering with incoming and outgoing calls. A rogue app can even use up an unusually large amount of mobile data - Safe Mode will restrict mobile data access to 3rd party apps completely. You can still make and recieve phone calls and messages in Safe Mode; other apps are dependant on the specific device.
If your device functions correctly in Safe Mode, it is most likely that the issue lies with a 3rd party application that can be uninstalled to resolve the problem. If the device still has problems while booted into Safe Mode, there may be an issue with the Operating System or physical hardware with the device; it will require further diagnostics. Get in touch with us via Chat Support or call 1300 425 299 (Toll Free in Australia) for assistance. 
Boot a Samsung device into Safe Mode:
1
Turn the device off by holding the Power button until the option to Power Off appears on the screen. Tap Power off .
2
Press and Hold the Power and the Volume Down buttons at the same time, to turn the device on.
The Power key is on the right hand side of most Samsung phones, and the Volume Down will usually be on the left hand side.
When you see the Samsung logo appear on the screen, you can let go of the Power button while the device boots up. Make sure to keep holding the Volume Down button.
3
You will now be able to see Safe Mode down the near the bottom left of the screen.
Within Safe Mode you'll be able to test for lots of different issues, navigate around the device to see if you run into any problems. You can use Safe Mode to keep an eye on your battery life or mobile data usage for as long as you'd like; however there will be apps that won't be available inside Safe Mode.
There are 3 different ways to exit Safe Mode - all of them require the device to restart completely.
1
Hold Volume Down and Power for at least 5 seconds to force the device to restart.
2
Hold the Power button on the right hand side and select Restart on the screen.
3
Swipe down from the top of the screen to access the Notification panel. Select the notification Safe Mode is on and tap Turn Off on the prompt to restart the device.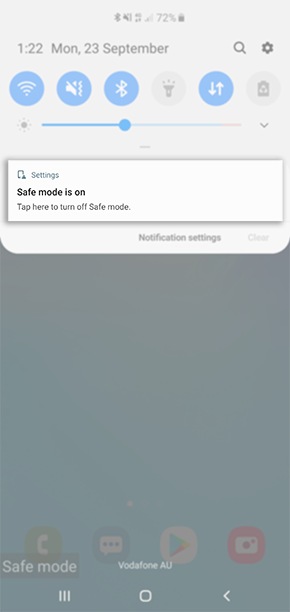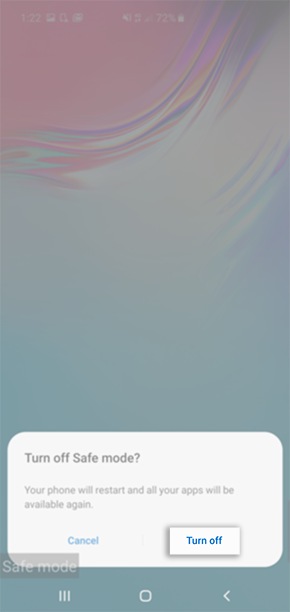 If your device is continuously booting into Safe Mode, there may be damage to the Volume Down button causing it to 'stick' while the device turns on. Please get in touch with our Samsung Care experts for help finding an Authorised Samsung repairer.
Did not find what you're looking for? We're here to help.
Call
1300 362 603
8am-8pm / Monday to Friday
For general enquires and technical support relating to all Samsung products : CLICK HERE
For all Printer related inquiries, please
click here
or visit
https://www.support.hp.com
Please
click here
to view the latest news regarding the Samsung sale of Printer business to HP.
Contact Us