Using Wireless PowerShare on my Samsung Phone
Last Update date :
Dec 20. 2021
What if you could charge all your devices on the fly, even if you forgot their chargers? It's not too good to be true. With the new Wireless PowerShare feature, your phone can reverse wireless charge another phone, watch, or Galaxy Buds. All you need to do is place the two devices together.
Note: Wireless PowerShare works with most Qi-Compatible devices. This feature may not work with some cases, accessories, or other manufacturers' devices.
Please Note: This guide is designed for Australian variant devices, if you have an international device and require further support click here to get in touch with your Samsung subsidiary.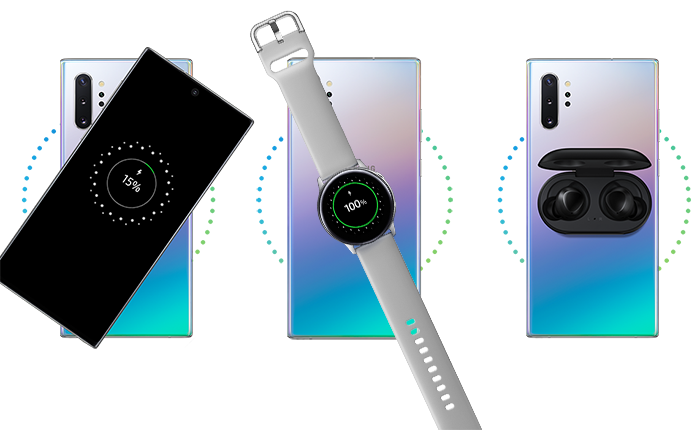 Device-to-Device Charging
If the battery on your device is getting low, automatically transfer power from your compatible Galaxy phone. Simply activate "Wireless PowerShare" on your notification panel, then place the other device on the centre of your Galaxy phone with their backs facing. Separate the devices when enough power has been transferred, or wait until the other device is fully charged.
Supports WPC Qi certified smartphone products and Samsung wearable devices
Phones: Samsung or other brand smartphones that support wireless charging(WPC Qi-certified devices.). Different devices may charge at different speeds. ※ Other company devices can vary depending on the device setting or design, even for WPC Qi certified devices
In case of Wearables, limited to Samsung wearable devices (Gear S3/Sport, Galaxy Watch, Galaxy Watch Active, Galaxy Watch Active2, Galaxy Buds)

Note: The location of the charging coil may vary by device model. You may need to adjust the devices until they connect with each other properly.
Watch our video below showing how it works.
Dual charging
Whilst your Galaxy Phone is plugged in using wired charging, you can charge another device at the same time.

Follow the below steps to activate dual charging:

1
Pull down the notification panel on your Galaxy phone and tap on
to enable Wireless PowerShare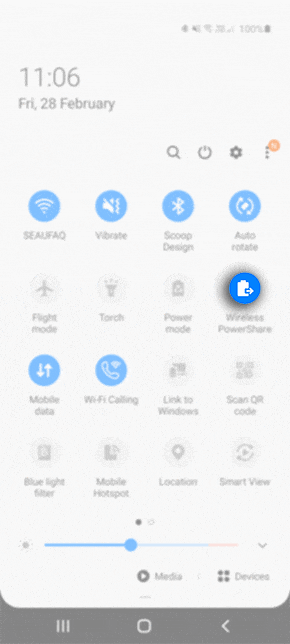 2
Put the centre of the Galaxy phone back-to-back with the device you would like to wirelessly charge.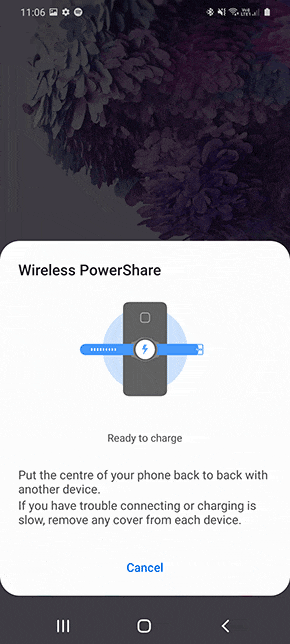 3
If you pull down the notification panel again, a message will show that it is charging the connected device. The Wireless PowerShare icon will also appear on the status bar or on your Always On Display panel.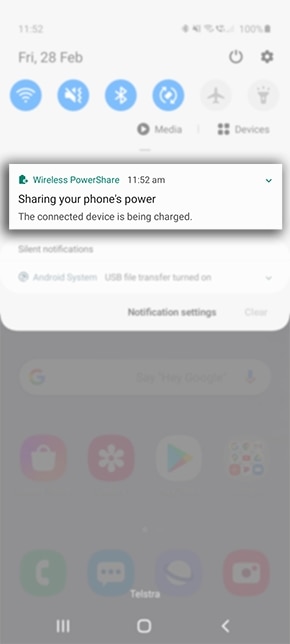 Why is Wireless PowerShare not working properly?
The efficiency of wireless charging depends on the distance between the charging coils embedded in the devices. You may need to adjust the position of the devices until they connect with each other properly.
Depending on the type of accessories or cover being used on your device, the Wireless PowerShare feature may not work properly. It is recommended to remove any accessories and protective phone covers before using this feature.
Also check that the back of the devices are free from dust, dirt or moisture before using Wireless PowerShare. 
Note: Only devices that support wireless charging can be charged using this feature. Charging speed or efficiency may vary depending on the device's condition or surrounding environment.
Compatible Samsung devices
Most Qi-Compatible Samsung devices can be charged with Wireless PowerShare, but check out the full list of compatible devices just in case. The speed and power of the charge will vary by device.
Devices that can share power and can also be charged with Wireless PowerShare:
Galaxy Z Fold3, Galaxy Fold2, Galaxy Fold
Galaxy Z Flip3, Galaxy Flip 5G, Galaxy Flip
Galaxy S21, S21+ & S21 Ultra
Galaxy Note20 & Note20 Ultra
Galaxy S20, S20+ & S20 Ultra
Galaxy Note10, Note10+ & Note10+ 5G
Galaxy S10e, S10, S10+ & S10 5G
Devices that can be charged by Wireless PowerShare:
Galaxy Buds2, Galaxy Buds Pro, Galaxy Buds Live, Galaxy Buds+ & Galaxy Buds
Galaxy Watch4, Galaxy Watch4 Classic, Galaxy Watch3, Galaxy Watch Active2, Galaxy Watch Active, Galaxy Watch, Gear Sport, Gear S3
Galaxy Note9, Note8, S9/S9+, S8/ S8+ & S7/S7 Edge