Using the Screen Recorder on my Samsung device
Last modified :
Mar 13. 2020
Screen recorder is a new feature to allow you to make a screen recording video easily without having to download any external applications. You can start screen recording by tapping the

icon in your Quick panel. After a 3 second countdown, your recording will start.

Follow the below guide to learn how to use Screen Recorder on your Galaxy device.
Please Note: This guide is designed for Australian variant Galaxy devices, if you have an international device and require further support click here to get in touch with your Samsung Subsidiary. This setting available may vary depending on your Galaxy device and Android OS Version.
Currently this settings is only available on the Galaxy Z Flip, S20, S20+, S20 Ultra, Note10, Note10+, Note10+ 5G, S10e, S10, S10+, S10 5G, A71, Galaxy Tab S6 and Galaxy devices operating on Android OS Version 10 (Q).
Accessing Screen Recorder
1
Swipe down to access your Quick Panel and select Screen Recorder.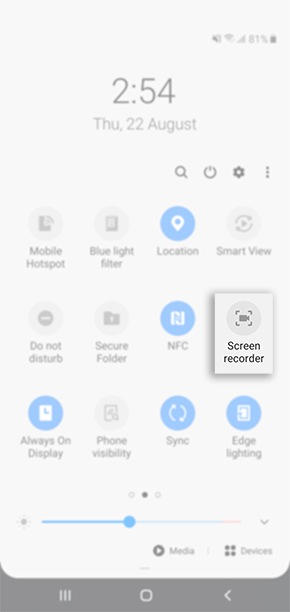 2
Choose your preferred Sound settings then tap on Start recording
3
Choose your preferred Sound settings then tap on Start recording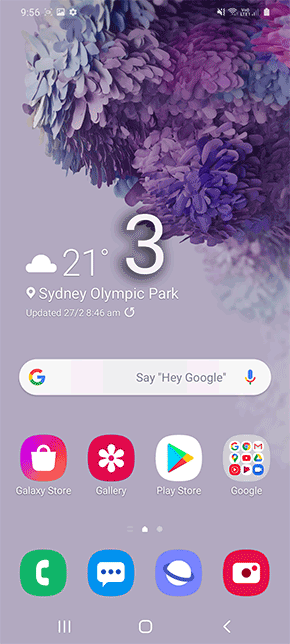 4
Choose between a range of options at the top of the screen to add in your Screen Recording. When your ready to stop the video simply tap the

button.
Allows you to write or draw on the screen - you can choose up to 8 different colours to decorate your recording.

 Will enable or disable the Picture-in-Picture feature (PiP) to record the screen with a video overlay of yourself.

 When you are finished recording the video, tap the Stop button.
Customising the Screen Recorder settings
Using your Quick Settings
1
Swipe down the screen to access your Quick Settings and tap on the word Screen Recorder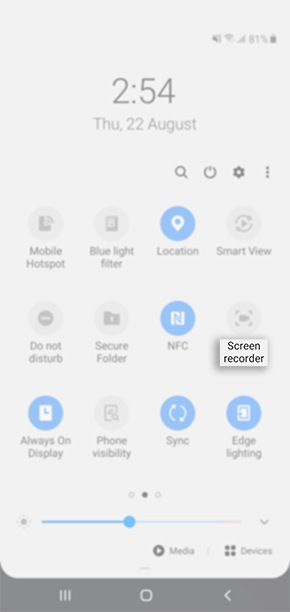 2
Select your preferred Sound and Video quality, once complete tap on Done
Using your Advanced Settings
1
Head into your Settings > Advanced Features
2
Select Screenshots and screen recorder
3
Tap on Screen recorder settings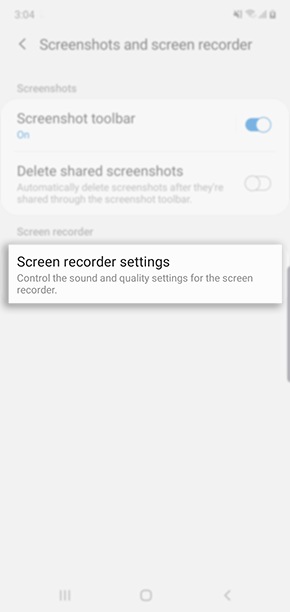 4
Select between the Sound, Video quality and Selfie video size options.
Please Note: Selfie video size supports 5 levels of the selfie size (※ Selfie video is only for the front camera)
Did not find what you're looking for? We're here to help.
Call
1300 362 603
8am-8pm / Monday to Friday
For general enquires and technical support relating to all Samsung products : CLICK HERE
For all Printer related inquiries, please
click here
or visit
https://www.support.hp.com
Please
click here
to view the latest news regarding the Samsung sale of Printer business to HP.
Contact Us