2-Way Speaker
3 Mics
Battery
Wireless charging(Qi)
Change the way
you experience sound.
Introducing Galaxy Buds+.
Wireless earbuds2) with 2-way speaker delivering
sound by AKG with rich treble and bass, an adaptive
3-mic system for crystal clear calls, and long-lasting battery
power — all for a premium listening experience.
Studio quality,
outside the studio
AUDIO
Escape into your music
Rich, natural sound is now expanded by Galaxy Buds+, 2-way dynamic speaker system and boosted driver. The powerful bass and crisp high notes will have you moving to the beat wherever you go.2)
2 mics, less noise
Speak without
having
to shout
Enjoy crystal clear calls and unparalleled voice quality with 2 innovative outer mics that pick up your voice and is designed to preserve it against background noises.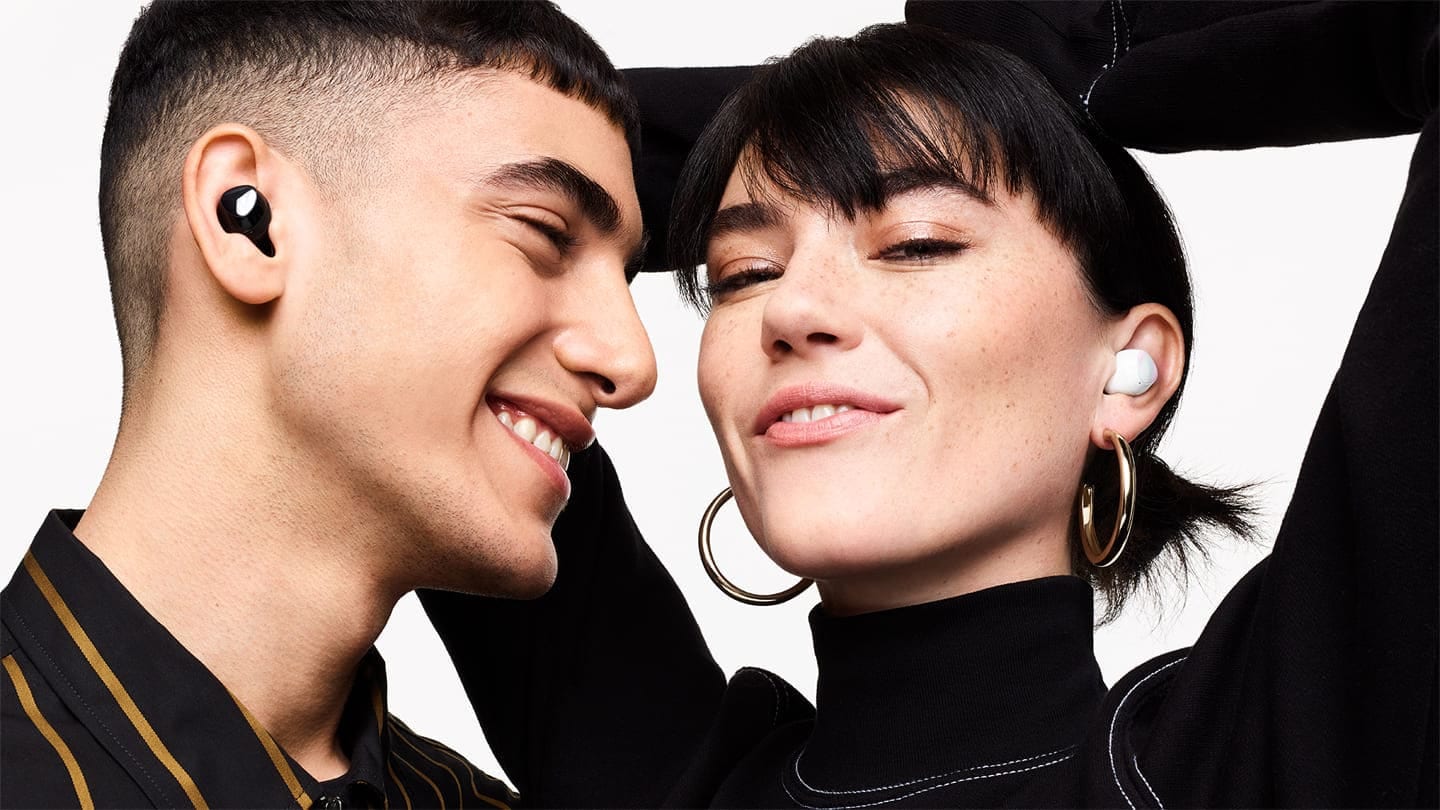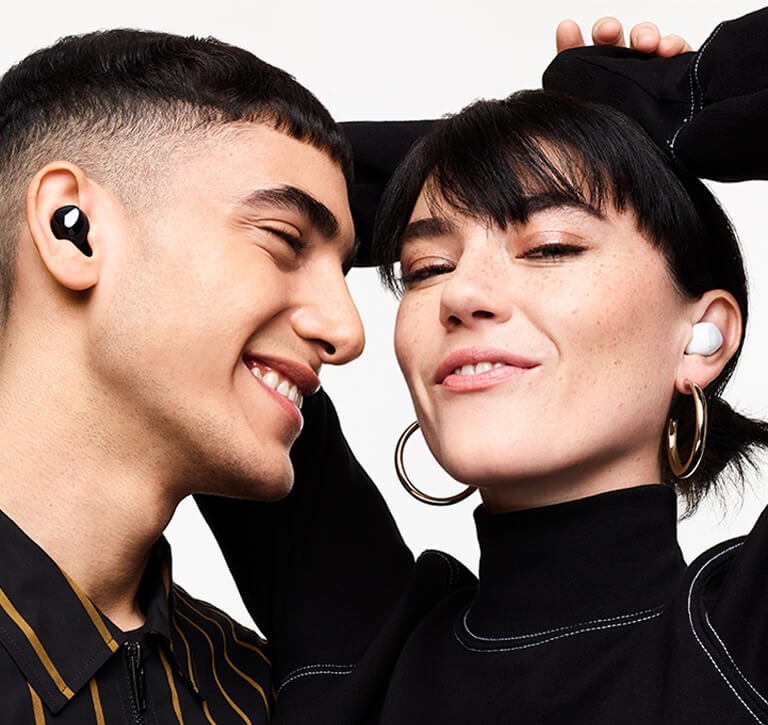 Adapts to noise,
so you don't have to
Galaxy Buds+ adaptive 3 microphone
system is designed to help makes sure you're being heard over distracting noises.
The 2 outer mics work together with the inner mic to block out surrounding sounds while you're on a call.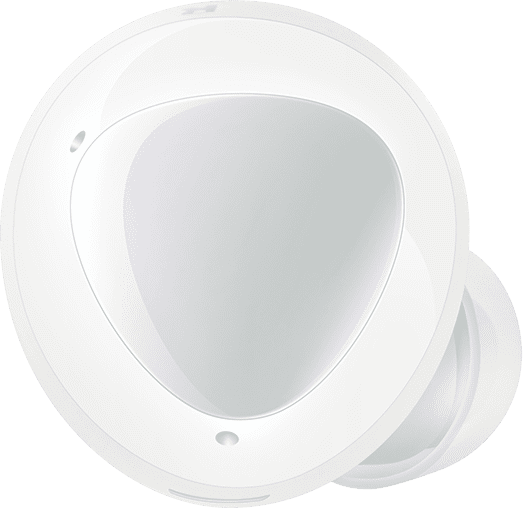 Sound quality you
can hear
Catch the details of your music and videos in the balanced and spacious audio crafted by AKG. The studio quality sound is designed to be pure and natural, enhancing listening to podcasts, audiobooks and phone calls.
DESIGN
Turn heads with
a hint of color
Galaxy Buds+ sleek, compact package comes in various colors with specially crafted ergonomic ear and wing tips that is designed to fit comfortably in your ear for long-lasting wear. and to help you enjoy unhindered movement while your buds keep the music in your ears. 2
CONVENIENCE
Hear what you
want
to hear
Adjust how much of the outside world you let in to help you to stay aware and connected. Turn up Ambient sound volume when you need to engage with your surroundings practically without having to take your earbuds out.4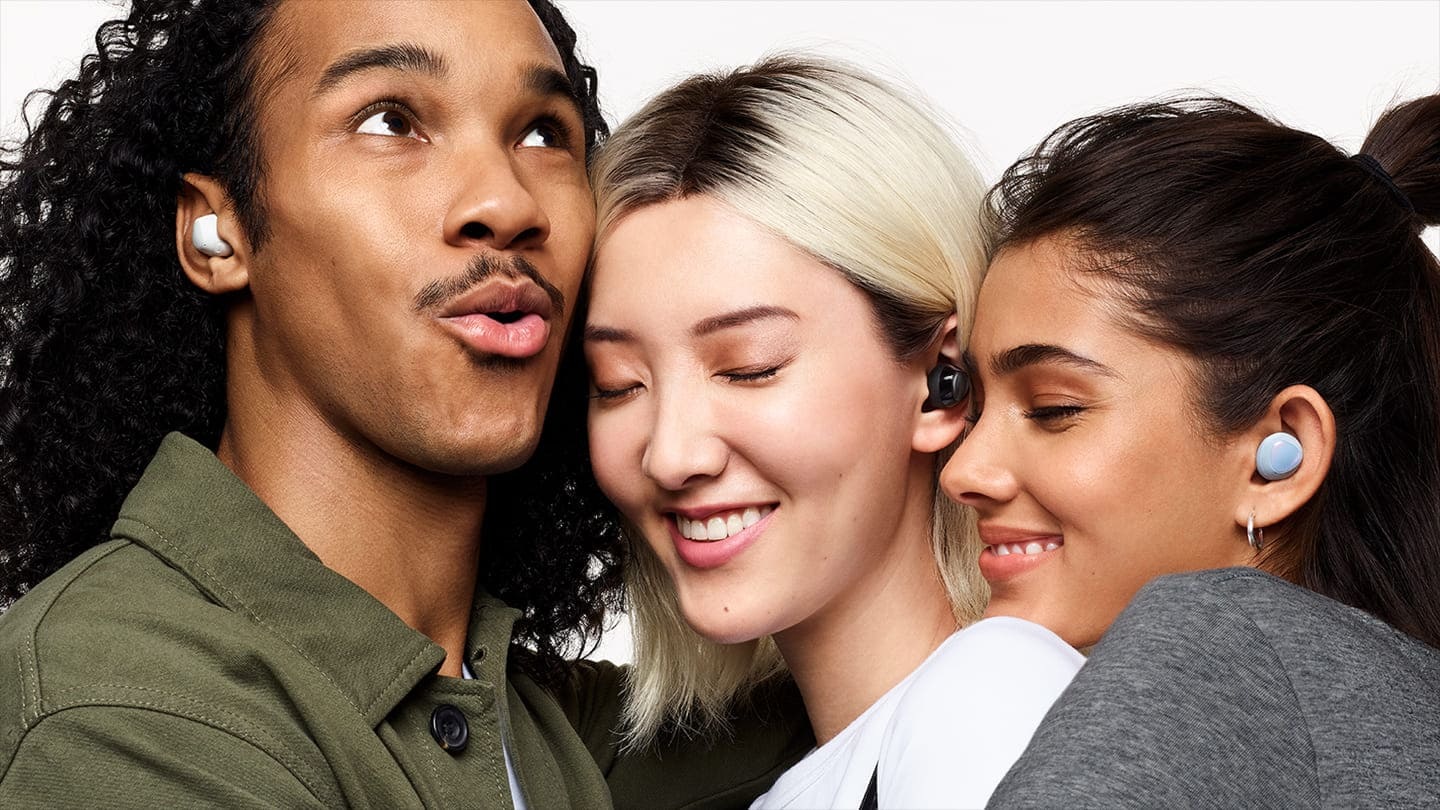 Just tap to control
Shift through your playlist, answer calls and adjust volume with simple taps on your earbuds. Customize your own tap commands for more control and freedom from your phone.
GALAXY ECOSYSTEM
One step to connect
Pair your Galaxy Buds+ in one seamless step to compatible devices on your Samsung Cloud account. No need to disconnect, Bluetooth connectivity shifts easily from your phone to your tablet or other Samsung devices.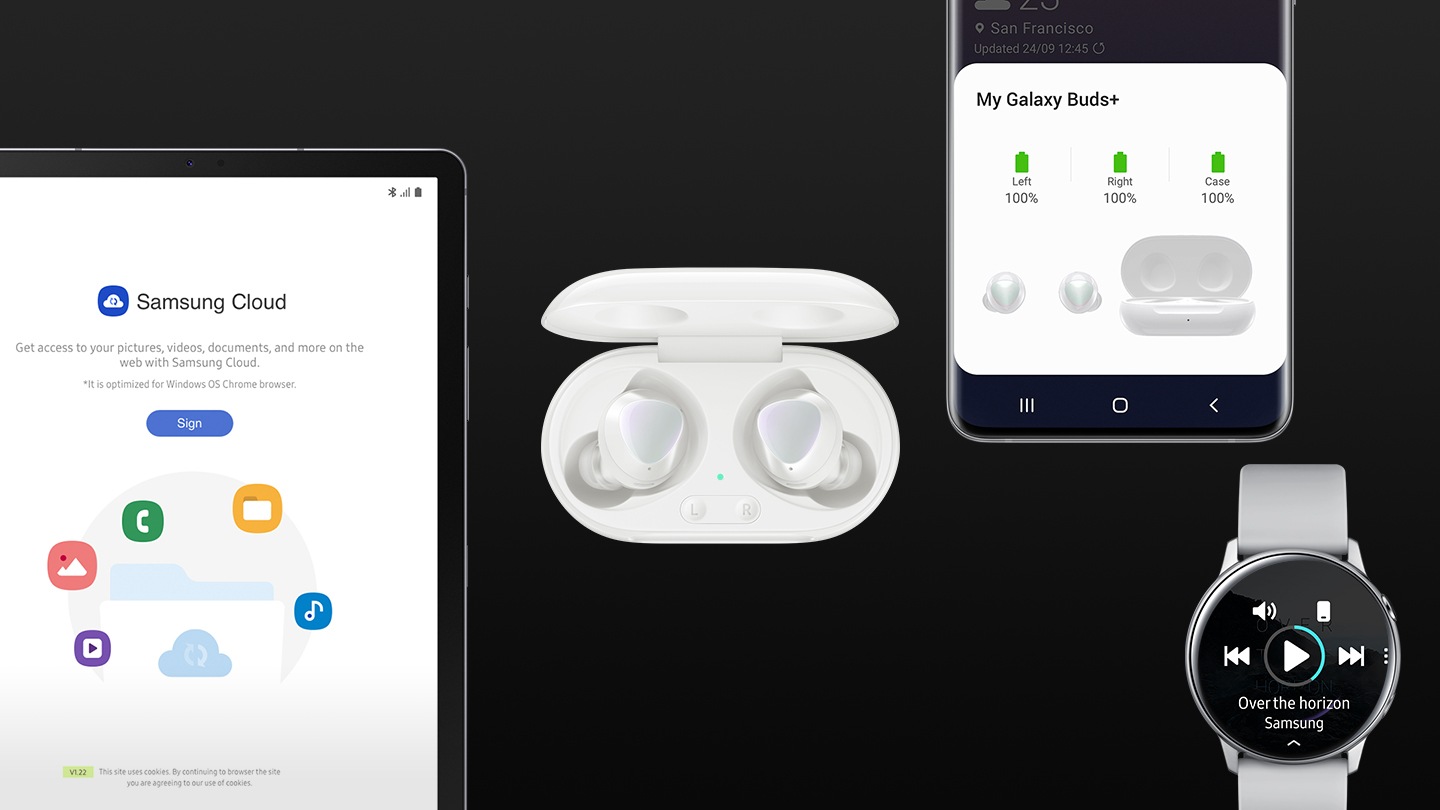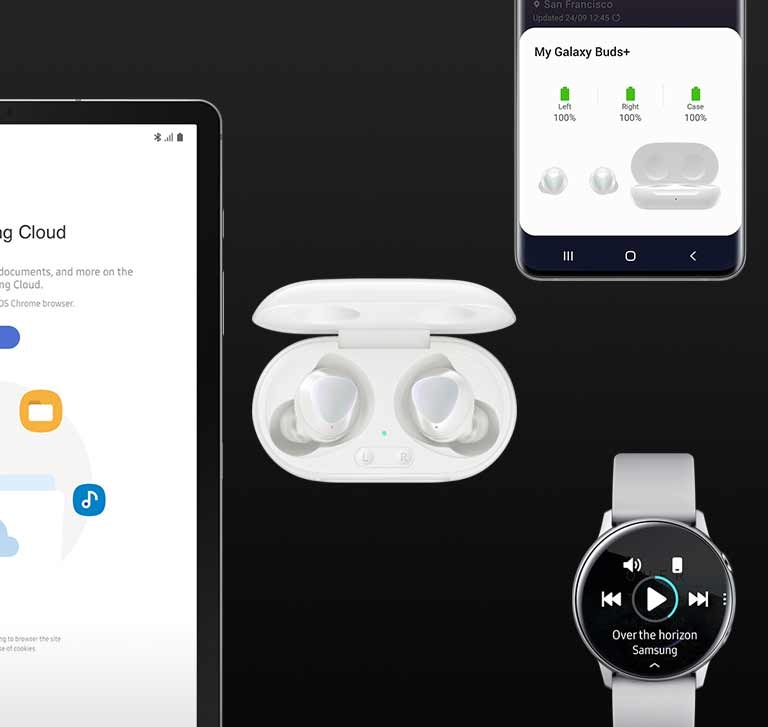 1) Based on internal testing. Audio playback time tested by pairing a pre-production Galaxy Buds+ to a recently released Galaxy smartphone with default settings (Ambient Sound function off). Samsung travel adapter used for charging. Actual battery life and charging time may vary by usage conditions, number of times charged and many other factors.
2) Galaxy Buds require a compatible device (Android 5.0 or higher) for initial set-up, ongoing maintenance and download of apps. Minimum of 1.5GB RAM and internet connection required.
3) Requires at least 30% battery life on Galaxy S10. It is recommended that you remove the cover from your compatible device before using wireless PowerShare.
4) Additional functions available in the Laboratory menu. Laboratory menu functions may be added or deleted.
*Typical value tested under third-party laboratory condition. Typical value is the estimated average value considering the deviation in battery capacity among the battery samples tested under IEC 61960 standard. Actual battery life may vary depending on network environment, usage patterns and other factors.
Rated 5 out of 5
by
Stephen B
from
Extremely impressed, made the swap.
I find these vastly more comfortable than my previous pair from a different brand, I found the 'Galaxy Wear'..wearables? app to be much better and loved the magnetic case. Oh and pairing with my phone was super easy. Overall just about the perfect headphones for me. These were not even on my radar but now I can confidently recommend them.
Date published: 2020-05-12
Rated 5 out of 5
by
Soundbiter
from
From an audio engineer, far better than Airpod pro
I got a set with my S20+ and they're excellent. A fellow Audio Engineer friend of mine has a set of Airpod Pro's he picked up a couple mo the back. We sat for probably an hour comparing them between each other and both FAR preferred the Galaxy Buds. The built in mics are far better sounding, the control interface in the phone app is simpler and easier to use (although could use a more in depth EQ option for those who like to fiddle) and the sound quality of the drivers is excellent. The little pill case works a charm, I use mine all day and they just go and go. They also dit in my ears properly, even when you're sweaty.. all my other in ears are wrap arounds because they fall out otherwise. Not these.
Date published: 2020-03-28
Rated 5 out of 5
by
Michael R
from
An average consumer perspective
As the title suggests, I am not an audiophile by any stretch of the imagination, so take this review with an appropriate grain of salt. Keep in mind that I have only used them with my Galaxy S20+, with the equalizer set to dynamic, Dolby Atmos on, and custom adaptive sound for my hearing in the settings. Your mileage with other devices may vary. This review will primarily be comparing the Galaxy Buds+ with the older Samsung Gear IconX 2018 buds. Tl;dr at the end. I own a pair of Samsung Gear IconX 2018 buds that I have had since shortly after they came out, which, I will be completely honest, I used for maybe a month before basically permanently shelving them. For what was available at the time, they were good, but they just didn't match my needs for a number of reasons. So when I received my Galaxy Buds+ and discovered that they address basically every issue I had with the IconX, I can't express how happy I was. To start with, the fit - I have somewhat shallow ear canals (is that a thing? I think it's a thing), so the relatively long ear stems (if that's what they're called) on the IconX were uncomfortable to wear for more than an hour or so. The shorter stems on the Galaxy buds are much more comfortable, as are the default wingtips. They are also 2.4g lighter each, and while that doesn't sound like a lot, it definitely makes a difference - I can barely tell that I'm even wearing them, they are all round very comfortable even for extended use. The charging case is significantly smaller and easier to pocket than the IconX as well, with a nice gloss finish as opposed to the IconX matte finish. Wireless charging for the case is convenient, being able to place it on my charging pad instead of finding a cable makes these things truely wireless. I haven't done a proper battery test as of yet, but the battery times claimed for both the buds and the charging case are double that of the IconX at 11 hours for the buds and 11 hours for the case (which is impressive considering the batteries in both are actually smaller than those in the IconX), so they should easily last a week or two worth of commutes between charges depending on your commute length. They also took a lot less time to charge than the IconX. Pairing is very fast, and once paired, the buds will connect to your device less than a second after opening the case. Passive sound isolation is good, due to current circumstances I have yet to test them on public transport or on crowded city streets, however in a supermarket they blocked out basically all ambient sound. Sound passthrough was good enough to have a conversation with the cashier when music was paused, though the standout feature here is the ability to turn passthrough on or off with a gesture on the Buds themselves (the IconX required opening your phone, opening the app, and toggling the setting, at which point you might as well have just taken the buds out of your ears if the conversation was only going to be brief). I miss the ability to adjust volume with a swipe up or down, though there is an experimental feature to adjust volume by tapping on the edge of the left bud for down or right bud for up, but I couldn't really figure out how to get it to work, and it's not the biggest deal when I can just adjust it on my phone. Sound quality is excellent with a wide variety of sources (tested with pop, rock, and metal music, and some spoken YouTube videos), especially when compared to the IconX or the wired headphones that came with the S20+. Actually having bass makes everything sound much more full. Obviously they won't sound quite as good as full sized on-ear or over-ear headphones, but they aren't far off even some of the more expensive headphones I've tried. IPX2 is better than nothing, but IPX4 water resistance would have been nice, so I wouldn't be wearing these out in the rain without a hood, and if you sweat around the head a LOT when you exercise, also might not be the best idea to wear them then. No onboard storage means you need to carry your phone with you, which might be a problem if you want to take them jogging or cycling while leaving your phone behind, but my phone lives in my pocket so this was far from a problem for me. Tl;dr - I wholeheartedly recommend these buds to almost anyone, especially those who are currently using the IconX or the headphones included with their Android phone, unless the lack of storage or IPX4 rating is a big problem for them.
Date published: 2020-03-27
Rated 5 out of 5
by
Chris2020
from
Perfect
I've never written a review before but these are so great. Comfortable, better sound than apple airpods. Perfect.
Date published: 2020-03-19
Rated 5 out of 5
by
sskkskskskksksksk
from
Great product at a good price
The buds+ are really good especially since they are only $300 and compared to many more premium earbuds they are just as good. The battery lasts a long time and they charge very quickly. They sound great and the app has many things you can change and customise. I noticed when using ambient sound (while you listen to something it uses the outer microphone to bring sound in from around you so you hear both your music and whats going on around you) that whenever you move or take out the buds they make a sort of screechy sound in your hears. Hopefully this gets fixed during an update. But overall, I would definitely recommend these.
Date published: 2020-02-28
Rated 5 out of 5
by
Biscuit03
from
Excellent!
I received my Galaxy Buds+ today and I have to say, I'm very impressed. After using the Galaxy Buds from last year for almost a year, these are a big improvement sound wise and quality wise. They seem to be a better fit in the ear, charge a lot quicker and last longer. They sound great, pair with your phone easily and the option to see how much charge is left in the case is a big bonus. Good stuff!
Date published: 2020-02-26
Rated 5 out of 5
by
al99
from
A MUST HAVE for your Samsung phone!
I've ordered my the samsung earbuds+ two days ago and got my package already today. Super fast delivery. Thanks for that Samsung! The quality and surface of the case and the earbuds itself feels quite luxurious and well made. I love the additional app to edit sound quality and more. I wouldn't doubt to buy the earbuds+ for a second time if necessary.
Date published: 2020-04-18
Rated 5 out of 5
by
Carteeair05
from
Perfect buds with amazing features and quality!
The buds+ are amazing and have excellent sound quality. They stay in my ears with no issues at all, and the extra wingtips and eartips are good in case I need to adjust them. Being able to use the Google Assistant with the buds and the touch function is an excellent bonus. Overall the buds are perfect, but one disappointing thing is that the price was reduced by $50 3 days after purchasing them, and an extra colour option has been added. Other than that I have no complaints about the buds themselves.
Date published: 2020-04-15
How It Stacks Up
2-Way Speaker
3 Mics
Battery
Wireless charging(Qi)
Iconic design
Colour
Ergonomic
* Key feature may different from key spec

*Typical value tested under third-party laboratory condition. Typical value is the estimated average value considering the deviation in battery capacity among the battery samples tested under IEC 61960 standard. Actual battery life may vary depending on network environment, usage patterns and other factors.