Optimize your sound experience with your Galaxy Buds
Last Update date :
May 07. 2021
There are a variety of ways to adjust the sound options on your Galaxy Buds, Galaxy Buds+, Galaxy Buds Live, and Galaxy Buds Pro, so you will always hear things your way. Whether you have hearing difficulties or just want to have a great experience when listening to music or a podcast, your earbuds will have an audio setting that suits your needs.
Note: Information provided applies to devices sold in Canada. Available screens and settings may vary for earbuds sold in other countries. You should clean and adjust your earbuds before and after use for the best sound possible. Earbuds that fit properly and are free of debris will perform better while providing you with a comfortable experience. You can try using larger ear tips if the earbuds are not fitting correctly.
Equalizer settings
Once your earbuds, including your new Galaxy Buds Pro, are connected to the Galaxy Wearable app, you will have an array of sound settings at your disposal. The Equalizer is also available when using the Samsung Galaxy Buds app on an iPhone 7 or later, with iOS 10 or higher. Additional sound options that are compatible with all devices are provided by iOS.
Note: The Galaxy Buds Pro are not compatible with the Samsung Galaxy Buds app on iOS.
On the app's Home screen, you can choose different Equalizer settings. Drag the slider to change the settings from Normal, Bass boost, Soft, Dynamic, Clear, or Treble boost. If you are not happy with your choice, simply tap another option to try it out.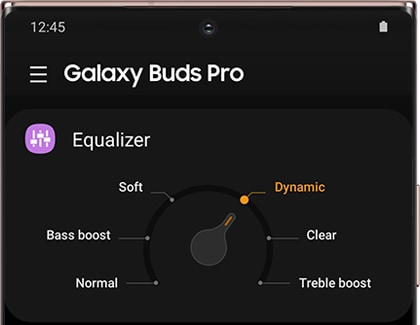 You will also be able to control advanced options for Ambient sound when you are on a call or listening to music. On top of this, you can access sound options directly using your device's Advanced audio settings, or when connecting to a TV or a computer. To use even more features on your Galaxy phone, enable Dolby Atmos for cinema quality sound.
Gaming mode
When paired with the Galaxy Wearable app on your Samsung phone, you can use Gaming mode with your Galaxy Buds. This will adjust the audio delay so you will only hear what you are playing. For an optimal experience, keep your phone close while wearing your earbuds, and disable the feature when you are not playing a game. This will help minimize external audio sounds.
Open the Galaxy Wearable app, and then swipe to and tap Labs. Tap the switch next to "Gaming mode" to turn it on.
Note: Gaming mode is only available on Samsung phones that are connected to the Galaxy Buds+, Galaxy Buds Live, and Galaxy Buds Pro through the Galaxy Wearable app. It is not available on iOS devices or the regular Galaxy Buds.
Volume control
Note: Once the touchpad is set to control the volume, other touchpad options such as launching Spotify or Bixby will not be available. You can use the connected phone to launch and adjust these features.
There are a few ways to adjust the volume on your earbuds, like tapping the earbud edges to increase or decrease the sound. You can also increase the Ambient sound by enabling the Extra-high ambient volume feature in the Galaxy Wearable app.
If you would like to control the volume with just a tap, open the Galaxy Wearable app on your connected phone, and then tap Labs. Tap the switch next to "Double tap earbud edge" to turn it on. If your touchpads have been set for Spotify, Voice command, or Ambient mode, you will still be able to adjust the volume with the earbud edges. This option is not available on the Galaxy Buds Live or Galaxy Buds Pro.
To increase the Ambient sound volume, tap the switch next to "Extra-high ambient volume". This setting will become available under Ambient sound if you are using a music app or answering calls. Tap Back, and then tap Ambient sound. Keep in mind this setting is only available on select earbud models.
Automatic sound switching
When you are working and listening to music, you may only want to wear one earbud in case someone needs to speak with you. Automatic sound switching on Samsung earbuds was made for this kind of flexibility.
With this feature, the earbuds will automatically switch the sound output to mono or stereo, based on how many earbuds are in the charging case. The best part is that there are no settings to adjust.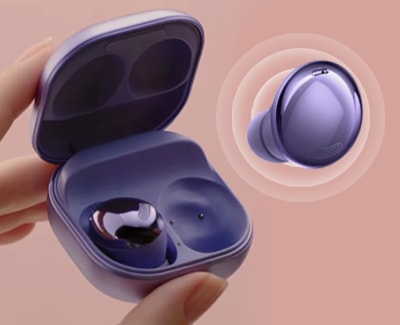 For example, if you choose to use only one earbud, the sound output will switch from stereo to mono automatically. When you are using one earbud, make sure to place the other earbud in the charging case to avoid losing it and prevent battery drain or device errors. If you place both earbuds into the charging case, the music will stop.
Active noise canceling and Ambient sound
Your Samsung earbuds come with special sound modes that will make it easier to enjoy your favorite music or answer phone calls.
If you are in the mood to drown out your environment, use Active noise canceling on your Galaxy Buds Live or Galaxy Buds Pro to prevent nearby sounds from interrupting a song. Ambient sound, however, will pass through surrounding noises so you can still hear what is going on.
Detect conversations (Galaxy Buds Pro only)
Note: This feature is currently only available on the Galaxy Buds Pro.
The Detect conversation feature on your Galaxy Buds Pro will let you hear conversations that are happening nearby. Thanks to Ambient sound, your earbuds' volume will decrease automatically when your voice is detected for more than one second, so you can easily catch what others are saying to you while still listening to music.
To turn this on, navigate to and open the Galaxy Wearable app, and then tap Detect conversations. Choose your desired duration for voice detection, such as 5 seconds or 10 seconds, and then tap the switch at the top. The longest duration available is 45 seconds.
Note: Certain frequencies, such as humming or vibrations from an electric toothbrush, may accidentally cause interference with your earbuds' sensors. This could cause the Detect conversations feature to turn on by mistake. The detection speed may also be delayed if the earbuds are too loose.
360 audio (Galaxy Buds Pro only)
Your Galaxy Buds Pro feature a new 360 audio mode that lets you hear vivid, immersive sound coming from all directions, so you will feel like you are part of the action when watching videos.
To enable 360 audio, open the Galaxy Wearable app, and then tap Advanced. Next, tap the switch next to "360 audio" to turn it on.
Review these tips to get a great sound experience with 360 audio:
Keep your earbuds close to the connected phone for a stable connection.
360 audio works best in areas with very little wireless network interference.
Note: 360 audio is only available when the Galaxy Buds Pro are paired with Samsung devices running One UI 3.1 and may vary based on the device and application being used.
Please answer all questions.
The coding for Contact US > Call > View more function. And this text is only displayed on the editor page, please do not delet this component from Support Home. Thank you