Use Link to Windows with your Galaxy phone
Last Update date :
Apr 28. 2021
Your Galaxy phone and Windows 10 PC can work together when you use Link to Windows. This feature allows you to seamlessly connect your phone and PC so you can transfer your phone's photos and videos, manage your notifications, answer incoming calls, and send messages. You can also mirror your phone's screen and use your PC to navigate your apps and settings.
Note: Information provided applies to devices sold in Canada. Available screens and settings may vary for smartphones sold in other countries.
Set up Link to Windows
Setting up Link to Windows allows you to connect your phone and Windows 10 PC. You will be able to use your computer to sync, view, and edit your phone's contents, such as your documents and photos. Newer Galaxy phones will include the Link to Windows feature, but it is also available on the Play Store.
Note: Before using Link to Windows, make sure your Windows 10 PC has been updated and you have added your Microsoft account.
Make calls and send messages with Link to Windows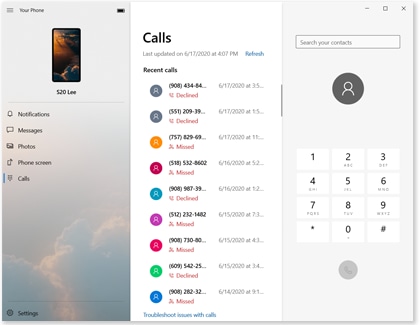 If your phone happens to be across the room, you can also receive messages if you need to quickly reply to a text. You can keep track of your call and message history from your PC as well.
Manage your phone notifications with Link to Windows
Your phone's notifications and alerts can be viewed on your Windows 10 PC when using Link to Windows, so you will never miss an important reminder or message.
Just sync your phone's notifications to see them on your PC or customize which apps will send notifications. You can turn off some alerts, keep them all on, or refresh your alerts to check the most recent ones.
Share and transfer files with Link to Windows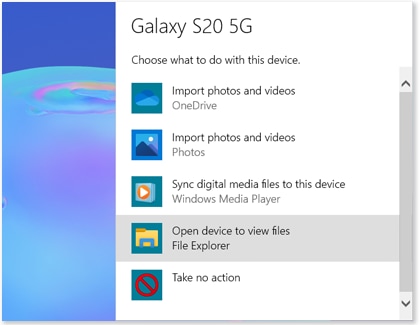 Your recent files will automatically sync from the Gallery app so you can see them on your computer's screen. You can also copy, share, and save your images and videos if you need to send them in an email or move them to a folder on your desktop.
Screen mirror your phone with Link to Windows
You can change your phone's settings, move files, and open your apps on your computer if you need to give your phone a charging break. Even though your phone's screen will be off, you can still keep track of things like your phone's battery life when the screen is mirrored.
Please answer all questions.
The coding for Contact US > Call > View more function. And this text is only displayed on the editor page, please do not delet this component from Support Home. Thank you