4
Number of Sound Modes (DSP)
6.5 kg
Gross Weight (One Packing)
888 x 92 x 433
Gross Dimension (WxHxD): One Packing
Super-slim and discreet design to match your TV
The Samsung SoundStand has been carefully crafted to complement your slim Samsung TV. Place it beneath your TV, just like a conventional TV stand. Its elegant low-profile design matches a range of TV sizes from 55" to 60". At only 35mm, its super-thin profile makes a discreet addition to your home entertainment setup, yet its powerful built-in woofer provides powerful sound without the need for more speakers. *Size of your TV's stand must be smaller than the SoundStand. *Fits most TVs up to 60" and up to 77 lbs. (*TV screen size and stand type may vary)
High-quality sound from an ultra-thin compact system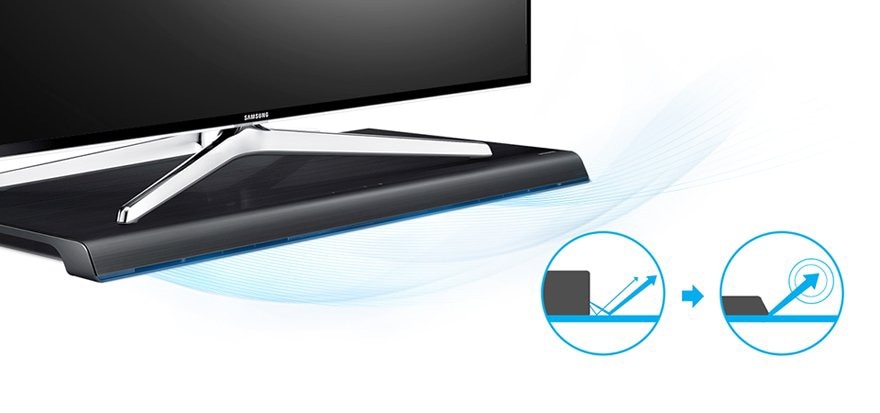 The Samsung SoundStand wasn't just designed to look good; it was designed for clearer and better surround sound effects. Its position under the TV allows the audio come from below to above, with less sound lost as a result of reflecting off the ground. This means less distortion and more accurate sound. The SoundStand emits multi-directional sound with a vertical surround sound effect to deliver clear, life-like tones straight to you.
Enhanced surround sound from a wider range of listening positions
With Surround Sound Expansion, your Samsung audio expands the optimal listening area and elevates the height of the sound to the level of the TV screen, so there is no disconnect like with conventional speakers, just richer surround sound that seems like its coming straight out of your TV. Now you can enjoy a realistic, lifelike sound experience with truly immersive surround effects.
Your mobile music ready to play when you are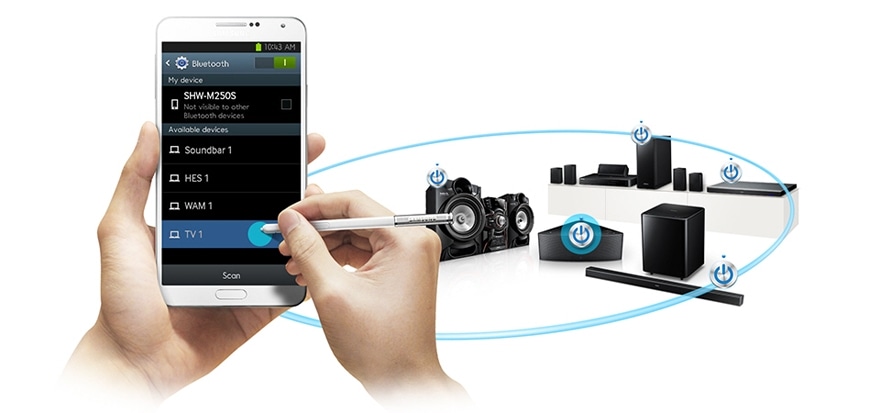 Thanks to Bluetooth compatibility, you can use your smartphone to turn your speakers on remotely. Pair the speakers and your smartphone once, and you can quickly and easily power on your speakers by selecting them on your smartphone. It's that simple. As long as the speakers are plugged into a power source, you can wake it up with just one touch and enjoy high quality audio.
The wireless way to upgrade your TV sound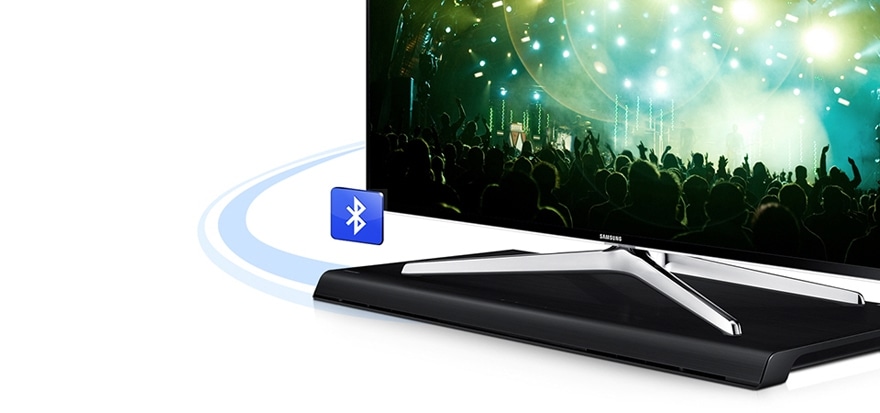 Connect your TV and Sound Stand easily through Bluetooth to gain better sound with TV Sound Connect. The absence of trailing wires between the Sound Stand and TV allows you to showcase the slim and sleek design of both systems, while maintaining a clean look in your living environment. Easily control the Sound Stand and TV from a single TV remote. You can simultaneously turn on and manage the volume of your TV and Sound Stand with Bluetooth or HDMI connectivity.

※ TV Sound Connect is all available from 2013 Samsung 3D TVs except LED F6100.
Multiple amplifiers handle all high to low frequencies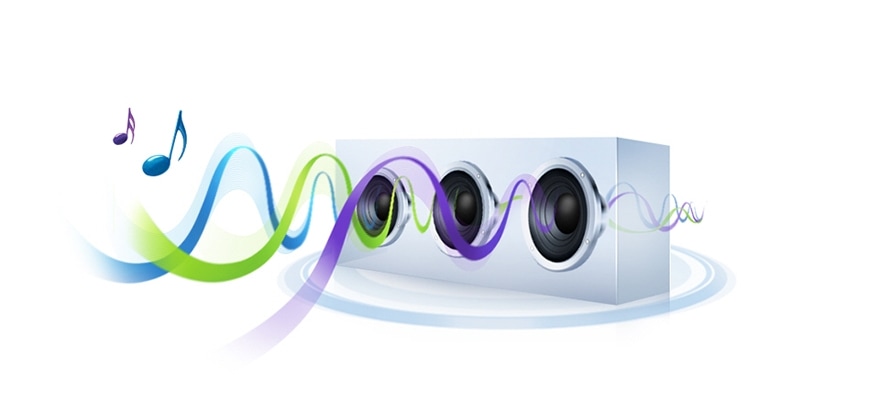 Equipped with advanced audio technology, the Samsung SoundStand offers exceptionally balanced sound. Unlike most sound systems, it uses separate amplifiers to process high, mid and low frequencies, as opposed to using only one amplifier. This results in frequencies that are better tuned, so you can enjoy much more accurate audio across the entire spectrum of sound.
4.2 Ch

Number of Channel

4

Number of Sound Modes (DSP)

6.5 kg

Gross Weight (One Packing)

888 x 92 x 433

Gross Dimension (WxHxD): One Packing
Rated

5

out of

5
by
Ashers
from
Great design
Fantastic sound and great look. No separate speakers around the room but still and excellent sound and easy to set up
Date published: 2016-08-29
Rated

5

out of

5
by
Kenteagle
from
Excellent solution
I ordered this as we have just bought a 48" Samsung smart TV and wanted a soundbar to enhance the experience. Our TV is not wall mounted but stands on a cabinet with a revolving platter -a bit like a Lazy Susan!). I also am fed up with wires everywhere. This fits the bill in every way. It is designed to synch with the TV, which takes away any compatibility issues. It is sound BASE so it sits perfectly below the TV . It is wireless. And it sounds excellent to our ears. Very pleased and would recommend. The similar HWH500 model is for up to 40" is cheaper. also v good my son has this on his 48" Samsung smart TV. The TV is wall mounted.
Date published: 2015-02-15
Rated

5

out of

5
by
Andy G
from
Grea sounding, flexibile system
Ive had one of these for a few months now - it connects wirelessly to my TV to output a great sound and discretely fits underneath my TV (a Samsung 40-inch F-series model). I really notice the superior sound output when watching movies. The unit is also great for streaming audio from my phone, tablet and laptop via Bluetooth - the speaker connects readily and has a good range. I have a fairly large lounge and I have been pleased with the sound levels I achieve. I have not experienced any distortion when my content has been played at high volume (and trust me - this can capably do loud). The only slight drawback for me was the high price, but I looked at several comparable units from other renowned manufacturers and I did feel that this offered the fairest value for the high level of quality at its RRP. In all, this is a piece of kit I have been really pleased with.
Date published: 2014-08-04
Rated

2

out of

5
by
Allen
from
But for one critical flaw, its great. The flaw makes it unusable.
This is a great piece of equipment, but with a critical flaw. It has a default power up to a mode DIFFERENT from that which I used to connect it. This triggers an error message on my Samsung TV that I need to use that remote to dismiss, then I need to use the HW remote to change the SOURCE setting, sometimes TWICE, and only THEN can I start watching TV. Unacceptable. Why on earth....?
Date published: 2014-07-04
User manual & Downloads
Live Chat
How It Stacks Up
* Gorkana (within a set list of TV and AV media. Jan - Dec 2015).
** Which? Best Buy awarded to R1,3,5



Certain features with the Smart Hub may not be available without expressed consent regarding the collection and use of personal information. Content available through Smart Hub may vary among product categories, models and territories. Certain applications must be purchased and may not be available in all regions.