32" H6400 6 Series Flat Full HD Smart 3D LED TV
UE32H6400AKXXU
32" H6400 6 Series Flat Full HD Smart 3D LED TV
is rated out of
5
by
49
.
BUNDLE
Sorry! This product is no longer available
Series 6
Smart Hub 2016
Wide Color Enhancer
Smart View
Powerful Quad Core processor for faster performance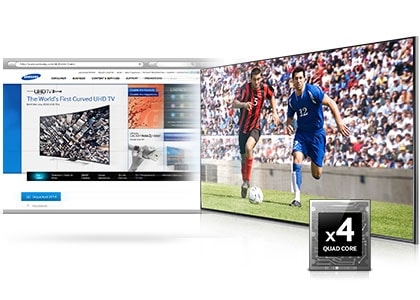 Thanks to a powerful Quad Core processor, your Samsung Smart TV offers enhanced performance. You'll notice the difference straight away, with faster multitasking and switching between content and web browsing, as well as smoother interaction. With this extra power, your entertainment experience will be so much more enjoyable, with less waiting and more viewing.
Enjoying Smart TV is now easier and faster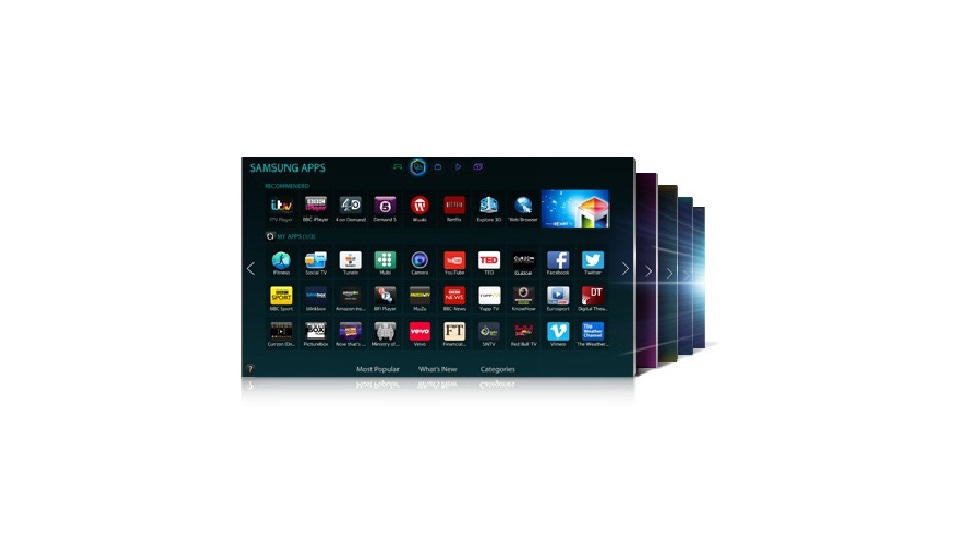 The industry's reference Smart platform just got better. The leading Smart TV experience is now even more powerful, with faster access to Smart features, true multitasking and an intuitive interface. As soon as you turn your TV on the Smart Hub provides instant access to your most frequently used and favourite content, channels and sources from the new customisable bar at the bottom of the screen. To enable you to access even more great entertainment the Smart Hub intelligently organises and manages all your content into five easy to navigate panels: On TV; Movies & TV Shows; Multimedia; Apps; and Games panel. 1
Enjoy great gaming on your TV without a console
Now you don't need a game console to enjoy exciting gaming at home. You can play the latest exciting games right on your Samsung Smart TV. Explore games using the new Smart Hub Games Panel, with categories including racing, sports, action and family games. You can even use your Samsung Smart Control or a compatible mobile device as the game controller. Enjoy some more family time with the Games Panel. 2
Easy touchpad and motion control for your TV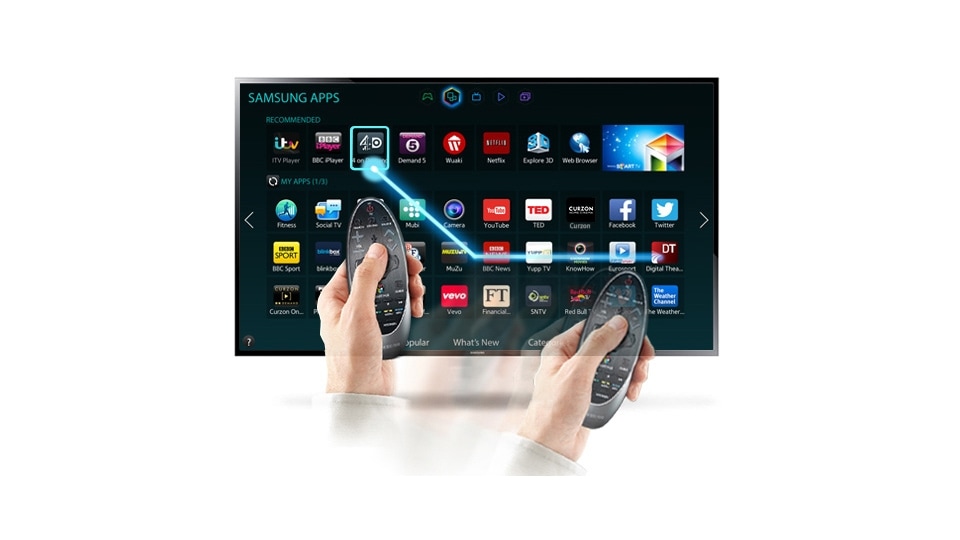 Using your TV is more intuitive with the Samsung Smart Control. Using the touchpad you can flip between Smart Hub panels and scroll down webpages, and by pointing the remote, you can utilise Motion Control to move the on-screen cursor to navigate and enter text easily. Useful video control keys also help you watch movies, TV and other content you've downloaded or streamed on demand.
Your TV understands whole sentences of speech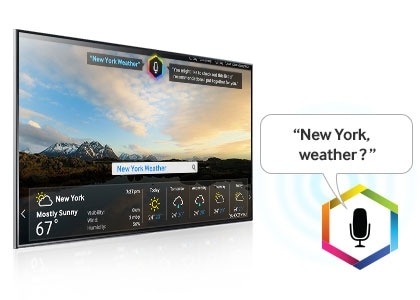 Thanks to Samsung's latest Voice Interaction, you can control your TV with more than just one-word commands. If you want to watch a film, just say "find" followed by its title and "movie". If you want to watch TV Channel 7, just say "Channel 7". To visit a website, simply say its web address. You can also use your voice to search weather, sports and stock information and open apps like YouTube. 3
Clear Motion Rate minimises motion blur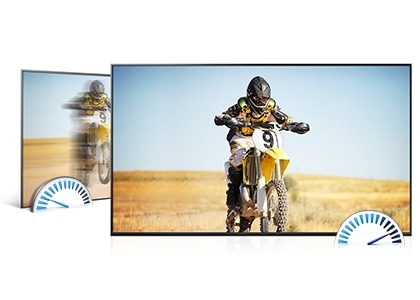 Thanks to Samsung's advanced Clear Motion Rate (CMR) technology, even fast moving scenes are delivered with clarity. A higher CMR means clearer viewing and less motion blur, so you can enjoy action films, sports and other entertainment at their very best. This technology is possible due to an enhanced panel refresh rate, image processor speed and backlight technology. That means viewing that's clearly better.
Immersive realism with Samsung Full HD 3D technology
Prepare to see entertainment in a whole new way. Samsung's sophisticated Full HD 3D technology means you can even enjoy 3D movies and TV shows at stunning Full HD resolution. It also enhances your 3D picture quality and cuts out ghost images to give you clearer and more immersive viewing. With such a high level of realism, you've never experience 3D like this before. 4
All the excitement of the big match with Football Mode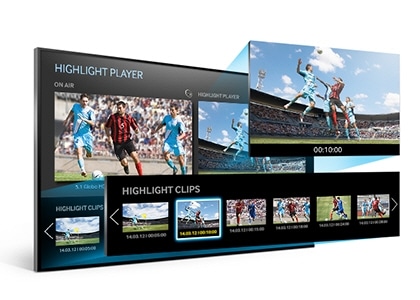 Football Mode sharply and vividly brings out the green grass of the pitch and all the other colours of the stadium. A powerful multi-surround sound effect also lets you hear all the excitement. Once you turn on Football Mode, it will automatically start recording all action on the TV. And when there's a change in sound, like the roar of the crowd's cheer, or a change in the score, it will know to automatically save the highlights for you to watch later. Play live and recorded matches simultaneously for the ultimate soccer experience at home. 5
More vibrant colours for better images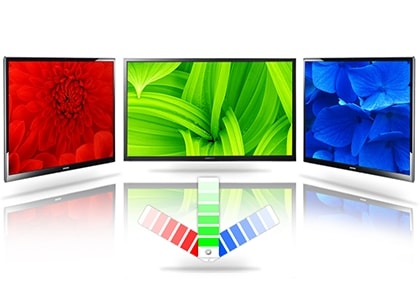 Using an advanced picture quality improvement algorithm, Samsung's Wide Colour Enhancer Plus drastically improves the quality of any image and uncovers hidden details. Now see colours as they were meant to be seen with Wide Colour Enhancer Plus.
Updated Smart View connects your TV, devices and content
Samsung's latest Smart View 2.0 app makes it easier to enjoy all your content however you like. Using your home network, you can stream live broadcast TV content to your smartphone or tablet and use your mobile device as a TV remote control. Or you can access and enjoy content on your Smart TV from your smartphone or PC through Smart Hub's Multimedia Panel. It's easy to use, so all you have to do is enjoy. 6
See your mobile content on a large TV screen quickly and easily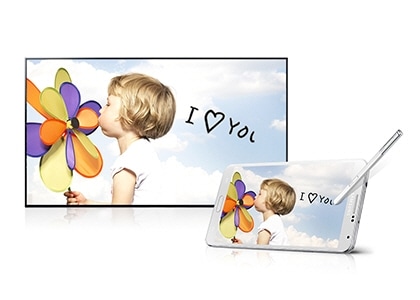 With your new Samsung Smart TV, you can enjoy content from mobile devices on a bigger screen quickly and easily. Samsung's enhanced screen mirroring technology makes the process simple, with no need to change the TV source. Just open the notification panel on your mobile device, select the Screen Mirroring icon and select the TV. That's all you need to do to enjoy apps, games and more on a full-size TV.7
Watch movies from your USB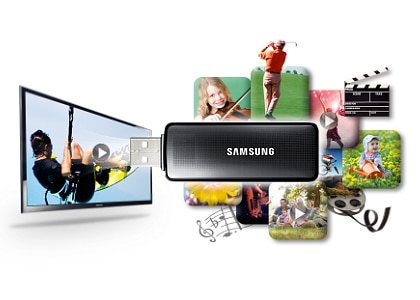 With ConnectShare Movie, simply plug your USB memory drive or HDD into the TV and instantaneously enjoy movies, photos or music. Now, you can experience a wide variety of content in the comfort of your living room on your TV.
1920 x 1080

Resolution

6

Series

Wide Colour Enhancer (Plus)

Wide Colour Enhancer (Plus)

4

HDMI
Rated

5

out of

5
by
bouncealong313
from
Very happy with this TV
Very impressed with this TV at the price I got it. Picture quality is great, plenty of features, love that it has all the on-demand stuff that I want included, and has some great other apps. The EPG is very nice and app interface is easy enough to use. The TV also works well with my Samsung Blu-ray player. I've had a very minor issue with the remote control - it sometimes randomly stops working once or twice a month, but all this takes to fix is taking the batteries out and swapping them around (not replacing them, but literally swapping the two batteries already in the remote around so that the top one is now on the bottom and vice versa - then the remote starts working again). The only other thing that could be improved for me is the sound - but that's not to say there is anything wrong with it, just that it could be better. But bearing in mind I got this cheaper than any other high quality and reliable brand and with more features for the money, I'm not complaining! On very very rare occasions the picture has lost sync ever so slightly with the audio too, but changing channel and then changing it back fixes this, so it's not a problem. I haven't had the opportunity to test the 3D feature of the TV yet.
Date published: 2016-08-29
Rated

5

out of

5
by
OldManDave
from
Fabulous picture, fantastic value
A great TV with splendid picture quality, all the connectivity you could want and plenty of "Smarts". The on-screen apps are good and I particularly like the way everything updates itself automatically.
Date published: 2016-08-29
Rated

5

out of

5
by
RickyG
from
Easy to set up. Just plug in hang go!
Excellent TV with great appsand picture quality. Highly recommended
Date published: 2016-07-27
Rated

5

out of

5
by
Senga
from
Samsung 32" HD 3D Smart tv
Very pleased with my new tv and it looks fab too
Date published: 2016-07-25
Rated

5

out of

5
by
Lisat
from
Great tv and great price
Waited ages for this tv to come back Into stock and it hasn't disappointed. Loads of points to connect devices, great picture, it does so much but voice control a little confusing. Would definitely recommend even at full price which I paid £308
Date published: 2016-07-19
Rated

5

out of

5
by
welsh witch
from
TV looks sleek and picture fab!
Took a bit of a gamble buying this without seeing it in a shop. Very pleased with my purchase. Picture quality fabulous - especially in HD! Would recommend. Took me a bit to get to grips with how the "smart" remote worked - but that probably would have been better if I'd read the manual. As usual - I just wanted to switch on and go with out reading reams of instructions!
Date published: 2016-06-22
Rated

5

out of

5
by
cyberwhelk
from
Excellent value for money "small" TV
We ordered this TV and were limited to 32" maximum diagonal size because of a large cabinet we use (and weren't going to throw out!). It's easy to set up, simple to add to the wireless and the remote sorts of works with our Bush HD Freesat box but not quite. There's plenty of connectivity and the unit is nice and light compared with it's predecessor. Very happy with it so far.
Date published: 2016-06-18
Rated

5

out of

5
by
Broader
from
I'm a reformed Luddite
I've recently replaced three small-screen CRT TVs with Samsungs: 22H5600, 32H6400 and 40H6400. I bought the 22" first and I was so impressed that I immediately went out and bought the other two. They all have similar features but the larger ones have the pointing remote (a brilliant addition!) and 3D and the 40" came with 2 pairs of 3D glasses, the 32" none. The 3D can be applied to any broadcast (or video on the web or tablet) and is particularly good for football.
Date published: 2016-06-17
User manual & Downloads
Live Chat
How It Stacks Up
*Terms and conditions apply.
Certain features with the Smart Hub may not be available without expressed consent regarding the collection and use of personal information. Content available through Smart Hub may vary among product categories, models and territories. Certain applications must be purchased and may not be available in all regions.
*S Recommendation with Voice Interaction: S Recommendation provides recommendations based upon popular content until it has built sufficient insight into viewing preferences to enable it to make personal recommendations. S Recommendation/On TV requires a Freeview, Freesat, Virgin Media or Sky TV input to operate. Recommendations and content based on channels available. Internet access and collection and use of personal data required. Voice Interaction limited to the official language of the country of purchase. Performance may vary based on content availability, clarity and volume of your voice, and ambient noise levels. Not all dialects and languages are supported. Voice Interaction will only be available through the Smart Control.
†AV Forums Reference Status awarded to Samsung Smart Hub platform (14th of March 2013).

1 Smart Hub: Certain features with the Smart Hub may not be available without expressed consent regarding the collection and use of personal information. Content available through Smart Hub may vary among product categories, models and territories. Certain applications must be purchased and may not be available in all regions

2 Games panel is available in US, Korea, Australia, England, France, Germany, Italy, Spain

3 Voice Interaction requires Samsung Smart Control Voice control not available in all languages, dialects and regions. Performance varies depending on language, pronunciation, voice and ambient noise levels. Voice Interaction enabled searches for weather, sports, or stock information may not be available for some regions.

4 3D glasses required

5 PVR function and SNS sharing are available only for smart DTV model External HDD drive is required to activate Auto Highlights

6 Setup requires your TV and mobile device to be on the same network (AP) Supported feature may vary by OS and devices

7 Screen Mirroring: This function is optimised for use with the latest Samsung smart phones and tablets. Compatibility with your mobile device may be limited by model, version and support of mirroring functions such as AllShare Cast or Screen Mirroring; please contact a Samsung service representative for assistance regarding compatibility at the time of purchase.

Certain features with the Smart Hub may not be available without expressed consent regarding the collection and use of personal information. Content available through Smart Hub may vary among product categories, models and territories. Certain applications must be purchased and may not be available in all regions.

Catch up apps available now or coming soon on all 2014 Smart TVs (H4500-HU8500). Apps may not operate on previous Samsung Smart TVs. Recommended minimum broadband speed for catch up apps is 2Mbps.