What Makes a
"Thank You" Special?
In short, you. Personalise your token of appreciation #withGalaxy.
As this year's circumstances continue to divide so many of us, it's more important than ever to focus on the things and people we're thankful for. This holiday season, showing our gratitude can help us stay close even while we're far away.

To encourage and amplify these sentiments across the globe, we invited users to submit their thank-you notes using the hashtags #ThankYouNote and #withGalaxy for a chance to be featured on our social channels. We then compiled these entries to create a heartwarming video mosaic in the form of a smiling emoji.

At times, it can be a struggle to find the right words to express your appreciation to friends and loved ones, or figure out how to thank someone in a thoughtful way. See how the Galaxy Note20 helped to give your thank-you-note ideas a personal touch.
We challenged our readers to communicate their thankfulness in creative ways #withGalaxy. In return, we received an outpouring of hand-drawn illustrations with the S Pen, picture-perfect moments captured with our pro-quality camera and one-of-a-kind AR filters dedicated to the people who have impacted their lives.

A simple photo taken during a memorable milestone in your family's lives is a great place to start. Try to capture the feelings that come up as you look at the photo. Then transfer those thoughts onto the image. Jazzing up the focal point within the picture with your own sketches and playful details can create a personalised experience that your recipient won't get from a store-bought thank-you card.

We often say thanks many times a day as a common courtesy. But it carries way more weight when it comes from a genuine place that's unique to you.

If you want to stretch your creativity even further, put you and your loved one in the sketch. It's the perfect way for them to visualise the important role they play in your life and vice versa. Think of them as your muse.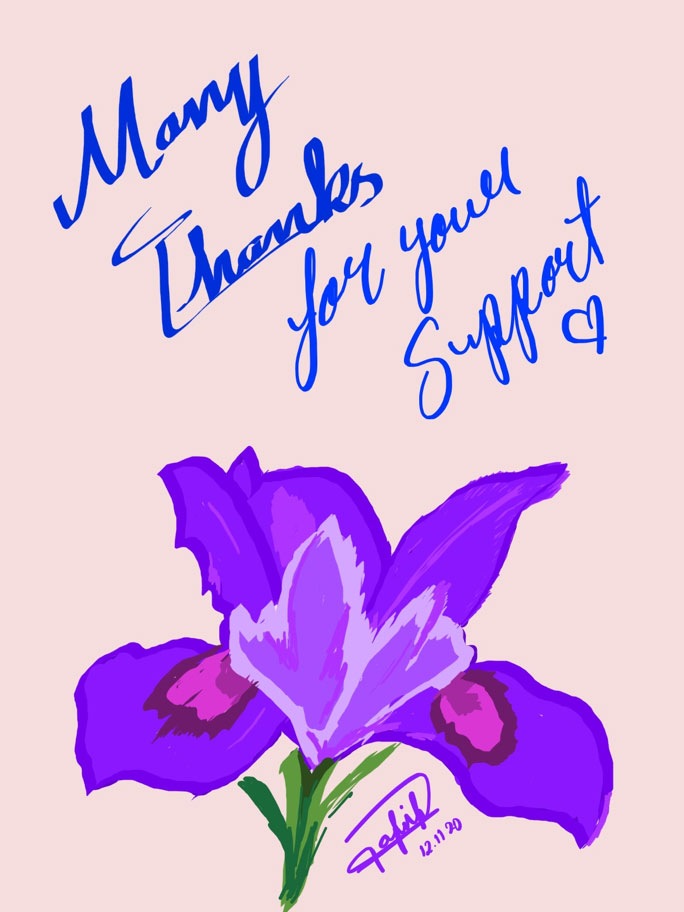 You could even flaunt your artistic prowess with a customised masterpiece that will really show how much you value their support. The time and energy you spend creating a gift speaks volumes to your family, friends or colleagues. The best part? A digital flower, like this one, will last forever.

Sharing personal messages helps us stay connected to each other and what matters most. Show your loved ones how much you appreciate them with a thank you that couldn't come from anyone else.
Channel your attitude of gratitude
Say thank you for all you love #withGalaxy.
*S Pen Fold Edition sold separately and is only compatible with Galaxy Z Fold3 5G.