Discover a new world with night photography
Photos from pro photographer and video creator, Rob Mulally
The technology we have at our fingertips is incredible. It helps us to discover new worlds, see things in new light and capture it all like never before. Pro photographer and content creator, Rob Mulally knows this too well. He quit his corporate job to travel the world and pursue his passion for digital storytelling – and hasn't looked back.

With ever-evolving innovation, you no longer need to carry heavy equipment to capture incredible photos. In fact, Rob Mulally carries his kit in the palm of his hand. The Galaxy S21 Ultra 5G has a pro-grade camera which lets him take incredible photos, wherever and whenever. It not only helps him shoot low-light photography, but is great for night photography too.

Rob has captured the natural beauty of Sydney's beaches at sun rise and sunset, and also its most famous landmarks during twilight on his phone. It's helped him create quality thumb-stopping images for his feed so that his profile stands out from the rest.

Explore like never before
It's clear that night photography opens up a whole new world of possibilities. And it's incredible that you can capture vivid and brilliant photos on your smartphone. You can experiment with city lights, silhouettes, stars in the night sky, light painting, night portraits – and more. It's the perfect time to get creative and explore the world from a new angle.

It's always fun to experiment with your photography style, and taking photos at night with your phone is a great place to start. Whether you want to play with shadow and light, reflections, shooting the galaxy or light trails, you can capture it all. One important rule of night-time photography is stability. Try and hold your phone as steady as possible to reduce background noise and get a better quality photo. A mini tripod is a great addition to your kit and can help you create the perfect set up for the ultimate after-dark photo. If you don't have one, then simply make an effort to hold your phone close to your body so you can keep it super steady while it processes your image.

Experimenting is everything
The Galaxy S21 Ultra 5G is packed with smart AI technology, so you won't have to edit the images you take - unless you want to. If you are going to edit, make sure you save your photos as RAW file types. This will help you edit your photos more dramatically. Try playing with saturation levels for more intense colours and contrast. Or adjust the depth of field to switch the focus and make certain elements in your shots stand out more than others.

Practise makes perfect
Don't be afraid to take test shots either. Not every photo you take will be perfect, but practise will help you get to know your phone's settings and what you can change to alter the light levels, saturation and focus. It's the perfect opportunity to capture what you're not used to seeing and how your camera can help bring it to life for your audience. You can always play with after effects too. Even turning a night shot into black and white can look impressive and help bring out the contrast for more impact.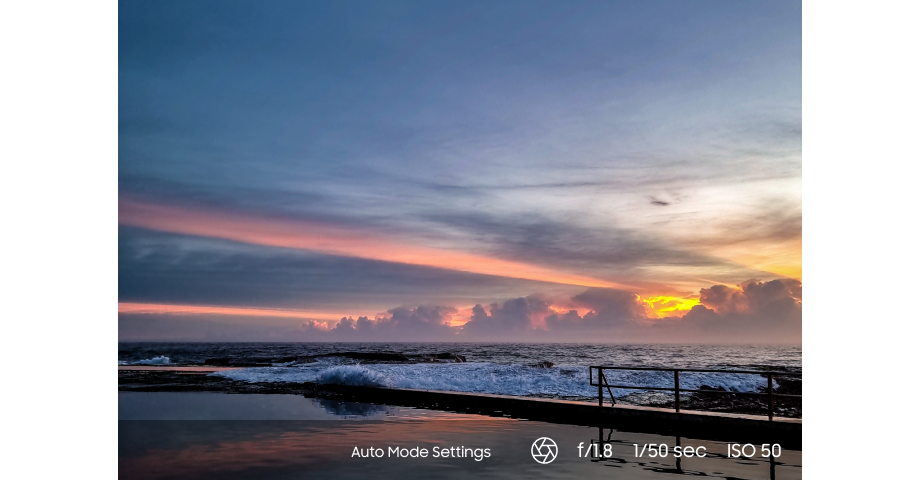 Location, location, location
Just because you're interested in night photography, it doesn't mean you need to seek out absolute darkness. Taking shots with some light will help you create images with interesting contrast and detail. Visit city centres after dark to take advantage of late-night light sources like street lamps, office lights and shop windows. Experiment with different vantage points too. A night scene is great from ground level, but looking down onto a city with all its lights switched on is even more spectacular. You can also use sunrise and sunset to your advantage to capture interesting shadows, light flares and silhouettes. Get creative, discover new tricks and use your imagination to capture ordinary settings in a totally new light.
Samsung Galaxy S21 Ultra - Camera First look and Pro Photography Tips
Check out Rob's review below
Lights, camera, action
Awaken the inner director within you with all new Galaxy S21. Get yours now
Galaxy S21 | S21+ | S21 Ultra 5G