Family Hub™ Homescreen Operations
Last Update date :
Nov 23. 2021
Please Note: The information on this page is for Australian products only. Models, sequences, error codes or settings will vary depending on location and/or where the product had been purchased. To be redirected to your local support page please click here.
The Family Hub™ is an interactive refrigerator that turns the kitchen into the central hub of your home. With a WI-FI enabled 21.5" touchscreen, you can manage your groceries, connect with your family and entertain like never before. Family Hub™ now works with SmartThings and Bixby, simplifying home control and strengthening family connections.

Below you'll find the basic layout of the home screen and a description of moving around apps, icon descriptions and what each soft button does.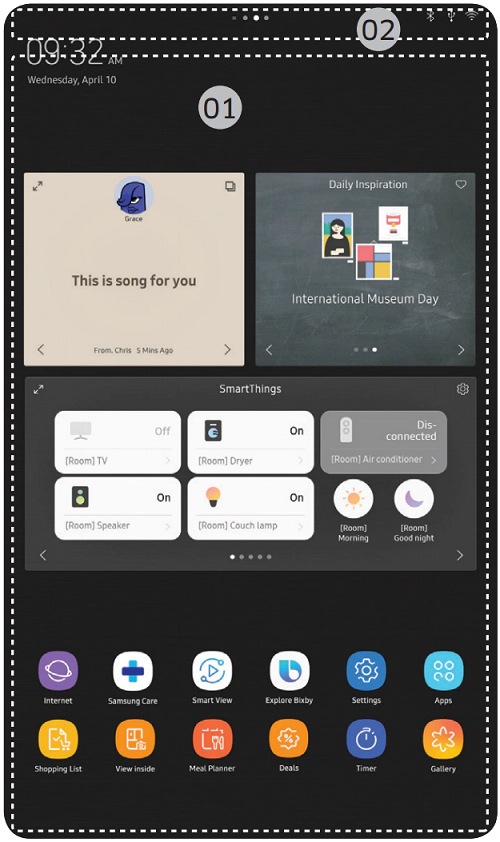 1
Apps & Widgets
• Tap a desired app or widget to launch it.
• Tap and hold an app or widget to enter Edit mode. Then, in Edit mode, you can drag and drop an app or widget to a new position on the grid. When you move the app or widget to a new grid location, the grid turns grey if it is available. If it is not available, it turns red.
• You can add an app or widget that has been removed from the Apps list.
2
Status Bar
• Displays the status of various functions. (Refer to the following Icon descriptions table)
Icon
Description
Bluetooth

Indicates Bluetooth connection status
USB


Indicates USB connection status.

Note:

The refrigerator supports USB memory that is formatted in the FAT32 or exFAT file systems. NTFS is not supported. Be sure to convert NTFS to FAT32 or exFAT before use.

Remote Management

Turns on when Remote Management is enabled and running.
Network

Indicates network connection status in 5 levels (Off, 1-4).
Software Update

Indicates the newest version of software has been downloaded from the server and is ready to update.
Notification

Indicates there is a notification message.
Cloud sync

Indicates Family Hub is receiving data from the cloud server.
1
Bixby
• Tap to use Bixby
2
Task Manager
• Tap to open Task Manager
3
Home
• Tap to open the Home Screen
4
Return
• Tap to go back to previous screen
5
Notification
• Tap to display the Quick Panel
6
Hide/Show
• Tap to hide or show Soft buttons
• The Hide/Show button only appears when an app in active
Please answer all questions.