Clean a Samsung Front Loader Pump Filter
Last Update date :
Sep 08. 2021
 Please Note: This guide is designed for Australian models only. If you have an international product and require further support, please click here to get in touch with your Samsung subsidiary.
Maintaining the cleanliness of your Samsung washing machine is important because it prevents odours or mould from accumulating,  The pump filter on your front load washer ensures that no foreign material (like small cloth, pins, button, coins) other than dirty water passes through the pump and that  your washer drains properly.
It is advisable to clean the debris filter every 2 months to prevent it clogging. Follow the steps below to clean the pump filter in your washing machine.
1
Turn off the washing machine, and unplug the power cord
2
Gently press the top area of the filter cover to open
3
Place a cloth under the wash filter and turn the filter counter clockwise and pull it out
Note: Some debris filters feature a safety knob that is designed to prevent accidents by children. To open the safety knob of the debris filter, push in and turn it anticlockwise. The spring mechanism of the safety knob helps open the filter. To close the safety knob of the debris filter, turn it clockwise. 
4
Drain the remaining water inside the drum
5
Clean the debris filter using soft brushes. Make sure the drain pump propeller inside the filter is unclogged.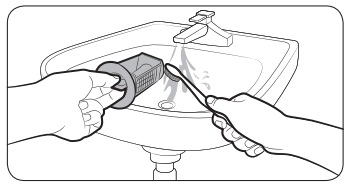 6
Reinsert the debris filter, and turn the filter knob to the right
Note: If these steps don't match with your front load washing machine, please refer to our User Manual and Guides to confirm if this function is available on your Samsung washing machine.
For further support, please contact us on 1300 362 603 or reach out to us via Chat Support.