Cleaning the Pump Filter of your Washing Machine
Last Update date :
Nov 15. 2023
 Please Note: This guide is designed for Australian models only. If you have an international product and require further support, please click here to get in touch with your Samsung subsidiary.
The pump filter on your front load washer ensures that no foreign material, such as small cloth, pins, button, coins, passes through the pump and that your washer drains properly.
It is advised that you clean the pump filter (also know as a debris filter, or drain filter) of your washing machine 5-6 times a year to optimise operation, keeping your laundry free from odours and bacteria. Follow the steps below to see how you can clean the pump filter of your washing machine.
Note: The pump filter (also called the debris filter or drain filter) can also be seen as the lint filter for front load washers and washer/dryer combos.
1
Turn off the washing machine, and unplug the power cord.
2
Place a towel and bucket under it to prevent water damage to the floor.
3
Open the debris filter cover. To open the cover, either press in the top corners to unlock it or insert a coin or key into the slot above the access panel and gently pry it open.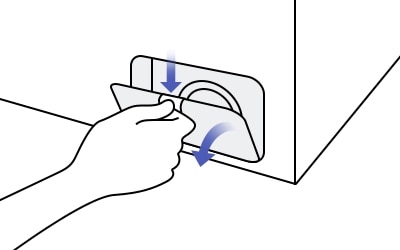 4
Drain any remaining water by grabbing the emergency drain hose and pulling out the cap. Water will then begin to flow out. Make sure the bowl is positioned to catch the water.
5
Then, remove the debris filter by turning it counterclockwise and pulling it out. Make sure to throw out the collected water.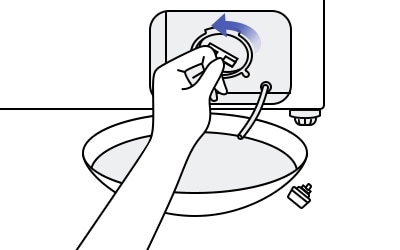 Note: Some debris filters feature a safety knob that is designed to prevent accidents by children. To open the safety knob of the debris filter, push in and turn it anticlockwise. The spring mechanism of the safety knob helps open the filter. To close the safety knob of the debris filter, turn it clockwise. 
6
Clean the debris filter using a soft brush or cloth. Make sure the drain pump propeller inside the filter is unclogged.

7
Reinsert the filter by pushing it in and turning it clockwise until secure. Also reinsert the emergency drain hose cap and secure it.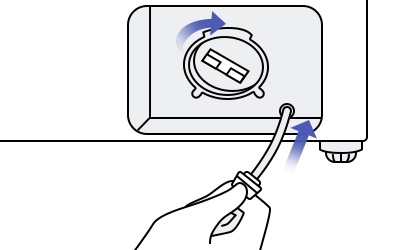 8
Close the cover by pushing or folding it into the top.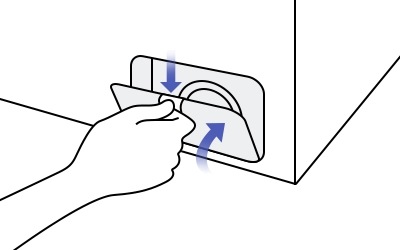 Please answer all questions.