Emergency Drain a Samsung Front-Load Washer
Last Update date :
Mar 14. 2023
 Please Note: The information on this page is for Australian products only. Models, sequences, error codes or settings will vary depending on location and/or where the product had been purchased. To be redirected to your local support page please click here.
If your Samsung front load washing machine door has locked, or the machine is showing an Unbalanced Load (Ub) Error, you'll need to Emergency Drain the machine to get it going again. It is also recommended that you clean the pump filter of your front load washing machine after draining - which is good to do every 5-6 times a year to make sure the machine doesn't have to work too hard to drain the water out.
The emergency drain feature is NOT applicable for top-loaders. Only select top load models will have a pump filter, with no draining hose provisions. You will need to request service if you would like to have the filter checked and cleaned.
Follow the steps below on how to remove the water from a Samsung front loading washer.
Note:
Water drained during a high-temperature wash or drying cycle is hot. Do not touch the water. This may result in burns or injury.
If you are unable to locate the filter panel or this isn't the right description for your machine, please download the manual that is specific to your machine.
Front Loader Emergency Drain Steps:
1
Power off and unplug the washing machine from the electrical outlet.
2
Gently press the top area of the filter cover to open. If this does not work on your model, you may need to use a key or coin to pry the cover open.
3
Put an empty, spacious container around the cover, and stretch the emergency drain tube to the container while holding the tube cap (A).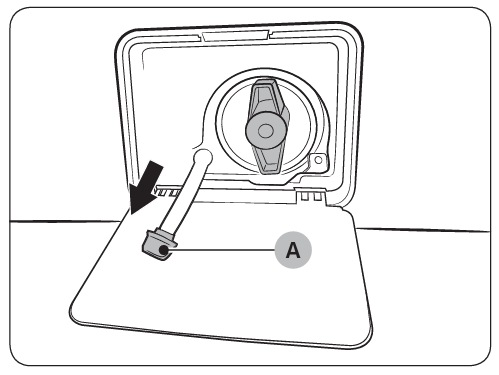 4
Open the tube cap and let water in the emergency drain tube (B) flow into the container.
Note: There will be a lot of water - make sure to use a spacious container or keep a second container handy to rotate out when filled.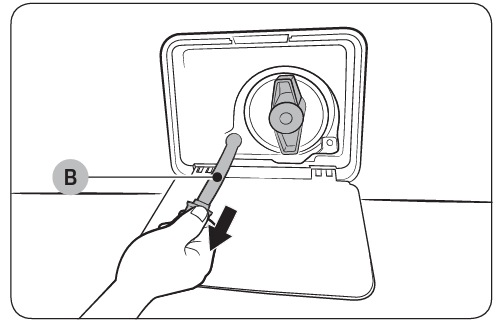 5
When done, close the tube cap, and reinsert the tube. Then, close the filter cover.
If you feel that after emergency draining, you are still having draining issues, please contact an authorised service centre or our Samsung Care experts on 1300 362 603 (Toll Free in Australia) to request further support.

We would love to know your feedback to help us improve. Please click submit to tell us what you think.
Please answer all questions.