Replacing the Clean Station Dust Bag
Last Update date :
Aug 10. 2021
Please Note: The information on this page is for Australian products only. Models, sequences, error codes or settings will vary depending on location and/or where the product had been purchased. To be redirected to your local support page please click here.
Make sure that you always empty the bag at the right time. So to ensure you don't forget, a blue LED indication light on the front turns red when it's full. It means you can quickly and intuitively check the status of the dust bin, while also adding an elegant ambiance to its surroundings. Its slim design makes it easy to dispose of the dust hygienically and doesn't take up much space in the room. The Clean Station also has a firm, airtight design from the inlet to the exhaust filter that prevents dust from leaking.
Follow the steps below for a guide on how to replace the dust bag.
Note:
The dust bag is designed to shut the opening hole with a plastic lid when pulling out from the Clean Station, preventing dust from leaking out when replacing.
When the LED notification turns Red, the dust bag needs to be replaced. However, replacing the dust bag every 2 -3 months is recommended to prevent odours.
1
Open the front cover of the Clean Station by placing your hands in the grooves on both sides and pulling forwards.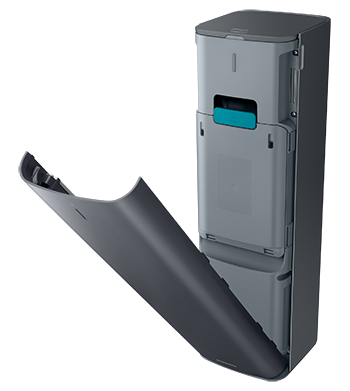 2
Push down on the release button and pull the cover for the dust bin toward you.
3
Hold down the plastic casing that holds the dust bag and pull the dust bag out.
4
Insert the new dust bag while holding down the plastic casing and reverse the steps to put the covers back on.
Note: 
For a guide on how to properly set up your clean station, please click here.
If you would like to learn more about using your clean station, please click here.
For more information on maintaining your Jet Stick, please click here.
Please refer to our User Manual and Guides to confirm if this function is available on your Samsung Clean Station.
For further support, please contact us on 1300 362 603 or reach out to us via Chat Support.