Locate and Clean the Lint Filter in your Samsung Dryer
Last Update date :
May 27. 2022
Please Note: The information on this page is for Australian products only. Models, sequences, error codes or settings will vary depending on location and/or where the product had been purchased. To be redirected to your local support page please click here.
It is important to regularly clean the lint filter of your Samsung Dryer to ensure smooth operation. You may notice the lint filter alert reminding you to do so, or you dryer may display a NC/NC1 code*. In either case, please check and clean the lint filter of your dryer. 
NOT all Washer/Dryer Combo models however, have a lint filter. You can check whether your Washer/Dryer Combo has one by consulting your user manual, which you can also download at any time from our Manuals and Downloads page.
Follow the guide below to see how you can locate and clean the lint filter on your applicable model.
*If the NC/NC1 code persists after checking and cleaning, please contact an authorised service centre to request further support.
Note:
Clean the lint filter after each load. Otherwise, the drying performance may decrease.
Do NOT operate the dryer without the inner filter inside the outer filter.
Using the dryer with a wet lint filter may cause mould, bad odours, or a decrease in drying performance.
For a guide on cleaning the heat exchanger, please click here.
1
Open the door and pull the lint filter upward to remove.
2
Open the outer filter and remove the inner filter (A).
3
Unfold both the inner filter and outer filter.
4
Remove the lint from both filters, and then clean the filters with a cleaning brush.

• To clean the filters thoroughly, clean the filters in running water and then dry them completely.

• Do NOT dry the filter under direct sunlight - this can damage the filter.

• Make sure the dry the filter in the shade completely before reassembling.
5
Put the inner filter into the outer filter, and then reinsert the lint filter into the original position.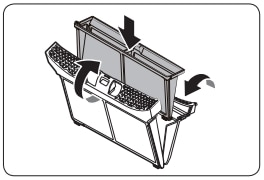 We would love to know your feedback to help us improve. Please click submit to tell us what you think.
Please answer all questions.