Using the 3D Scanner on the Galaxy Note10+
Last modified :
Sep 03. 2019
Create fun 3D images with your Galaxy Note10+ and Note10+ 5G by capturing an object using the 3D Time of Flight (ToF) depth camera. Simply download 3D Scanner on your Galaxy Note10+ and Note10+ 5G to begin creating your very own 3D models.
Follow the below guide the learn how to use the 3D Scanner feature on your Galaxy phone.
Please Note: The 3D Scanner is only available on the Galaxy Note10+ and Galaxy Note10+ 5G. Functionality may differ depending on various factors including shooting conditions - being outdoors, object characteristics - object is too large, too small, highly reflective or extremely dark. The measurement range is approximately in between 20x20x20 (cm) by 80x80x80(cm).
1
Launch your Camera
2
Select Bixby Vision
3
Agree to the Pop up Permissions.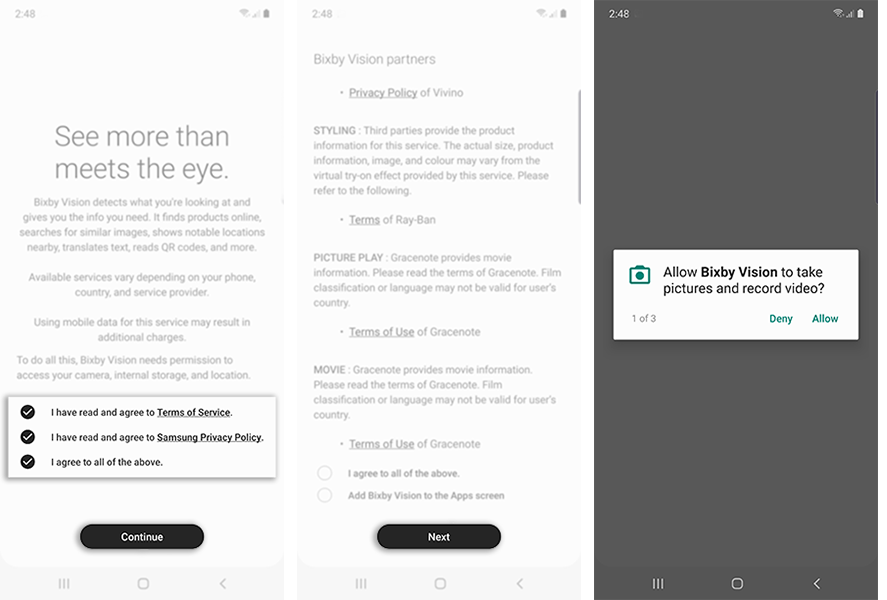 4
Under Apps select 3D Scanner
5
Download and Open 3D Scanner.
6
Tap the record button when you have the object within the guided lines.
For best results, scan things that are at least 20cm tall and aren't dark, transparent or reflective. Also make sure there's nothing else nearby that could be scanned by mistake. Ensure you hold your phone 20 - 80cm away from what you want to scan.
7
Slowly circle around the object ensuring you scan all areas indicated in blue. Once complete, tap on the stop button.
8
Once the model is complete, you will be able to view the completed 3D scan where you can convert to AGIFs and create videos or images with other objects or people.
 Allows you to track body movements with your 3D  model.

 Allows you to take videos or photos of your 3D model.

 By selecting the trash button, you are able to delete your 3D model.
 Create a new 3D model.
Did not find what you're looking for? We're here to help.
Call
For all Mobile device enquiries
1300 425 299
1300 GALAXY

24 hours / 7 days a week
Toll Free in Australia
For all other product enquiries
1300 362 603

24 hours / 7 days a week
Toll Free in Australia
From overseas
+612 8293 5712

24 hours / 7 days a week
Face-to-Face Support

In-Store Support
Create a booking to see one of our friendly Samsung staff members at one of our Samsung Retail Stores.
Contact Us