Customising the Font and Screen Zoom on my Samsung phone
Last modified :
Aug 12. 2019
The Screen zoom and font settings allows you to adjust the visual settings of the zooming sensitivity and the font size.
If you are unable to select Font size and screen zoom, there could be a possibility that a theme or third party application could be the cause of this. If that is the case, you may need to reset your system settings or uninstall the conflicting application.

To reset your system settings head into your Settings > General Management > Reset > Reset Settings.
Please keep in mind that resetting your settings will remove any customisations set on your Galaxy device, your phone will be reset to its default settings excluding your security, language and account settings.

Select one of the drop down menus below to learn how to customise your Font and Screen size on your Galaxy device.
Android OS Version 7.0 (Nougat) & 8.0 (Oreo)
How to edit Screen zoom and font
1
Go to the Settings menu > Display.
2
Tap on Font and Screen zoom.
3
You can preview your changes whilst making adjustments. Tap on Apply to complete the process.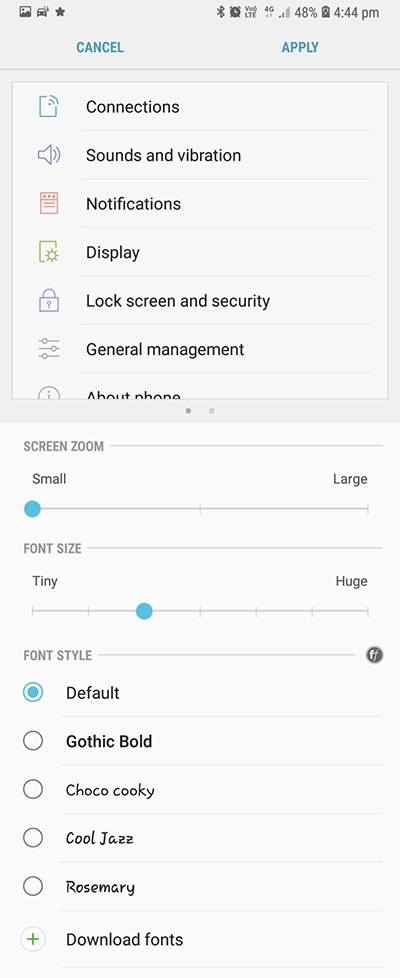 Android OS Version 9.0 (Pie)
How to edit Font size and style
1
Launch your Settings > Display
2
Select Font size and style
3
Drag the Font size dial to increase or decrease its size
4
Select Font Style and choose your preferred font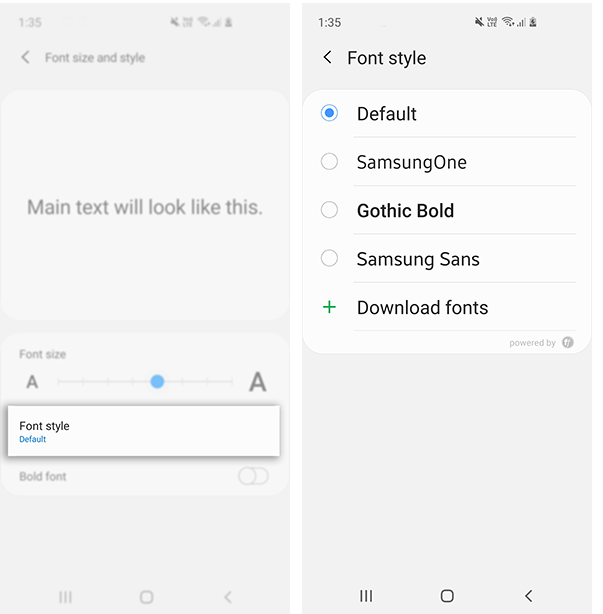 How to edit Screen zoom
1
In your Display settings select Screen Zoom
2
Drag the Screen Zoom bar from left to right to either increase or decrease the zoom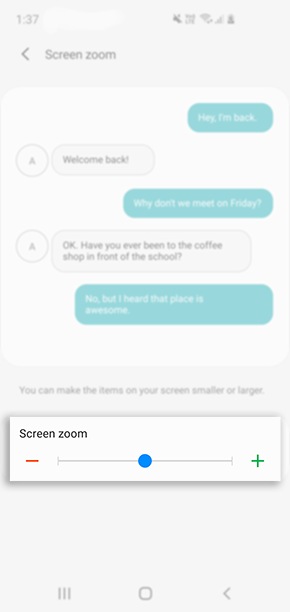 Did not find what you're looking for? We're here to help.
Call
For all Mobile device enquiries
1300 425 299
1300 GALAXY

24 hours / 7 days a week
Toll Free in Australia
For all other product enquiries
1300 362 603

24 hours / 7 days a week
Toll Free in Australia
From overseas
+612 8293 5712

24 hours / 7 days a week
Face-to-Face Support

In-Store Support
Create a booking to see one of our friendly Samsung staff members at one of our Samsung Retail Stores.
Contact Us