How to set up the Fingerprint scanner
Last modified :
Oct 17. 2019
Biometric security is a function that many Samsung mobile devices are starting to offer. Fingerprint recognition uses the unique characteristics of each fingerprint to enhance the security of your device. If you use your fingerprint as a screen lock method, your fingerprint cannot be used to unlock the screen for the first time after turning on the device, so you'll need to set and remember a back up PIN, Pattern or Password.
Click on the drop down menus below to learn how to setup the fingerprint scanner based on your Galaxy phone's Android OS Version.
Please Note: The location of the fingerprint scanner may differ according to which model you are using.
Android OS Version 7.0 (Nougat) & 8.0 (Oreo)
How do I set up the Fingerprint scanner?
1
Go to the Settings menu > Lock screen and security.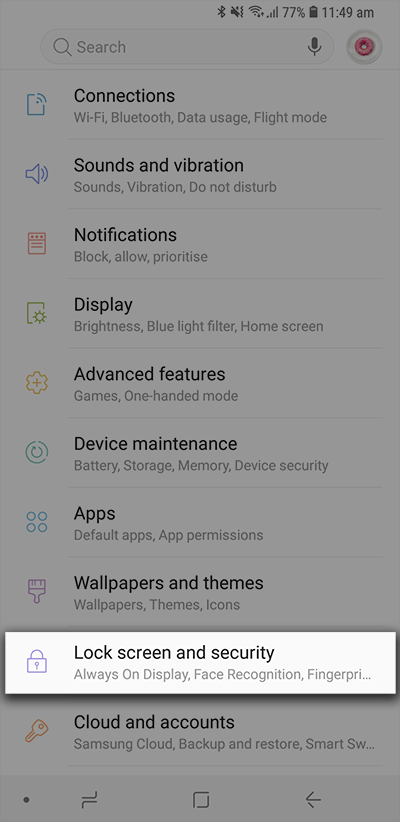 2
Tap Fingerprint Scanner.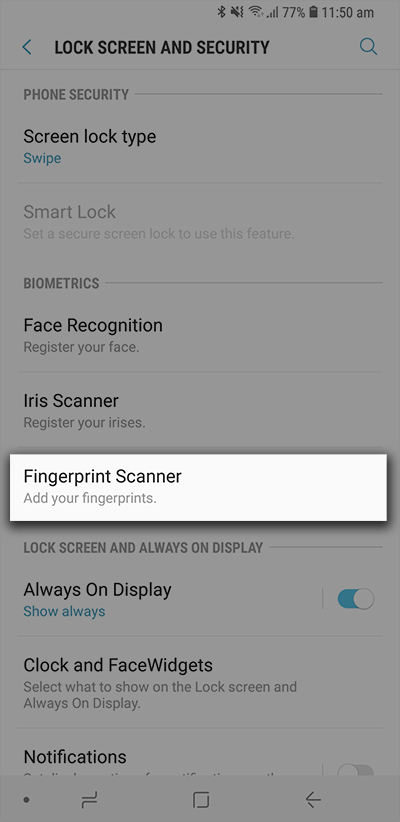 3
Tap on Continue to proceed.
4
To use fingerprints securely, you need to set a Pattern, PIN, or Password. Select one of the following options to proceed.
Please Note: If you have previously set up a secure screen lock authentication, skip to Step 6.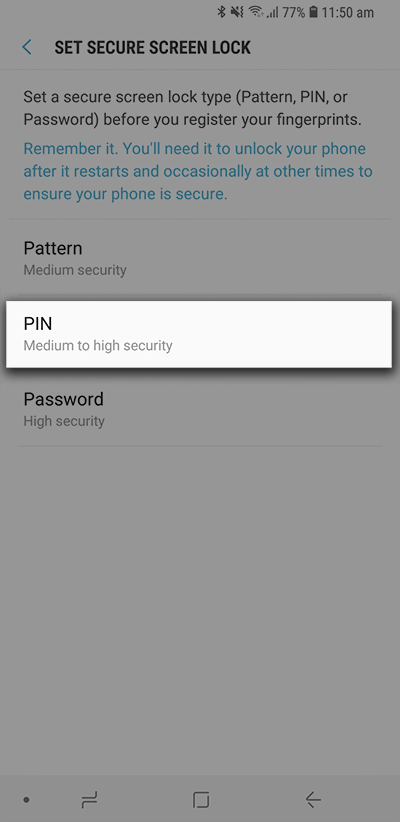 5
Get ready to add your fingerprint. Place a finger on the fingerprint sensor, lift it off, and then repeat.
Newer devices will allow you to slide your finger over the sensor to capture your fingerprint.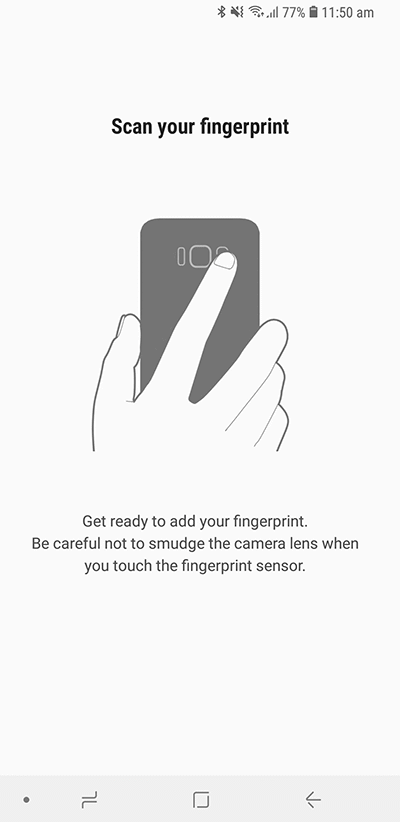 6
Your fingerprint has now been registered. Tap on Add to add another fingerprint or tap on Done to proceed.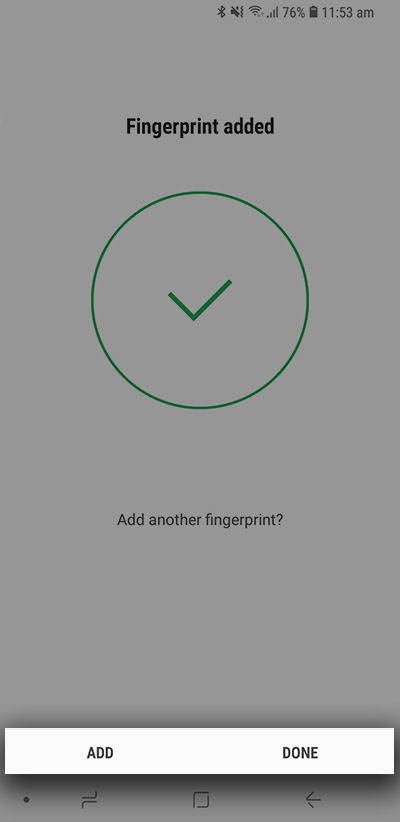 7
Device will prompt you if you wish to enable Fingerprint Unlock.
Tap on Turn ON to enable Fingerprint Unlock.
Android OS Version 9.0 (Pie)
How do I set up the Fingerprint scanner?
To setup and start using the fingerprint scanner on your Galaxy device, you will first need to setup a primary passcode. This could range from a PIN, Pattern or password screen lock type. If you already have setup a primary lock screen type please scroll down to #6 to setup your fingerprint ID.
1
Launch the Settings app > Lock Screen
2
Select Screen lock type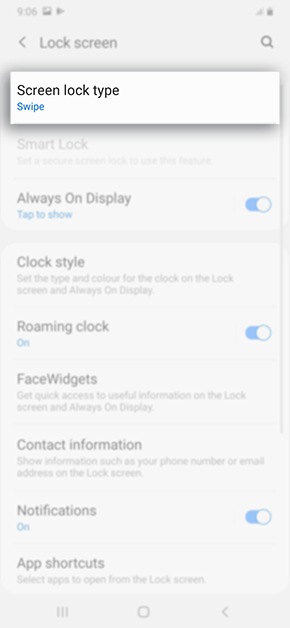 3
Touch your preferred Lock screen type.
4
Enter and reconfirm your passcode then tap Continue when finished.
5
Customise and control how you would like your notifications to be displayed on your lock screen, once complete tap Done.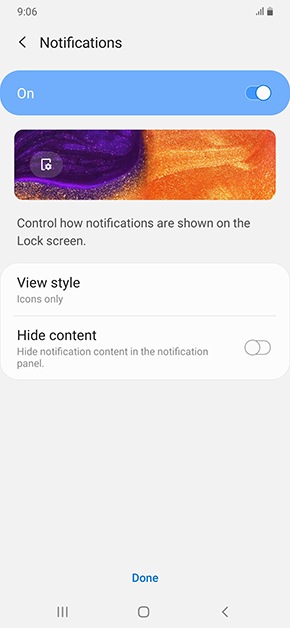 6
Once you've created your primary security lock type, head into Biometrics and security
7
Select Fingerprints and re-enter your primary lock screen passcode to proceed to the next step.
8
Place your finger on the fingerprint scanner, then lift it off until the scan has reached 100%.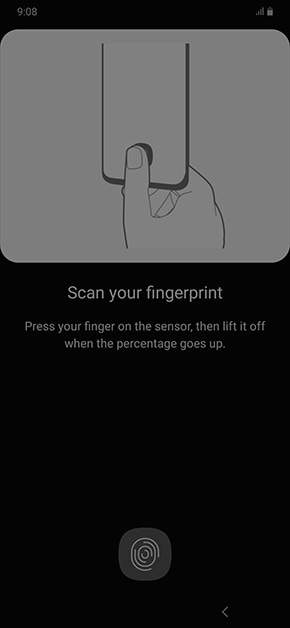 9
When you are finished registering your fingerprints, tap Done.
Deleting registered Fingerprints
1
On the Settings screen, tap Biometrics and security → Fingerprints
2
Unlock the screen using the primary screen lock method.
3
Select a fingerprint to delete and tap Remove → Remove
Fingerprint Troubleshooting:
Keep your skin and the fingerprint scanner dry when attempting to unlock your device - the scanner can't read if moisture is detected.
Your finger should cover the fingerprint scanner completely.

Make sure no case or cover is restricting access to the scanner.

Keep the fingerprint sensor free of dirt or debris. If the scanner gets dirty, wipe it gently with a soft dry cloth.
Scanning each finger at multiple angles will increase the fingerprint scanner accuracy.
Try removing your registered fingerprint and re-scan.
If your Fingerprint scanner is not recognising your fingerprints - unlock the device with your backup credentials and restart your phone. 
Did not find what you're looking for? We're here to help.
Call
For all Mobile device enquiries
1300 425 299
1300 GALAXY

24 hours / 7 days a week
Toll Free in Australia
For all other product enquiries
1300 362 603

24 hours / 7 days a week
Toll Free in Australia
From overseas
+612 8293 5712

24 hours / 7 days a week
Face-to-Face Support

In-Store Support
Create a booking to see one of our friendly Samsung staff members at one of our Samsung Retail Stores.
Contact Us