How do I enable Power saving mode?
Last modified :
May 25. 2020
Power saving mode helps extend the battery life of your Mobile device by disabling features and limiting the CPU usage of your device. You can adjust the Power Saving Mode from Optimised, Medium and Maximum Power Saving, follow the below guide to learn how to enable and customise the Power Mode on your Galalxy Phone or Tablet.
Please Note: This guide is designed for Australian variant Galaxy devices, if you have an international device and require further support click here to get in touch with your Samsung subsidiary. Screenshots were capture from a Galaxy Note10+ 5G operating on Android OS Version 10.0 (Q), settings and steps may vary depending on your Galaxy device and software version.
Accessing Power Saving Settings via Quick Panel
1
Swipe down to access your Quick Panel, tap on Power Mode and choose your preferred mode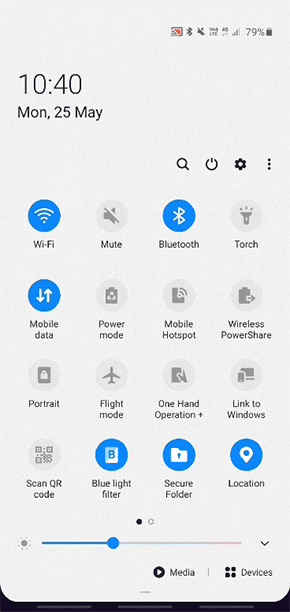 2
Adjust the Power Mode settings the tap on Apply
Accessing Power Saving via Device Care
1
Head into your Settings > Device Care
2
Select Battery
3
Tap on Power mode
4
Choose your preferred Power Mode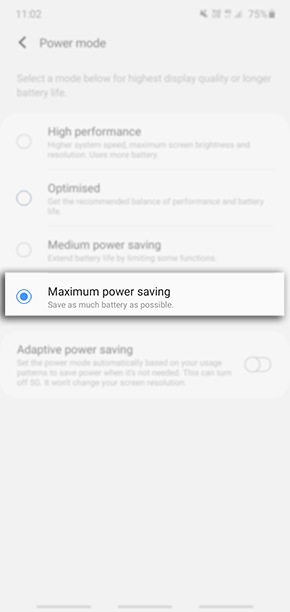 5
Allow your Galaxy phone to adjust Power Saving settings to your preferred Power Mode
Did not find what you're looking for? We're here to help.
Call
1300 362 603
8am-8pm / Monday to Friday
For general enquires and technical support relating to all Samsung products : CLICK HERE
For all Printer related inquiries, please
click here
or visit
https://www.support.hp.com
Please
click here
to view the latest news regarding the Samsung sale of Printer business to HP.
Contact Us