Setting up Women's Health in the Samsung Health App
Last Update date :
Jul 27. 2021
Tracking your menstrual cycle is a great way of understanding your body and managing your contraceptive choices. Tracking can help you understand unique aspects of your health and how your cycle affects your wellbeing. Samsung Health has partnered with Glow to forecast your upcoming fertile windows, ovulation days and periods for up to a 24 cycle. Follow the below guide to learn how to setup and use Women's Health via the Samsung Health app.
*Glow doesn't guarantee pregnancy or pregnancy prevention.
Please Note: This guide is designed for Australian variant Galaxy devices, if you have an international device and require further support click here to get in touch with your Samsung subsidiary. Screenshots were captured from a Galaxy Note20 operating on Android OS Version 10.0 (Q) and Galaxy Watch3 operating on One UI Watch Version 2.0, settings and steps may vary depending on your Galaxy device and software version.
If you would like to track your pregnancy please check out Glow - Pregnancy & Baby Tracker. It gives you everything you need during your pregnancy, including daily updates on baby size, baby development milestones, baby countdown, and vibrant community groups as well. It also provides an all-in-one baby registry tool.
1
Launch the
Samsung Health app
2
Scroll all the way to the bottom of the page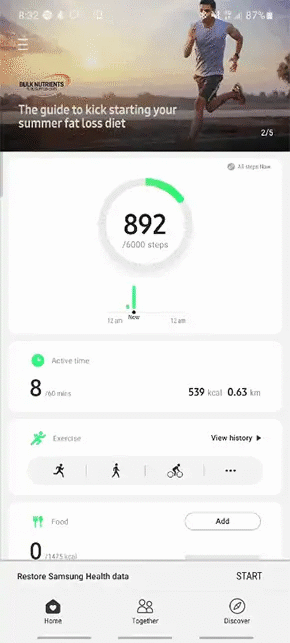 3
Select Manage items
4
Tap on
to add Women's Health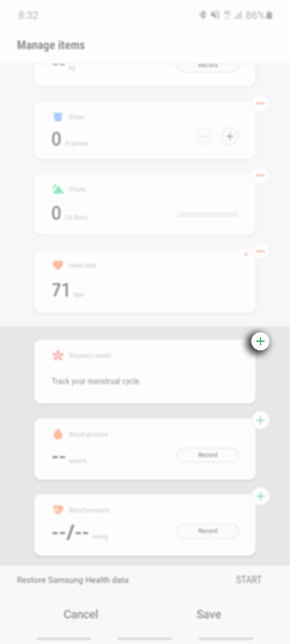 5
If you would like to move Women's Health further up your list, tap and hold the item then drag and drop to your preferred position. When you are happy with the placement, tap on Save to apply the changes.
6
Select the Women's Health item to start tracking your menstrual cycle.
7
Enter in the dates from your last period then tap on Next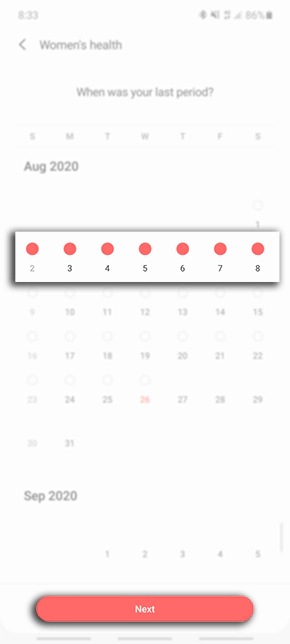 8
Add in the number of days from the start of your period to the next, then select Done
9
Tap on Add log
10
Add in any Symptoms, Moods, Sexual activity and any extra Notes, once complete tap on Save to apply changes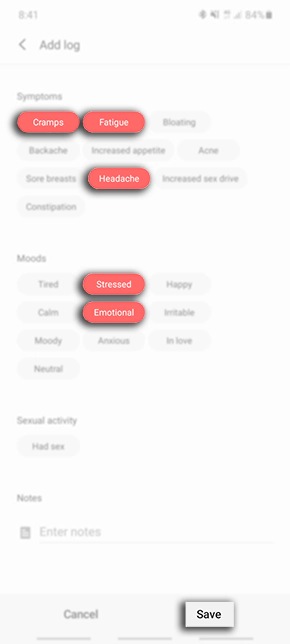 11
You will then be able to view and update your Daily log depending on your mood & symptoms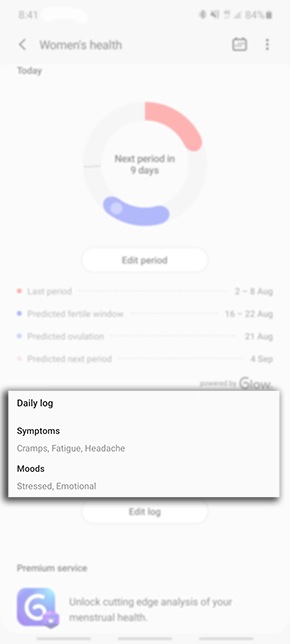 12
Swipe across the dates to get a quick glance of your menstrual cycle. You can learn when your Predicted period, Fertile window, ovulation and next period is expected.
Please Note: Samsung Health is not a medical or therapeutic device and is not intended for medical use. It is solely intended for fitness and wellness purposes only and is not intended for use in the diagnosis of disease or other conditions; or in the cure, mitigation, treatment or prevention of disease; or for the prevention or control of conception or pregnancy. Samsung recommends that you consult with your doctor or physician before participating in any exercise programme.