What is an OTG (On The Go) adapter?
Last modified :
Dec 06. 2018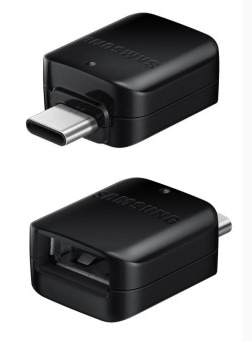 An OTG or On The Go adapter (sometimes called an OTG cable, or OTG connector) allows you to connect a full sized USB flash drive or USB A cable to your phone or tablet through the Micro USB or USB-C charging port. You may have gotten one in the box when you purchased your device, although they can also be purchased seperately from lots of major retailers. It allows the transfer of data as well as connectivity to peripherals.
You can do the following with an OTG cable:  
Plug in keyboards and mice                               

Access and move data from USB sticks and External Hard Drives*.                          
Transfer photos directly from a compatible camera on to the phone.

Copy information from one device to another with the Smartswitch app

*Please Note: Because most external HDDs are powered by the connected device, you may not be able to use a HDD to save your data. USB flash drives are a more reliable option to save and transfer content or other information to and from your phone.
Did not find what you're looking for? We're here to help.
Call
1300 362 603
8am-8pm / 7 days a week
For general enquires and technical support relating to all Samsung products : CLICK HERE
For all Printer related inquiries, please
click here
or visit
https://www.support.hp.com
Please
click here
to view the latest news regarding the Samsung sale of Printer business to HP.
Contact Us