Use Wi-Fi direct on a Samsung TV
Last Update date :
Sep 30. 2020

 Please Note: The information on this page is for Australian products only. Models, sequences or settings will vary depending on location and/or where the product had been purchased. To be redirected to your local support page please click here.
Wi-Fi Direct allows two devices to establish a direct, peer-to-peer Wi-Fi connection without requiring a wireless router. It's like Bluetooth in that you need to introduce each Wi-Fi Direct capable device to the other and create a connection.
This means that with Wi-Fi Direct you can directly connect a mobile device to the TV without an existing Wi-Fi network. You can stream media files from the mobile device onto the TV. Show your photos up on the TV screen to share with friends and family, or watch your favourite cat videos from Youtube. Easy!
Both the TV and mobile device must have Wi-Fi direct for this feature to work. An easy way to tell if your TV has Wi-Fi direct is if you have the Wi-Fi direct option in your settings (see below). The Wi-Fi direct option on most Samsung mobile devices will be in the Share menu.
To use Wi-Fi Direct follow the steps below:
1
Enable Wi-Fi Direct on your Samsung TV by selecting Menu > Network > Wi-Fi Direct.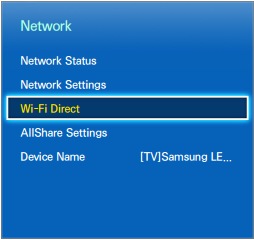 2
Enable Wi-Fi Direct on the mobile device. The TV will automatically scan for and displays a list of available devices. The TV name will also appears on the mobile device.
3
Select the device from the list to initiate a connection. If a connection request is made by the TV, a permission message appears on the mobile device and vice versa. Accept the request to connect the mobile device to the TV.
On your newer TV models, for instance the Q series and NU series, all you need to do is turn on Wi-fi Direct from your phone, select your TV from the available devices and you are set up and ready to go.
1
Go to Settings on your mobile device and select Settings > Connections > Wi-Fi > Wi-Fi Direct.
2
On the Wi-Fi direct page page is a list of available devices. Select your TV and then your phone will begin to set up a connection between your phone and TV.
3
Once the connection has finished, the TV will display a message that your phone is connected to your TV.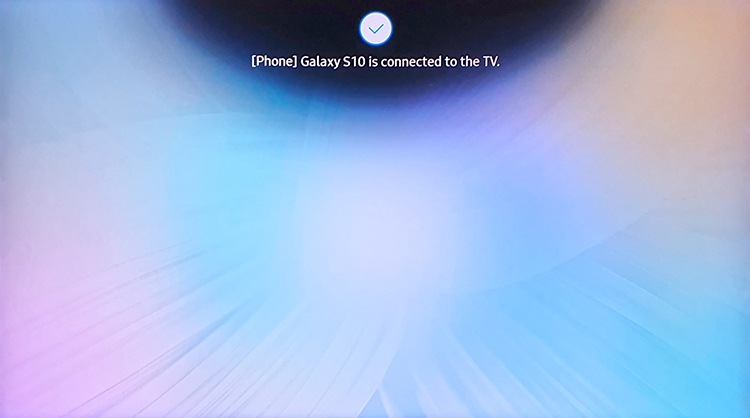 This product should be mounted to a wall or other suitable surface to avoid serious injury. Find out more here.