What are the supported video codecs and usage restrictions on my Smart TV?
Last modified :
Apr 05. 2019
Restrictions: 
●    Codecs may not function properly if there is a problem with the content data.
●    Video content does not play or does not play correctly if there is an error in the content or container.
●    Sound or video may not work if they have standard bit rates/frame rates above the TV's compatibility ratings.
●    If the Index Table is wrong, the Seek (Jump) function does not work.
●    When playing video over a network connection, the video may not play smoothly because of data transmission speeds.
●    Some USB/digital camera devices may not be compatible with the player. 
Video Decoders: 
●   Supports up to H.264, level 4.1 (does not support FMO/ASO/RS).
●   VC1 AP L4 is not supported.
●   All video codecs excluding WMV v7, v8 MSMPEG4 v3, MVC, and VP6: 
     Below 1280x720: 60 frame max 
     Above 1280x720: 30 frame max
●   GMC 2 is not supported.
●   Supports SVAF top/bottom and left/right only.
●   Supports Blu-ray/DVD MVC specs only. 
Audio Decoders: 
●   WMA 10 Pro supports up to 5.1 channels. Supports up to M2 profile.
●   QCELP, AMR NB / WB are not supported.
●   WMA lossless audio is not supported.
●   Vorbis is supported for up 2 channels.
●   DD + is supported for up to 5.1 channels.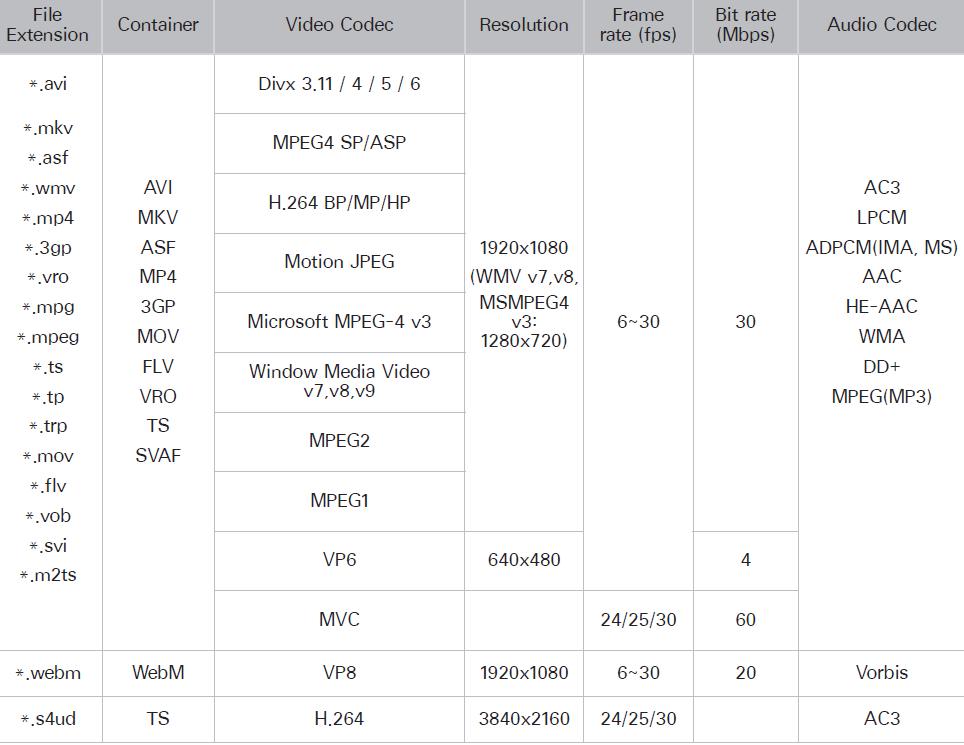 This product should be mounted to a wall or other suitable surface to avoid serious injury. Find out more here.
Did not find what you're looking for? We're here to help.
Face-to-Face Support

In-Store Support
Create a booking to see one of our friendly Samsung staff members at one of our Samsung Retail Stores.
Contact Us