Environmentally Conscious Products
Our Environmentally Conscious products make for a healthy planet
Samsung Electronics gives the utmost priority to the environment -- from the moment product planning begins until a product's final disposal. Our Eco-design Process, adopted in 2004, thoroughly analyzes a product's potential environmental impact. We are doing our best to make our products as environmentally conscious as they are functional -- from conserving resources and making new, innovative products to ensuring they are easy to recycle at end-of-life. This is why our products are recognized around the world as environmentally conscious.
2020 KPI: Developing environmentally conscious products
Environmentally conscious product development
Accumulated GHG reduction for use phase
The Eco-design Process considers a product's environmental impact on the environment starting with the product design phase
The Eco-design Process is an environmentally-friendly evaluation method used during the product planning phase. We look thoroughly into a product's environmental impact at each step -- from product design to logistics, distribution and take-back. Through this process, we identify a product's particular features aligning with Environmentally Conscious practices like using a minimum of resources in manufacturing, eliminating unnecessary packaging, distributing efficiently, and recycling products effectively at end-of-life.
In the case of refrigerators, the Eco-design Process led us to replace ozone-depleting substance with Environmentally Conscious refrigerant. We also made technological progress through the use of a compressor that minimizes energy loss by quickly supplying only enough cooled air to keep food fresh. In these ways, the Eco-design Process enables Samsung Electronics to offer products that consider the environment while making life more convenient.
Galaxy S10 and Grande Dryer Created through Eco-Design Processes
Samsung Electronics' latest smartphone model Galaxy S10 boasts environmental features as well as excellent performance. Reflecting Samsung Electronics' circular economy and environmentally conscious packaging policies, the Galaxy S10 not only has an excellent charging efficiency but also uses bio plastic, renewed plastic, and renewed paper. Also, we stopped using plastic packaging materials that were used for our chargers, headsets, and ear tips to join the plastic reduction effort, which has recently attracted the world's attention. Acknowledged for their features, our products have obtained environmental certifications including the United Kingdom's Carbon Trust Certification and the United States' EPEAT (Electronics Products Environmental Assessment Tool) Certification. The large-capacity Grande Dryer boasts reduced drying time, power consumption, and standby power thanks to a hybrid method that uses both heaters and heat pumps. Furthermore, the product was designed in a way that enables disassembly with ordinary, easily obtainable tools, and its plastic components comply with the 100% material labeling rule to make recycling easy.
Environmental Assessments on Major Products
Samsung Electronics performs environmental assessments on its products from the product development stage using its assessment system. In order to gain the public's confidence in the assessment system, we have adopted the certification criteria of Eco-Label, the certification given to environmentally conscious products by the Ministry of Environment of Korea, the United States' Electronic Product Environmental Assessment Tool (EPEAT) Certification, and the United States' Association of Home Appliance Manufacturers (AHAM) Certification. In addition, we have developed and are operating an indicator for environmentally conscious product development rate and plan to roll out at least 90% of our new products as environmentally conscious products by 2020.
Environmentally sensitive substances in all products
are strictly managed To make them safe to use
Under the principle of "no compromise on environmental issues" Samsung Electronics closely manages environmentally sensitive substances. In line with tighter international environmental regulations, we have established the 'Standards for Control of Substances Used in Products' and have been conducting thorough preliminary inspections and follow-up management on all components and raw materials that are used. We have voluntarily formulated reduction plans for the use of not only restricted substances, but also potentially environmentally sensitive ones such as polyvinyl chloride (PVC), brominated flame retardants (BFRs), beryllium and antimony. All the while, we have been continuously reducing the use of environmentally sensitive materials in products.
Samsung Electronics has been proactively managing environmentally sensitive substances since 2004, two years in advance of the EU's Restriction of Hazardous Substances (RoHS) Directive. The impetus for establishing a stringent management system internally before the EU issued its Directive was Samsung Electronics' management philosophy emphasizing the environment. Starting in 2005, we built a lab for analyzing environmentally sensitive substances and volatile organic compounds and we set up a self-monitoring system. Moreover, we were certified as an authorized testing lab by the Federal Institute for Materials Research and Testing (BAM) of Germany, achieving recognition for our credibility and expertise in chemical substance analysis.
Samsung Electronics acknowledges the environment as an important value for the future, and we have adopted our own standards that are stricter than international requirements in terms of hazardous substance verification and management. Our Hazardous Substance Management Standards are categorized into 4 classes and, accordingly, we examine and improve our products to make them safer and more environmentally conscious .
Samsung Electronics' environmentally sensitive substance management history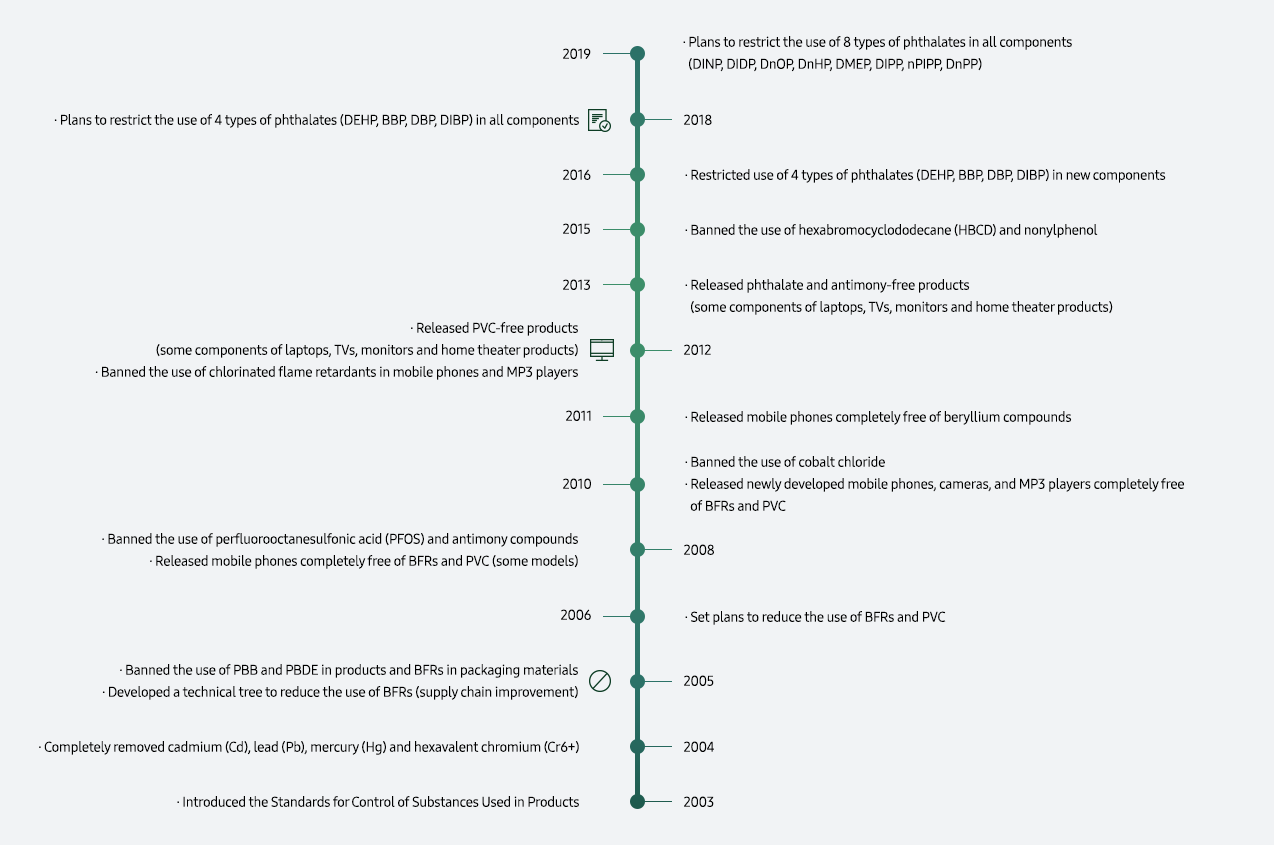 Samsung Electronics believes that environmentally sensitive substances should also be strictly controlled in the supply chain. If suppliers use environmentally sensitive substances in the raw materials, components and products they provide and fail to process them properly, our final products will not be environmentally friendly. Therefore, to prevent our suppliers from using environmentally sensitive substances and to enable the strict management of substances, we have implemented the Eco-Partner Certification system.
Samsung Electronics continues to research ways to save energy
Samsung Electronics ceaselessly endeavors to manufacture highly energy-efficient products that use less energy for better performance. If a product can deliver an even more outstanding performance using less energy, then customers can save on energy costs. Less energy is used to generate power, resulting in lower greenhouse gas emissions. As a result of applying innovative, energy-efficient technologies on our products, we were able to lower the energy consumption of our products by 39% compared to 2008. This means we were able to make a better-performing product using half the energy. But our work does not stop there -- we continue our research to develop groundbreaking technology that will reduce energy use even further.
Samsung Electronics' Products with Eco-conscious Technology
Galaxy S8
· Recycled plastic in charger case and inner tray
· Recycled paper in product packaging box
· Charger energy efficiency of 86%
· Lower levels of potentially environmentally sensitive substances (antimony, BFRs, etc.)
· Eco-certified by US EPEAT, UK, Russia, and Brazil (2017)
SSD 850 EVO 250GB
· Achieved industry's lowest 'Global Warming Potential' (9.327kg of CO2 is produced per device, a smaller amount than the 9.36kg an average 30-year-old tree can uptake in a year)
· Certified under Environmental Declaration of Products (EDP) program* operated by Korea's Ministry of Environment(*Environmental Declaration of Products: National certification system disclosing the quantitative environmental impact of a product or service throughout its entire life-cycle, from raw material collection to product disposal)
QuickDrive Washer
· Super Speed setting cuts laundry time by almost half to 40 minutes
· Corresponding 20% drop in power consumption
Breeze-free Air Conditioner
· Achieved highest energy efficiency in Korea with new heat exchanger technology and ultra power-saving Smart Inverter technology
· Reduces power consumption by up to 80% using metal cooling panels and breeze-free air cooling technology
· Awarded the Prime Minister Award (grand prize) at the 20th Energy Winner Awards in 2017
T9000 Refrigerator

· Achieved lowest power consumption in Korea at 28.5kWh per month by applying dual compressor technology to minimize energy loss by quickly delivering only the required amount of cooled air
· Started pilot project in cooperation with KEPCO to reduce energy use by installing peak power management feature in Smart Home function
Electric Dryer

· Reduced energy needed to generate heat by applying heat pump technology, enabling heat to be reused
· Achieved 25% energy savings through Eco Dry technology
· Obtained Sustainability Standards certification from US AHAM (2016)
Samsung Electronics' eco-conscious efforts are acknowledged around the world
Samsung Electronics' products have been recognized for their eco-friendliness in many countries including the US, Europe, China and Brazil, where they have been granted eco-certifications such as eco-marks and carbon emission labels. This was made possible by our efforts to study and develop products that put the environment first, using advanced technology. But our work is not finished -- Samsung Electronics will continue to pursue a 'PlanetFirst' vision, prioritizing the Earth and the environment. We will do our best to make life convenient yet environmentally sustainable.