Interactive displays
From corporate boardrooms to hybrid classrooms, Samsung's interactive touchscreen displays add interactivity and collaboration to any environment in a variety of industries.
Defy boundaries
Make any space a collaboration or communication hub. With solutions designed to fit every room and requirement, the Samsung interactive display portfolio delivers engaging shared experiences, wherever you or your customers are.

Transformative collaboration
Redefine the way you connect with ideas in a boundary-defying shared space. Easily alternate between in-person, hybrid and remote environments all on one smart display.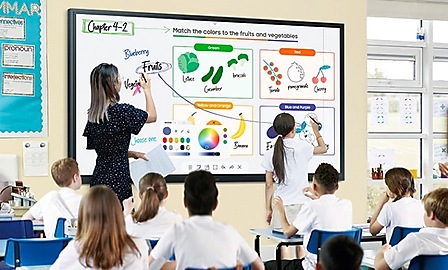 Seamless versatility
Instantly connect across devices and locations and easily navigate through a variety of content and formats with intuitive technology.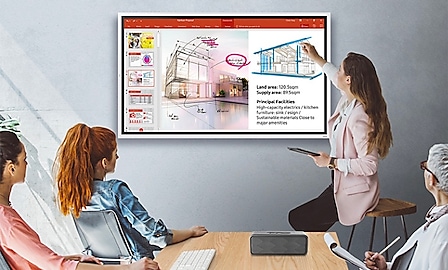 Simple to deploy and manage
Our interactive display solutions are simple to set up and to securely integrate with your existing systems, programs and needs. Easily manage your portfolio of displays from anywhere.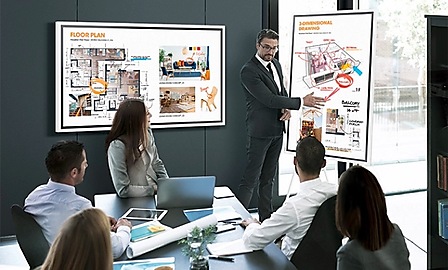 Top interactive digital signage products
Samsung Interactive Pro
Versatile connectivity, intelligent software and intuitive features, Interactive Pro

QMR-T Series
Featuring capacitive touch technology and built for 24/7 around-the-clock operation.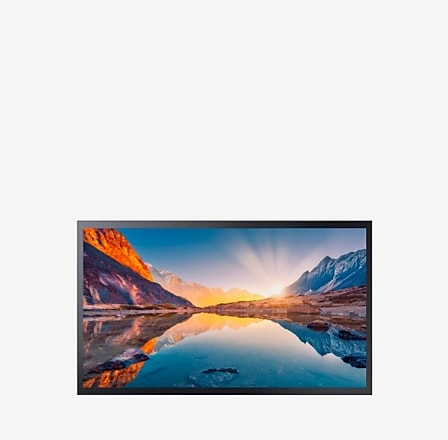 QBR-T Series
Small signage touchscreen displays with full functionality and high-resolution picture quality.

Empower everyone to spark bold, new ideas
Make learning and collaborating more engaging and productive with our all-in-one immersive displays that integrate a digital whiteboard, video conferencing, touchscreen experiences and more.
Create with freedom
Collaborate in real time from anywhere with up to 20 simultaneous touch points.
Capture the best ideas
Capture customer signatures and more with a smooth pen-to-paper-like experience.
Deliver content in new ways
Enjoy dynamic image-editing tools and the ability to annotate on all content and formats.
Enhance learning and collaboration from anywhere
Securely and wirelessly sync displays with personal devices for simple, engaging, real-time content sharing from anywhere.
Collaborate your way
Create familiar experiences across common productivity and learning platforms with the included OPS Slot.
Customize your experience
Leverage our vast network of partners, including Cisco, Logitech and Boxlight, to create solutions that fit your unique requirements.
Inspire from anywhere
Rolling stands provide the versatility to instantly transform any conference room, classroom or huddle space into a virtual collaboration hub.
Vibrant, reliable and secure
Quickly start meetings, classes and more with interactive displays designed to reliably and securely connect people across locations and devices.
Preventative maintenance
Monitor the health of your interactive displays, reduce IT errors and minimize labor costs with Samsung Remote Management.
Upgrade from anywhere
Easily maintain and upgrade your entire portfolio of displays with Over-the-Network firmware updates.
Secure collaboration
Protect and secure every display on your network with Knox Security built into every Samsung interactive display.
Inspire and innovate with diverse interactive displays
Samsung's suite of innovative and fully-integrated intelligent displays and touchscreen signage seamlessly transform the workplace or classroom. Inspire new ideas, increase participation and improve productivity from anywhere.

Samsung Interactive Pro
Versatile connectivity, intelligent software and intuitive features, Interactive Pro.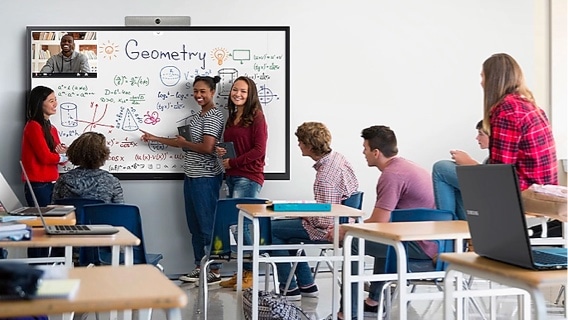 Interactive displays
A variety of interactive and touchscreen displays to meet your business needs.
Resources to make the most of your interactive displays
Learn how display technology creates a rich, seamless instructional tool for students and teachers, whether they're in the same room or across the globe.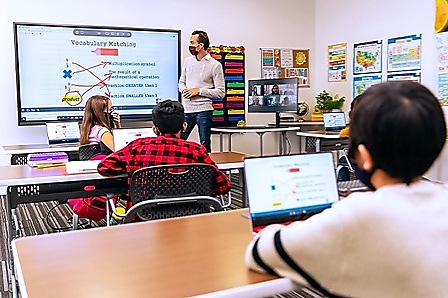 Prepare for the future with intuitive and contact-free display solutions that adapt to hybrid classrooms and the ongoing evolution of learning environments.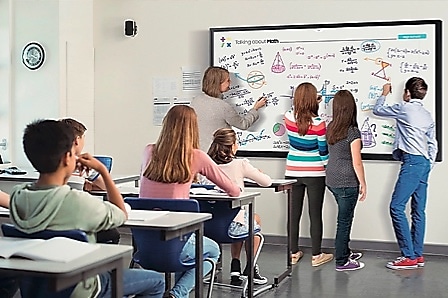 Learn how Samsung's interactive displays inspire creativity and fresh ideas through a wide range of innovative features and tools built to drive transformation.
Contact an interactive display sales expert
Please provide your contact details and our sales team will get back to you about Samsung interactive digital signage. Or you can call (866) 726-4249 to talk to an expert now.
© 2023 Samsung Electronics America, Inc. All rights reserved. Samsung is a registered trademark of Samsung Electronics Co., Ltd. All products, logos and brand names are trademarks or registered trademarks of their respective companies. Screen images simulated.
Stay in the know
Contact a sales expert
Get in touch with our sales team to discuss tailored solutions for your business. You can call (866) 726-4249 to talk to an expert now, or use the form below to submit your requests.
Get product support
Find manuals, downloads, warranty information and more. We also offer FAQs and demos to help with business product questions.