What is the Dual Messenger feature?
Last modified :
May 07. 2019
The Dual Messenger function will allow you to use two separate accounts for the same app. Once enabled, a second app icon will appear on your Home screen. From there you'll be able to send and receive messages to a second account. Make sure you're using separate credentials on the second version of the app you're duplicating. Whether its for home or work; you can run the same app for two different accounts quickly and easily. 
Only specific models and apps are supported with Dual Messenger. To set up Dual Messenger please see the step-by-step guide below.
Please Note: While Dual Messenger sets up a second iteration of the messaging app, it does not allow any further security - if you need to set up a separate account for work or private messaging, please see the page on What Is Secure Folder?

Screenshots were captured on a Galaxy phone operating on Android OS Version 9.0 (Oreo), steps and settings may vary depening on your Galaxy device and Android OS Version.
How do I set up Dual Messenger?
1
Go into the Settings menu > Advanced features.

2
Scroll down and then tap on Dual Messenger.
3
A list of apps which are compatible with Dual Messenger will be displayed. Toggle the switch of the app you wish to use a separate account with.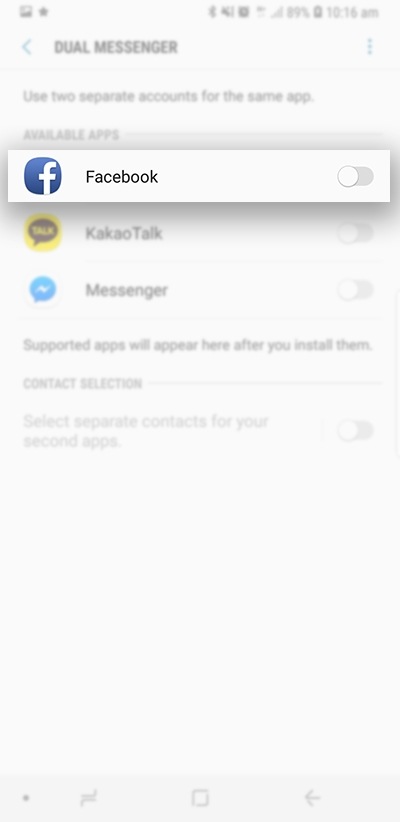 4
Read the Disclaimer. Once you have read the Disclaimer, tap on Confirm to continue.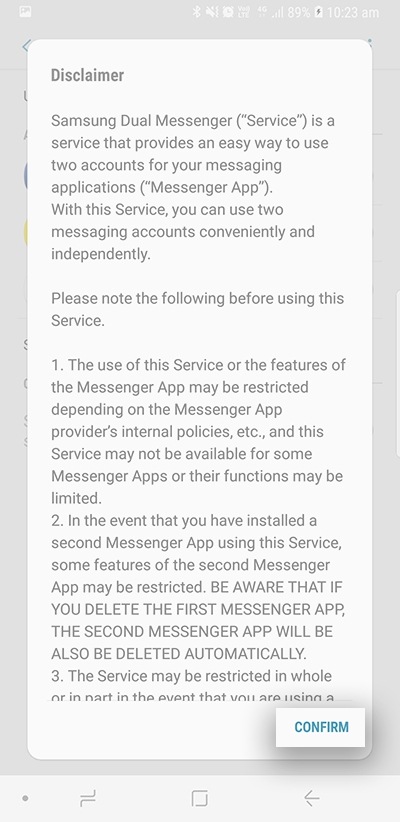 5
Tap on Install. A second icon for the selected app will appear on your Home screen. You'll be able to use an alternative account in the second copy of the app.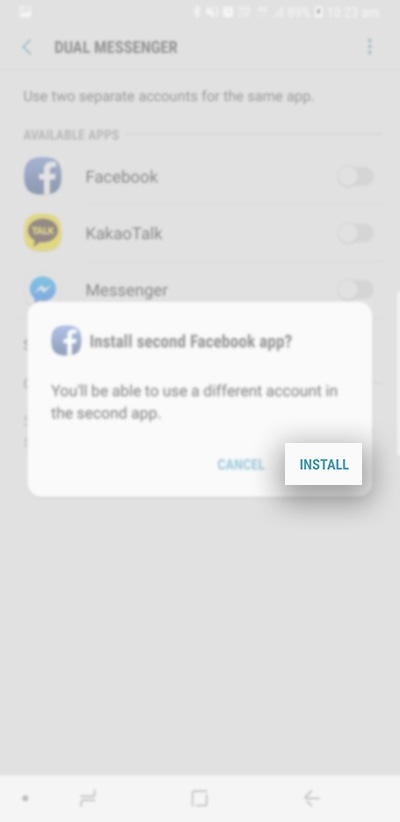 6
Turn on Contact selection to select specific contacts for your second apps.

To keep using the same contacts between the main and second apps, turn off Contact selection.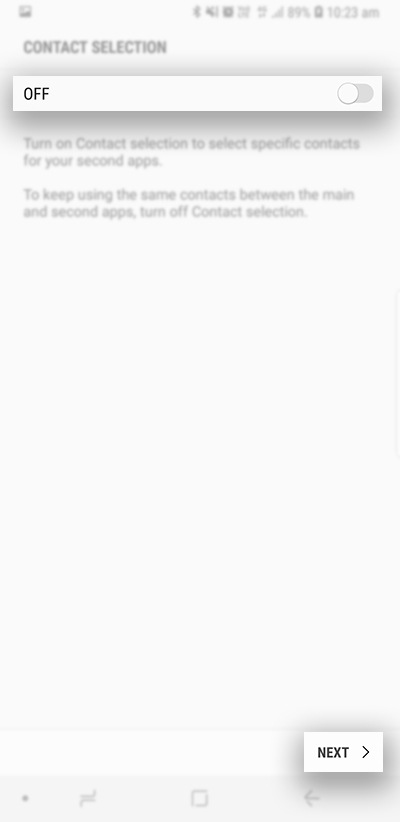 7
You have now successfully installed the second app.
Please Note: The second icon will have the Dual Messenger symbol on the lower right side of the icon.
Please Note: The Dual Messenger function is part of the settings so there is no way to uninstall or disable it. It will not use up any storage space if you do not use it.
Did not find what you're looking for? We're here to help.
Call
For all Mobile device enquiries
1300 425 299
1300 GALAXY

24 hours / 7 days a week
Toll Free in Australia
For all other product enquiries
1300 362 603

24 hours / 7 days a week
Toll Free in Australia
From overseas
+612 8293 5712

24 hours / 7 days a week
Face-to-Face Support

In-Store Support
Create a booking to see one of our friendly Samsung staff members at one of our Samsung Retail Stores.
Contact Us