How do I customise the Keyboard layout on my Galaxy device?
Last modified :
May 01. 2019
Through the initial set up of your Galaxy device, the only customisation you can alter is the language. Once you completed the general set up, you can change the keyboard layout, on-screen keyboard, add multiple languages and change your default keyboard. If you follow the below page, you can learn how to completely customise your keyboard on your Galaxy smartphone or Galaxy Tab to suit your needs. 
Please Note: Screenshots were taken from a Galaxy S10 operating on Android OS Version 9.0 (Pie), the steps and options available may vary depending on the Android Version operating on your Galaxy device.
Accessing Keyboard Settings
1
Launch your Settings > General Management
2
Select Language and input
3
Once you have entered Language and input, you will be able to customise the language, default keyboard and personalise the layout of your current keyboard.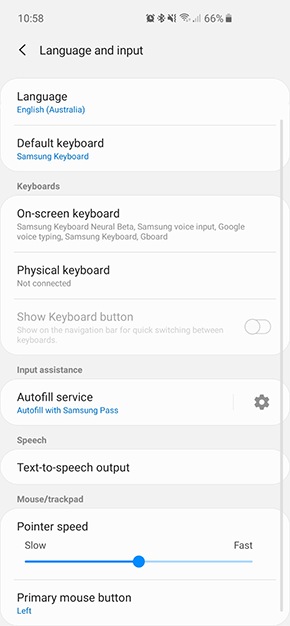 Changing Default Keyboard
By default, the Samsung Keyboard is set to all Galaxy devices. If you have downloaded alternative keyboards, you will need to enable that particular keyboard in the Manage Keyboards settings before applying it as your Default Keyboard.
1
Select On-screen Keyboard
2
Tap on + Manage Keyboards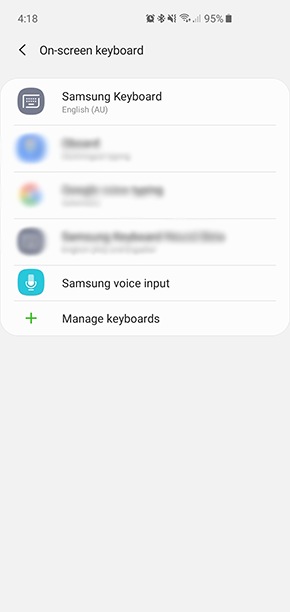 3
Toggle on and off your preferred keyboards
4
Head back to your Language and input settings and select Default Keyboard
5
Select your preferred keyboard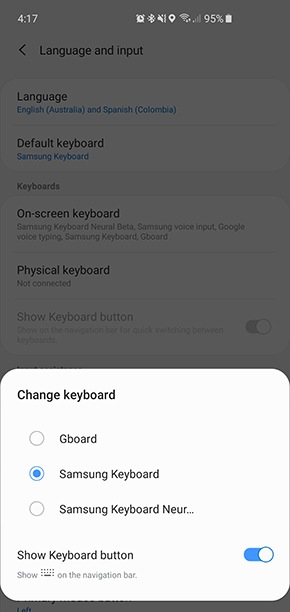 You are also able to toggle on or off Show Keyboard button, this will allow you to easily switch between keyboards from your Notification panel.
Switching between Keyboards
1
Launch an application that requires your keyboard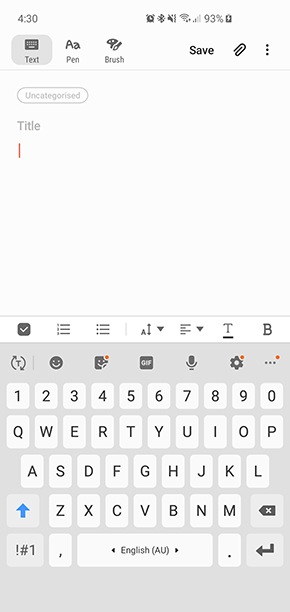 2
Swipe down your screen to access your Notification panel and double tap on Android system - Change keyboard.
3
Select the alternative keyboard
Customising Keyboard Layout
While customising your keyboard layout, you can add different languages into your keyboard and easily switch between the English keyboard and a wide range of downloadable languages. You can also alter your keyboard themes, size and predictive texts. 

Please Note: These settings are captured from the Samsung Keyboard, options and general layout will vary between alternative keyboards.
Adding different languages
1
Select On-screen Keyboard
2
Select your current default keyboard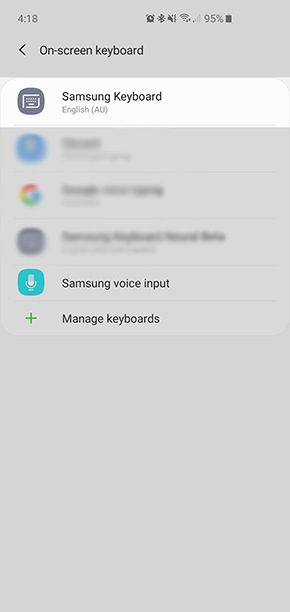 3
Tap on Languages and types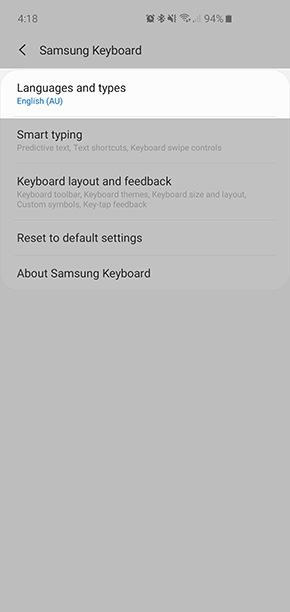 4
Select Manage input languages
5
Scroll through the list of downloaded languages and toggle on or off your preferred languages. Once complete, tap the back button to apply the changes.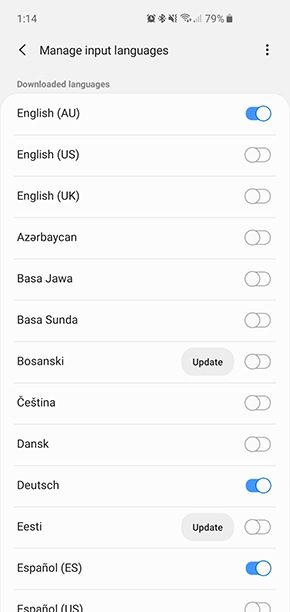 6
When switching between languages on your keyboard, tap and hold the space bar and slide left to right to navigate to your preferred language.
Smart Typing
1
Select On-screen Keyboard
2
Select your current default keyboard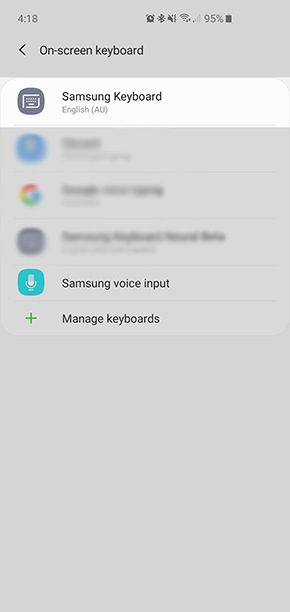 3
Tap on Smart Typing
4
Scroll through and select the range of options within Smart Typing.
Keyboard Layout and feedback
1
Select On-screen Keyboard
2
Select your current default keyboard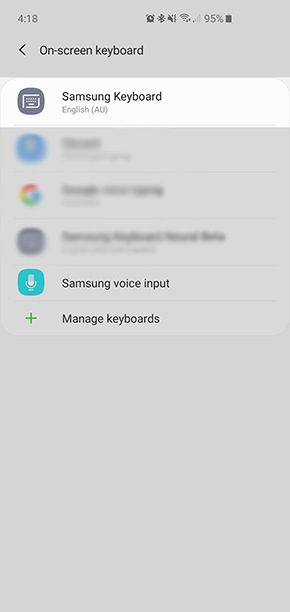 3
Tap on Keyboard layout and feedback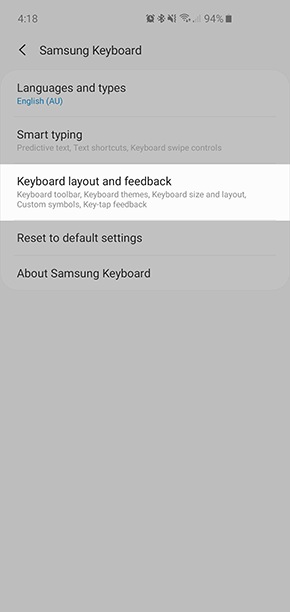 3
Toggle on or off Keyboard toolbar
When you enable Keyboard toolbar, you will be able to get quick access to essential keyboard functions like your emoji keyboard, stickers, Live messages, keyboard settings or GIF keyboards. You are also able  to customise your keyboard toolbar by tapping the 3 dots in the toolbar and dragging and dropping the functions from the toolbar tray.
4
Tap on Keyboard themes and toggle on or off Adaptive themes and Key borders. Once complete select Apply to finalise the changes.
5
Tap on High contrast keyboard and select your preferred keyboard colour. Please be advised, if you enable this setting, you will be unable to adjust the Keyboard themes or Size and transparency.
6
To adjust the size of your keyboard, drag the blue handle on the side of the keyboard. Please keep in mind that you are only able to adjust the transparency settings when you are using floating keyboard.
7
Select Keyboard layout to show or hide Number keys, Alternative characters or Custom symbols.
Did not find what you're looking for? We're here to help.
Face-to-Face Support

In-Store Support
Create a booking to see one of our friendly Samsung staff members at one of our Samsung Retail Stores.
Contact Us